Column: The $40-million race for California schools chief is a proxy fight in a long-running war over education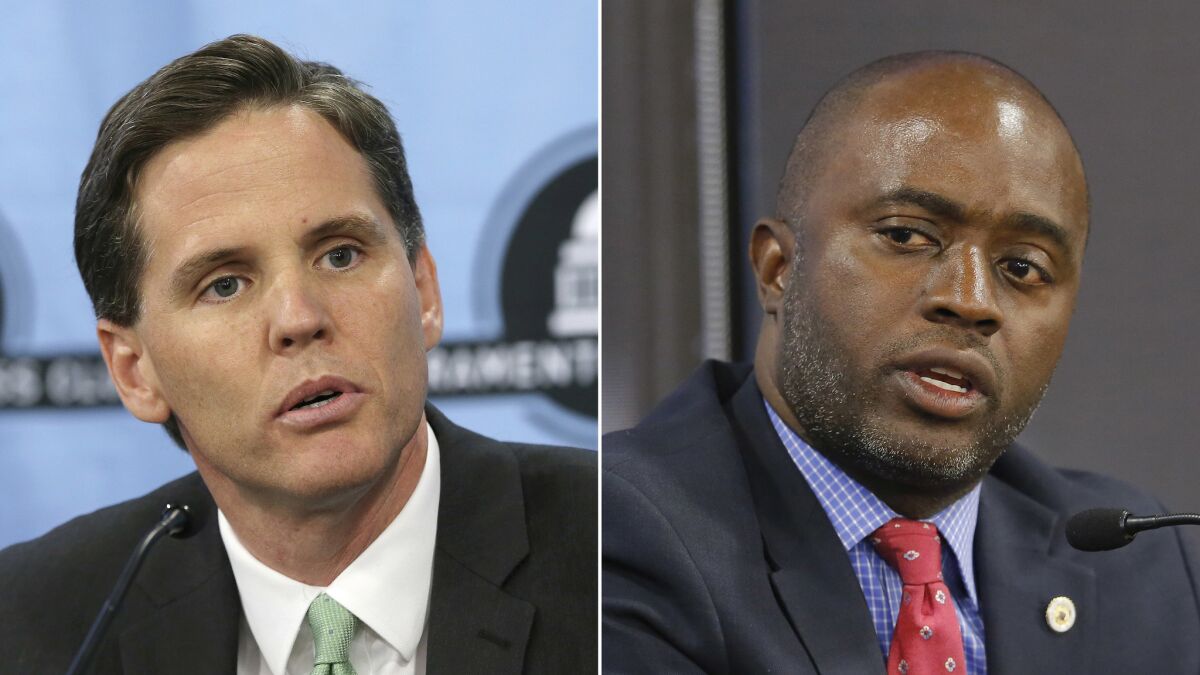 Sacramento Bureau Chief
History has found few statewide races more sleepy than the campaigns for superintendent of public instruction, perhaps because the job is thin on duties that aren't tangled in the web of control over K-12 schools.
And yet, this year's race is a $40-million blockbuster that is more costly than for any California office aside from governor.
It's also a sequel to 2014 when some $30 million was spent in the war between bitter education rivals, each convinced it has the better way — and the better candidate — to fix what's broken in state education policy.
On one side is a consortium of wealthy backers of charter schools; on the other, powerful teachers unions. The pro-charter forces support Marshall Tuck, a Los Angeles Democrat who lost a close race four years ago to the now termed-out Supt. Tom Torlakson. Tuck's second try for the job pits him against Tony Thurmond, a Bay Area Democrat who gave up a safe seat in the Assembly and is backed by the unions.
Despite the blitzkrieg of cash, Thurmond and Tuck don't seem to be polar opposites on improving schools. Both want to increase state funding — even with $97 billion in spending this year, California lags behind other states. And both support a 2013 law that funnels more money to low-income communities and English learners. The candidates agree, too, on the need to expand pre-kindergarten and to ensure employee pension promises don't drown school districts in long-term debt.
A quiet and important fight is brewing over how much must be spent on California's schools »
But the elephant in the room is funding and oversight of California's 1,400 charter schools, and the election results are unlikely to resolve the long, nasty fight that's brewed for years. Tuck's resume includes stints running the public-private enterprise that took over low-performing schools in Los Angeles and before that, a nonprofit that runs several other L.A. charter schools.
Two powerful organizations, the California Teachers Assn. and the California Federation of Teachers, want the state to impose more control over charter schools. Thurmond has said that charters shouldn't be able to "cherry pick" higher performing students.
"I do think there are questions of accountability for charters that must be addressed," he said at a summer candidates forum in Sacramento.
Charter advocates, meanwhile, want a longer probationary period before a teacher is awarded tenure. And Tuck supports paying more to teachers who work at schools in troubled neighborhoods, arguing it would encourage experienced and qualified teachers to choose those campuses.
"I don't see how you actually attract people without more incentives," Tuck said at the Sacramento event.
The wealthy donors to a multimillion-dollar independent political action committee backing Tuck are well known in the fight over charter schools and education overhaul efforts. They include Los Angeles billionaire Eli Broad, the descendants of Walmart founder Sam Walton and Gap founder Donald Fisher, and Netflix CEO Reed Hastings.
Thurmond, with campaign cash from teachers' unions, wants to pause the creation of new charter schools until long-term funding and transparency questions are resolved. And he's opposed to Tuck's call for different teacher pay at different schools.
Neither camp in this clash of education titans is naive enough to think California's schools chief — who frequently must take a back seat to the state Board of Education and the priorities of the governor — can resolve these issues. There have even been efforts to abolish the job altogether.
Instead, it seems likely the donors on both sides think the winner will have a platform from which he can influence public opinion. Both want their candidate to shine a spotlight on what California schools need — a tune-up or a major overhaul? With a little more than two weeks until election day, they seem prepared to pay mightily to win the fight.
Follow @johnmyers on Twitter, sign up for our daily Essential Politics newsletter and listen to the weekly California Politics Podcast
Get our Essential Politics newsletter
The latest news, analysis and insights from our politics team.
You may occasionally receive promotional content from the Los Angeles Times.