Column: For the Republicans left in California's Legislature, fewer lawmakers will have to do more work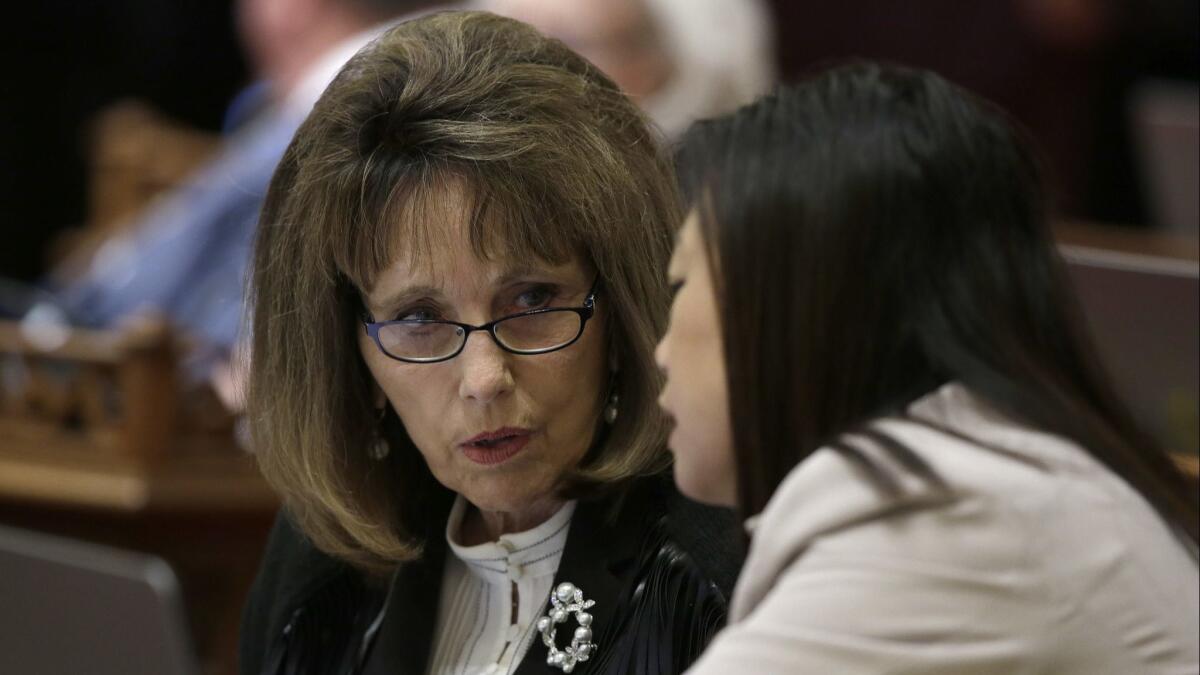 Sacramento Bureau Chief
From January to late summer every year, the California Legislature is a perpetual motion machine. And in the new year, the people most likely to struggle in keeping up will be Republicans, vastly outnumbered but still responsible for representing millions of the state's residents.
There are 22 standing committees in the state Senate, plus at least a dozen more subcommittees or special committees. And after November's election, only 11 Republican senators will be left to divvy up the work.
To the victors go the spoils. To the vanquished go the extra assignments.
"We're going to have to cover a lot of bases," Senate Minority Leader Patricia Bates (R-Laguna Niguel) said. "It's not going to be an easy task."
Nor will things be much easier in the Assembly, home to 32 standing committees and just 20 Republicans. And through those panels are funneled an enormous amount of legislation — more than 4,600 bills in the two-year session that ended in August.
The size and scope of the legislative process have been considered and criticized before. Too many bills, too little time to review them, too many decisions made without fully understanding the potential for both good and bad results. The glut of committees is also a frequent target of calls for reform.
"You can sometimes have a piece of legislation referred to three committees when sometimes one can do the job," Bates said. "I think there's redundancy there."
And though Republicans were on the losing end of a record-high turnout election, they still represent a lot of people. In the Senate, the tiny GOP caucus is a stand-in for some 11 million Californians of all walks of life and political affiliation. Their elected representatives could easily miss any number of public policy debates in 2019 simply because they can't be in three places at once.
Millions of California voters saw same-party races on November's ballot and left the space blank »
The legislative process has required lawmakers in recent years to serve on five standing policy committees, with assignments to other committees as needed. But simple math shows one of two things are going to happen in 2019: Republicans are going to have to take on additional responsibilities or each committee will comprise fewer of them. In many cases, the second choice is pretty hard to imagine — some committees in the prior session had as few as two GOP members. (Democrats routinely stack the deck in their favor to ensure a priority bill can't be killed on a party-line vote.)
Staff members often pick up the slack of overextended legislators. But here, too, GOP lawmakers are unlikely to find much additional help. Last week, the Assembly scrapped some Republican staff jobs after the party lost five seats in the recent election.
Some committees have far more work than others. Budget and appropriations committees, for example, labor on some of the biggest issues each year and have the largest membership. And other than the budget, once bills make their way through one house of the Legislature, they start the process all over again on the other side of the historic Capitol dome.
Bates, who was elected to the Assembly in 1998 and held on to her Senate seat even during a massive Democratic effort in Orange County, said her fellow Republicans will make it work. Some of the newest GOP senators have also served in the Assembly in the past, and others have developed an expertise on policy topics that they can share with their colleagues.
But it's going to also provide an unprecedented test of representative democracy. And it may be rare to see any Republican stay for an entire legislative hearing in the months to come. Casting a vote in one committee may come at the expense of a thoughtful discussion — and collaboration — somewhere else.
Follow @johnmyers on Twitter, sign up for our daily Essential Politics newsletter and listen to the weekly California Politics Podcast
Get our Essential Politics newsletter
The latest news, analysis and insights from our politics team.
You may occasionally receive promotional content from the Los Angeles Times.