California bill to create 'safe injection sites' in San Francisco clears Assembly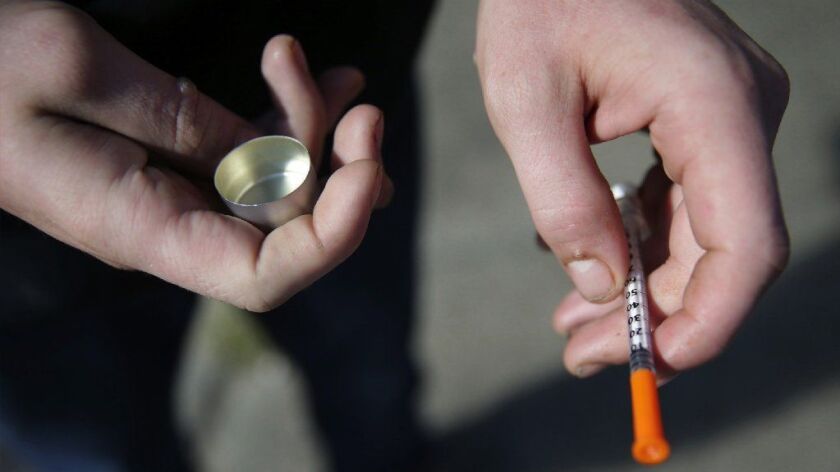 Reporting from Sacramento —
A bill that would allow San Francisco city officials to open facilities where people can inject drugs without legal consequences cleared the state Assembly on Thursday.
Assembly Bill 362 by Assemblywoman Susan Eggman (D-Stockton) would create a six-year pilot program in San Francisco giving drug users a place to inject themselves with intravenous drugs under clinical supervision.
Eggman said that with overdose deaths on the rise nationally, California must try new strategies to address the epidemic. So-called safe injection sites, which are operated in Canada, Switzerland and eight other countries, offer treatment and connect users with social services such as housing.
"All we are saying is let's give people treatment earlier than later," Eggman said. "We are in no way condoning drug abuse. What we are saying is having a drug addiction should not be a death sentence."
The bill passed the Assembly on a 42-21 vote and now heads to the state Senate.
AB 362 marks Eggman's third attempt to pass such legislation.
Gov. Jerry Brown rejected a nearly identical bill by Eggman in September over his concerns that local officials and healthcare professionals could face federal criminal charges by opening safe injection facilities. The Trump administration warned of such consequences last year, and the U.S. Department of Justice is suing to stop a safe injection site in Philadelphia, which, if opened, would be the first in the United States.
A similar bill from Eggman two years ago would have allowed any city in the state to open a safe injection site, but the legislation was narrowed to limit the pilot program to a handful of areas, including San Francisco and Los Angeles. By the time the bill made it to Brown's desk last year, only San Francisco remained, due in part to the city's leaders' calls for the program.
While on the campaign trail, Gov. Gavin Newsom said he was "open" to the idea of safe injection sites but did not endorse Eggman's proposal.
The bill is opposed by the California State Sheriffs' Assn. and the California Narcotic Officers' Assn., which argue that the programs do not require drug users to undergo treatment and would open up cities to a host of liability issues.
Republican lawmakers echoed those concerns Thursday.
"I agree that we need to do something to keep people from not only doing these drugs, but overdosing on them," Assemblywoman Melissa Melendez (R-Lake Elsinore) said. "But I don't think giving them essentially a government-sanctioned facility with which to do their drugs is the best way to get them off drugs."
Follow @MelodyGutierrez on Twitter and sign up for our Essential Politics newsletter.
---
Life is stressful. Our weekly mental wellness newsletter can help.
You may occasionally receive promotional content from the Los Angeles Times.