Accused of sexual harassment, these California lawmakers may not be able to use campaign funds to defend themselves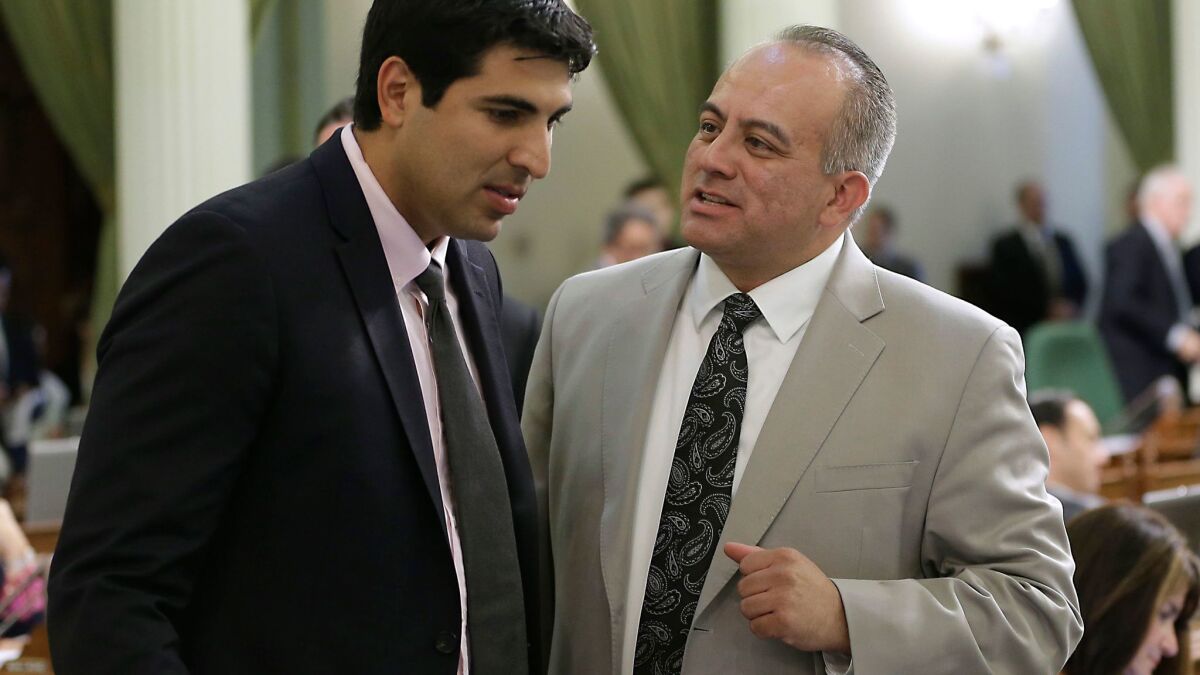 Reporting from Sacramento —
Four state lawmakers who face sexual harassment allegations have $2 million in surplus campaign funds, but experts believe they might not be able to tap the money to defend themselves against ongoing investigations.
State law allows elected officials to accept political contributions into legal defense funds to defray the cost of defending themselves against criminal, civil or administrative probes involving their actions as public officials.
The Legislature has hired outside attorneys to investigate claims of sexual misconduct against Assemblyman Matt Dababneh (D-Woodland Hills), Sen. Tony Mendoza (D-Artesia) and recently resigned Assemblyman Raul Bocanegra (D-Pacoima). There also is an inquiry into allegations from a former lawmaker of unwanted hugging from Sen. Bob Hertzberg (D-Los Angeles). None of them has yet filed papers to create a legal defense fund.
Political attorneys and observers say there are doubts about whether the men can create legal defense funds given that some of the allegations involve actions taken in nightclubs, hotels and other places away from their official offices.
Legal defense funds are allowed by state law because "legislators have legal risks," which include lawsuits and investigations involving their official actions, according to Chapman University law professor Ronald D. Rotunda, a former member of the state Fair Political Practices Commission.
Currently, 24 state and local politicians in California have active legal defense funds for which they can solicit unlimited political contributions from supporters. Experts say the law is subject enough to interpretation that it may take a court decision or a clarifying opinion by the FPPC on a specific case should any of the politicians under investigation opt to create one.
Former staff members to Mendoza have alleged he treated female aides inappropriately, inviting them to a hotel stay and asking one to visit his home to work on her resume. Mendoza has $567,000 in surplus campaign funds.
Three more women accuse California assemblyman of sexual misconduct »
Dababneh, who has $1.1 million in his campaign accounts, has announced he plans to resign at the end of December as he faces an investigation by the Legislature into allegations that he masturbated in front of a lobbyist in a bathroom at a 2016 party at a Las Vegas hotel.
Bocanegra resigned last month after multiple women accused him of making unwanted sexual advances that included groping legislative staffers at a Sacramento bar. He has $293,000 in surplus campaign funds.
Hertzberg, who has $290,000 in surplus campaign funds, faces a complaint from former Assemblywoman Linda Halderman that she was uncomfortable with his repeated hugs after she asked him not to touch her.
All four men have denied wrongdoing.
The FPPC declined to comment on specific cases, pointing instead to state law. It says legal defense funds can be raised and spent only on defending against investigations and legal challenges "arising directly out of the conduct of an election campaign, the electoral process, or the performance of the officer's governmental activities and duties."
Money from the legal defense funds may be spent on attorneys' fees and "other legal costs related to the defense," including court filing fees, travel for attorneys to meet with investigators and payment of fines, except for allegations involving personal benefit of campaign funds.
When state Sen. Ron Calderon was indicted in 2014 on charges of using his official position to promise legislative action in exchange for bribes, he was able to tap political contributions raised in a legal defense fund to help pay for high-profile attorney Mark Geragos.
Mendoza used a legal defense fund in a dispute last year with the FPPC over how much he reported his home is worth, but that fund was disbanded earlier this year. Through a spokesman, Mendoza said he has no plans to use political contributions to defend him.
Have you experienced sexual harassment in government or politics? Please share your story »
It is unclear whether the others might consider using legal defense funds. Bocanegra and Dababneh did not return calls seeking a comment.
"Not knowing the scope of the investigation, we're unable to comment on how the Senator plans to defend himself," Hertzberg spokeswoman Katie Hanzlik said.
Private attorneys including former FPPC general counsel Bob Stern say Mendoza may have the best case to do so because the accusations involve female staff members in his office.
"I don't think Dababneh can do so if criminal or civil actions are brought against him, but probably Mendoza can [use the fund] since the actions took place at his work site," Stern said.
Dave Gilliard, who has advised many Republican state lawmakers on politics but is not an attorney, agreed that Dababneh's actions as an invited guest at a party indicate they do not involve his official position.
"Dababneh should not be allowed to establish a legal defense fund to defend himself against complaints that come from his actions while he was a private citizen," Gilliard said.
Bocanegra might not be able to establish a legal defense fund because he has left office and the funds are available only to candidates and officeholders. Dababneh faces the same problem if he does not establish a legal defense fund before his resignation is effective on Jan. 1.
Lawyer for lobbyist who accused Asssemblyman Matt Dababneh of sexual misconduct seeks details about investigation »
Republican political attorney Thomas Hiltachk has doubts about whether any of the legislators can use legal defense funds. "I don't think sexual harassment ever arises out of either one's status as a candidate or officeholder," he said.
Meanwhile, those who have contributed to campaigns for the accused are waiting to see the outcome of the investigations.
'These charges are problematic but Tony [Mendoza] is my friend and I stand by him," said Mary Ann Tipton, a retiree from Cerritos who donated $100 to Mendoza's latest campaign.
Courtney Reynaud of Clovis, an executive with a debt collection firm, said she regrets contributing to $100 to Dababneh's 2018 reelection campaign before the news of the allegations broke.
"I'm disappointed," said Reynaud, who donated because she liked that Dababneh was a moderate, pro-business politician. "I've lost faith in Matt."
Twitter: @mcgreevy99
---
Life is stressful. Our weekly mental wellness newsletter can help.
You may occasionally receive promotional content from the Los Angeles Times.