A guide to figuring out if California will flip the House for Democrats this fall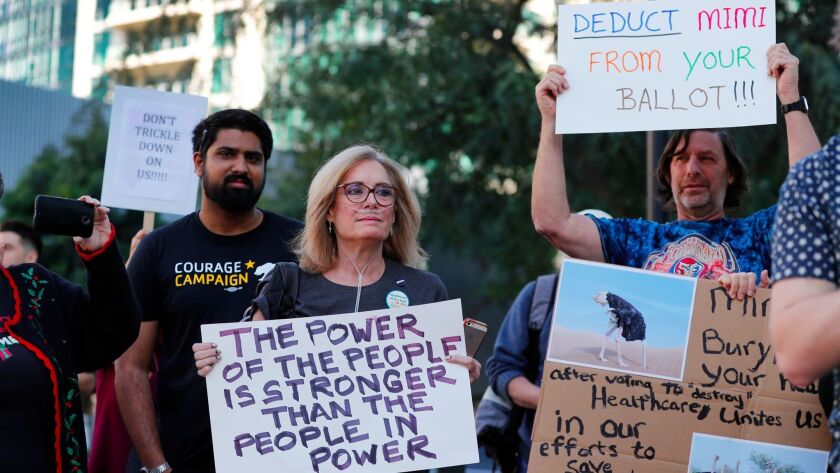 As the contests take shape, watch these trends to get a sense of what the 2018 elections might bring.
Democratic energy
President Trump's 2016 election came with a side effect. It inspired thousands of people — many of them women — to become politically active.
The protests that began at California congressional offices in the days around the inauguration have slowed in some districts, but they haven't ended. The hundreds of people who have shown up outside Rep. Darrell Issa's Vista office recently marked 49 straight weeks of protest, and others still hold weekly gatherings at vulnerable members' offices across the state.
The enthusiasm has encouraged an influx of Democratic candidates, many of whom have never run for office and say they were inspired by Trump's win. Some vulnerable California Republicans already have more than a dozen opponents, and there are months to go before the March filing deadline.
We're watching to see if the momentum holds. High Democratic enthusiasm could mean greater turnout for Democrats, especially in formerly reliably Republican areas like Orange County, where activists consistently joke about being unaware that so many Democrats live in the county.
California could flip the House, and these 13 races will make the difference »
Orange County odds
A lot of attention will continue to focus on the Orange County Republican House members, two of whom have not had a difficult race in years.
Reps. Ed Royce of Fullerton, Mimi Walters of Irvine, Dana Rohrabacher of Huntington Beach and Darrell Issa of Vista are among Democrats' top targets for 2018.
Walters, who serves in House leadership, has been more willing to toe the party line as she seeks a third term. Election prognosticators consider her seat the safest of the bunch.
Democrats hope that increased Democratic voter registration during the last few years, the growing Asian and Latino population and the fact that the county voted for Hillary Clinton in 2016 (the first time it backed a Democrat for president since 1936) are signs of change.
But any win in Orange County is going to be an uphill slog. Royce, Rohrabacher and Walters all won in 2016 by double digits, and Republicans have a decades-old campaign infrastructure there to counter the office Democrats opened last year in the county.
The GOP tax plan passed. Now Democrats have another big issue to use in the midterms »
What Feinstein vs. De León could do to turnout
After a quarter of a century in Congress, Sen. Dianne Feinstein has name recognition and a huge fundraising advantage as she seeks a fifth full term. But some on the left in California have questioned whether Feinstein is too moderate for the state.
Her most prominent opponent, state Senate leader Kevin de León, is staking a position on her left, saying he would be a better foil to Trump.
Feinstein has a comfortable lead in early polls.
No big-name Republicans have entered the race. The governor's race also has no prominent GOP contender, and California Republicans fear a shutout at the top of the ticket — thanks to the top-two primary system — could dissuade their voters from coming out for House members.
Retirement watch
Other states have seen a rash of retirement announcements in recent months, but so far California's 53 House members have indicated they are staying put and seeking reelection.
Members often either announce their retirement early so potential candidates have plenty of time to prepare, or they announce it late, often with a successor in mind, so they are not viewed as lame ducks and contests for their seats don't become free-for-alls.
Sometimes, members of Congress see a partisan wave coming and retire to avoid a tough race. That's why we're keeping an eye on those long-serving Orange County Republicans such as Rohrabacher and Royce, who are facing their first real battles in years.
Members of Congress who are weighing retirement sometimes return to Washington after the holidays with a decision, though they officially have until the March 9 filing deadline to make up their minds.
Please consider subscribing today to support stories like this one. Get full access to our signature journalism for just 99 cents for the first four weeks. Already a subscriber? Your support makes our work possible. Thank you.
For more on California politics, follow @sarahdwire
---
Get our Essential Politics newsletter
The latest news, analysis and insights from our politics teams from Sacramento to D.C.
You may occasionally receive promotional content from the Los Angeles Times.