Analysis: Gov. Gavin Newsom faces a big political test as he shapes his first California budget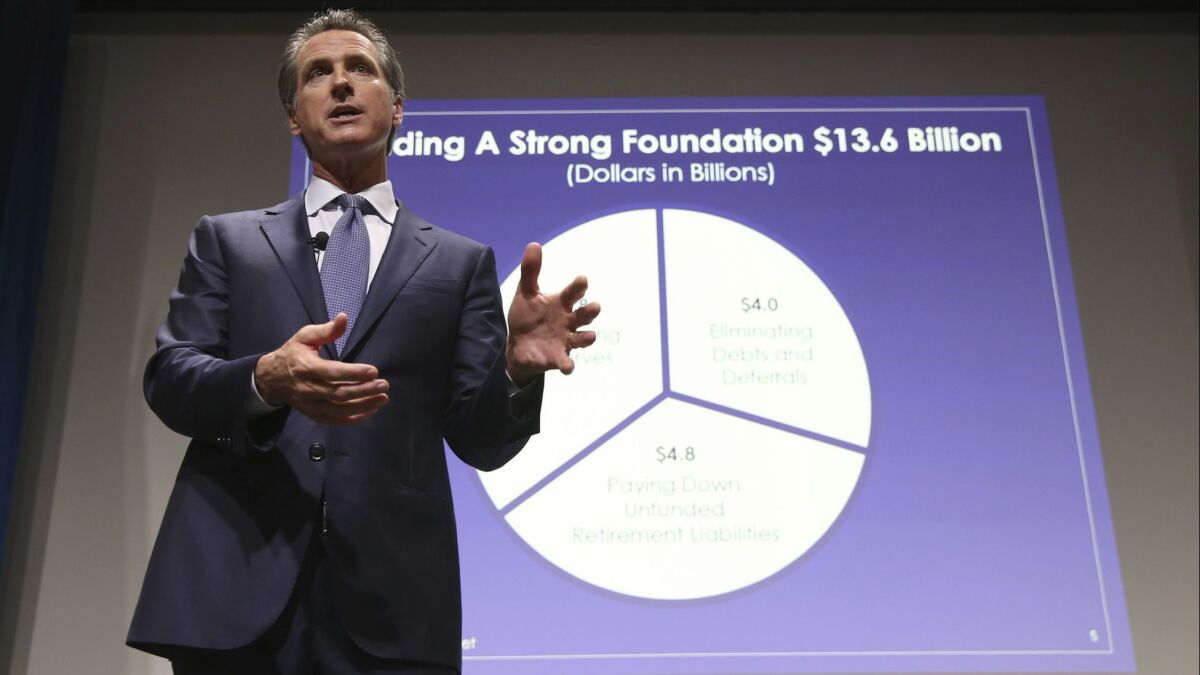 Reporting from Sacramento —
Even in the best of California's economic glory days, no governor has entered office with the kind of fiscal tail wind that Gov. Gavin Newsom now enjoys.
The government's coffers are full of taxpayer cash, its reserve accounts are stocked to weather an economic slowdown and there's general consensus on new help for the state's youngest and most vulnerable residents. A major political victory would seem all but assured as he prepares to unveil a revised state budget this week.
And yet, Newsom's very real challenge is a quandary of quantity: more tax revenue, yes, but also more Democrats in the Legislature after last year's election landslide and more demands to raise spending.
The extent to which he acquiesces or pushes back could set the tone for his entire term in office. Across the bargaining table will be experienced legislative leaders who may be eager to reset the balance of power after serving for years in the long shadow of then-Gov. Jerry Brown.
"I think those relationships are going to be very interesting to watch," said Chris Hoene of the California Budget and Policy Center, a nonprofit that advocates for programs serving the state's most needy. "All of these decisions are about who wants to use their political capital, and when."
Newsom's initial proposal, a $209-billion budget blueprint he unveiled in January, assumed that tax collections would continue to outpace projections. It projected, by next summer, a $21.6-billion windfall — which doesn't include unexpected cash that would be diverted into the state's rainy-day reserve fund.
April's preliminary tax data suggest even those rosy predictions were too modest. Corporate tax revenue ended the month $800 million above Newsom's estimate. Personal income tax revenue, which lagged through the winter, beat predictions by some $200 million last month — suggesting Newsom's initial budget might have undercounted California's surplus cash by almost $1 billion.
How Gov. Gavin Newsom is progressing on his key policy promises for California »
For months, the governor has insisted that unexpected revenue should largely be spent in one-time increments and not be automatically built into future budgets. "We want to maintain that fiscal discipline," he said last month in a meeting with The Times' editorial board.
That borrows a page from Brown, who pushed to make supplemental payments to the state's official rainy-day reserve fund. Newsom, faced with projections the fund is now close to full, has embraced a legally untested idea: declare that the extra payments in years past didn't count toward the reserve's official cap. That could allow an additional $4 billion to be socked away in the event of a recession.
Lawmakers realize that being fiscally cautious is smart politics. They know, too, that spending too much of a short-term windfall on long-term programs will inevitably lead to cuts. California's budget past is checkered with stories of boom-and-bust economic cycles.
Nonetheless, lawmakers are poised to tell Newsom that some spending increases are both viable and vital. The largest is an effort to allow all Californians, regardless of U.S. immigration status, to access the state's government-funded healthcare program, Medi-Cal.
"We violate the common good to leave hundreds of thousands of Californians without treatment for preventable ailments," state Sen. Maria Elena Durazo (D-Los Angeles) said last month during a committee hearing on her bill to remove immigration status from determining who's eligible for Medi-Cal. "Healthcare is a human right."
Durazo's bill, one of two pending efforts to expand the state program, comes with an annual price tag of at least $2.3 billion. The governor offered far less in his January budget, proposing only to expand Medi-Cal access to young adult immigrants at a cost of $134 million. That gap could be difficult to close, and an awkward position for Newsom given his attempt to lead a national effort opposing the immigration policies of President Trump.
One way to help bridge the gap could be reauthorizing a tax on managed-care health plans, bringing in $1.5 billion for Medi-Cal. The governor surprisingly left the idea out of his winter budget proposal, even though it triggers matching federal dollars and has a broad base of support.
Other differences — perhaps less costly but no less contentious — have emerged over the last few months between Newsom and legislators.
Assembly Democrats want to rework the governor's plans on housing and homelessness and have rejected his threat to strip transportation dollars from communities that fall short of expectations. They recently laid out a detailed proposal on early childhood education that goes beyond Newsom's plans. And Democrats in both houses envision a faster expansion of the state's paid family leave program than the governor's incremental approach outlined in January.
Nor will Newsom's own demands during budget negotiations be an easy lift. The governor has proposed some new taxes for the budget that must be enacted by the end of June.
His administration wants to revise California law so that it's consistent with federal tax changes championed by Trump in 2017. The additional state revenue — estimated at $1.7 billion a year — would help pay for Newsom's pledge to expand a state tax credit for the working poor.
Meanwhile, the governor wants the Legislature to impose a new tax to fund clean drinking water for communities struggling with contamination. The tax would impose a monthly water surcharge of about 95 cents on most Californians and up to $10 a month for large users. Powerful water agencies oppose the tax, and some lawmakers have suggested first using surplus tax revenue.
Both tax proposals require a supermajority vote in the state Senate and Assembly. Democrats hold more than enough seats to do so without Republicans, but there could be resistance from the majority party's members who represent competitive districts. The governor would have to work hard to win over those lawmakers, many still spooked by last year's recall of an Orange County Democrat after he voted for a gas tax increase.
"The public policy reasons for doing these things make sense," Hoene said. "But there could be some real tension."
Governors traditionally hold the upper hand in budget talks. Legislators have their paychecks docked if they don't approve a budget by June 15. Even when they do, Newsom can use his line-item veto power to reduce spending. Brown went even further in 2011 by vetoing the entire budget sent to his desk by Democrats, the first chief executive to do so in California history. He insisted that the plan included too many accounting gimmicks.
Newsom probably won't need to make that kind of demonstrative statement about his budget principles. But lawmakers and lobbyists alike will be watching to see where he draws the line in the coming weeks, to see what they can learn from this year's budget negotiations that sets the stage for those in years to come.
Follow @johnmyers on Twitter and sign up for our daily Essential Politics newsletter
---
Life is stressful. Our weekly mental wellness newsletter can help.
You may occasionally receive promotional content from the Los Angeles Times.