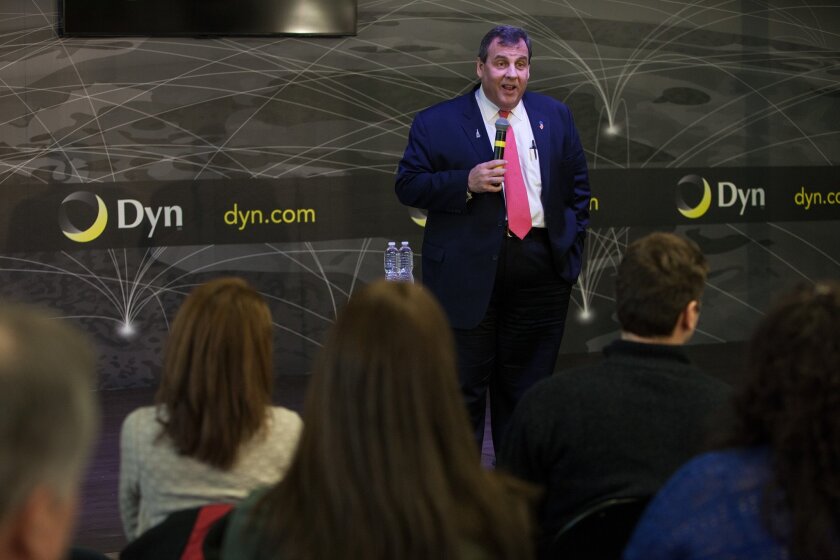 Reporting from Manchester, N.H. —
When New Jersey Gov. Chris Christie spoke to a group of employees at a technology company in Manchester, N.H., on Monday, there was one couple who didn't quite belong. They don't work at the company and don't even live in the state – they were visiting from California to get an up-close look at the presidential candidates they usually get to see only on television.
Linda Verraster and John Alkema, who live in San Clemente, arrived in New Hampshire on Friday and plan to stay until Wednesday.
This is Alkema's third time visiting the state for the primary and his wife's first. They're among the "political peepers" – a term coined by New Hampshire's secretary of State – who flock here during a presidential campaign to get a glimpse of the candidates.
Because California holds its primary in June, usually after both parties' nominees are already clear, presidential candidates have little incentive to hold intimate events in the state. Often the only reason they visit is to replenish their campaign accounts with money from deep-pocketed donors.
"We don't get this in California," said Alkema, 71. "In California, if you went to see something like this, you'd have to make a donation."
Verraster, 61, and Alkema usually vote for Democrats, they said, but they were attending events for both parties' candidates. Besides attending the Christie town hall, they saw Hillary Clinton and Texas Sen. Ted Cruz speak, and they were hoping to see Ohio Gov. John Kasich and Vermont Sen. Bernie Sanders as well.
They were both impressed by Christie, who they said came across much nicer in person than he's portrayed by MSNBC's Rachel Maddow.
"This is a guy I could have a beer with," Alkema said.
Follow @chrismegerian for more updates.
For more political coverage, go to www.latimes.com/politics.
ALSO
Rubio super PAC launches last minute attack on Bush
---