White House works to make Trump non-scary; he torpedoes the effort with a brutal vulgarity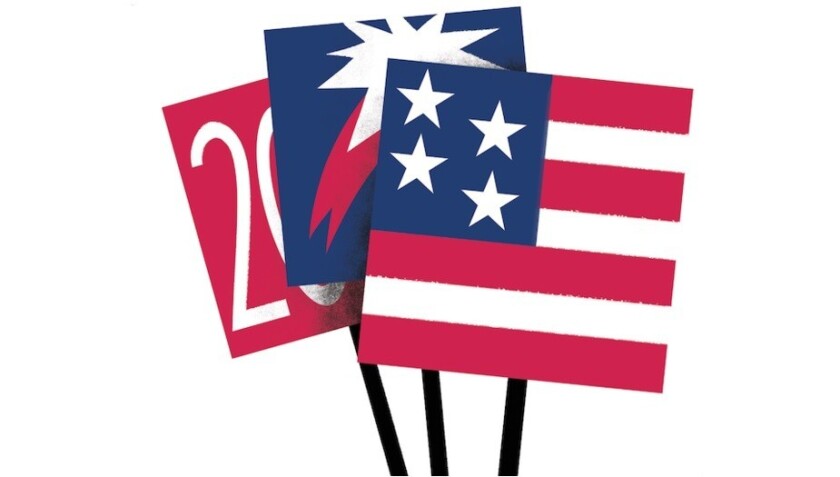 Reporting from Washington —
The White House worked intensely this week to showcase President Trump as serious, on top of his brief, not at all worrisome.
Officials opened a meeting with congressional leaders to TV cameras, they highlighted the president's engagement on policy and they fought back against Michael Wolff, the author whose new book depicts Trump as unstable, childish and unfit.
With a single, brutally vulgar remark from Trump, all that work went down the hole.
I'm David Lauter, Washington bureau chief. Welcome to the Friday edition of our Essential Politics newsletter, in which we look at the events of the week in Washington and elsewhere in national politics and highlight some particularly insightful stories.
NO AFRICANS NEED APPLY
When Sens. Lindsey Graham (R-S.C.) and Dick Durbin (D-Ill.) went to the White House on Thursday, they believed they had a compromise that would give Trump what he says he wants.
Their proposal, as Lisa Mascaro reported, would have resolved the status of the so-called Dreamers, the roughly 700,000 young immigrants who came to the U.S. illegally as children and who face deportation because of Trump's decision to end the Obama administration's DACA program.
The plan would provide money to start building Trump's border wall and impose some limits on family unification — what Trump and his allies call chain migration. That met two demands the president set out in his meeting Tuesday with lawmakers. In that session, Trump said he wanted an immigration deal and would "take the heat" to get one.
The compromise addressed two other problems, as well. Trump has denounced the so-called visa lottery, so the proposal would have taken away the 50,000 visas that currently get distributed through a lottery. Instead, those would have gone to cover some of the nearly 300,000 longtime U.S. residents who face deportation over the next 18 months because of the administration's decision to end Temporary Protected Status for immigrants from several countries in Africa, the Caribbean and Central America.
As Durbin listed the countries, Trump lashed out, Mascaro reported:
"What do we want Haitians here for?" he asked. "Why do we want all these people from Africa here? Why do we want all these people from shithole countries?"
"We should have people from places like Norway."
THE GATHERING WAVE
White House officials did not try to deny Trump's remark.
Friday, Trump tweeted a noticeably ambiguous statement, saying he "never said anything derogatory about Haitians other than Haiti is, obviously, a very poor and troubled country," but not specifically denying the racially charged slur.
Durbin confirmed it in television interviews Friday morning.
"I cannot believe that in the history of the White House, in that Oval Office, any president has ever spoken words that I personally heard our president speak yesterday," he told CNN.
Some aides insisted that what they characterized as bluntness might help Trump politically with his strongest supporters.
They know better. Trump's staff demonstrated what they really believe a month ago when they furiously denied a New York Times report of Trump using similar language last year to denounce African and Haitian immigrants. That time, he reportedly said all Haitians had AIDS and referred to Nigerians as living in huts.
The main difference was that this time, Trump made his remarks in front of members of Congress, rather than White House staff, making a cover-up impossible.
In any case, Trump's problem isn't with his most ardent backers. It's with the other 70% of the country.
Republicans risk the loss of their congressional majority in November's midterm elections — a threat that was underlined this week, as Mark Barabak wrote, when two senior Republicans from Southern California, Reps. Darrell Issa and Ed Royce, announced they would retire, swelling the number of congressional retirees to the highest figure in a generation.
Both men faced tough races in districts that were once reliably Republican, as Sarah Wire wrote.
More evidence of the GOP's trouble came from the heartland as Rep. Kevin Cramer, North Dakota's sole member of Congress, announced he would not risk his seat to run for the Senate against incumbent Sen. Heidi Heitkamp. The announcement deprived the GOP of their favored candidate to take on Heitkamp, who normally would be vulnerable as a Democrat in a heavily Republican state.
The GOP's problems come despite solid economic news of the sort that normally lifts the incumbent party.
Trump's widespread unpopularity is pulling them down.
That unpopularity goes far beyond the ranks of confirmed Democrats. As SurveyMonkey reported this week, after analyzing the results of more than 600,000 interviews that the nonpartisan firm conducted in 2017, significant numbers of blue-collar voters who sided with Trump in 2016 have turned against him.
As political analyst Ron Brownstein noted, "Trump's approval rating fell more with middle-aged blue-collar white women than any other group."
As focus groups and polls repeatedly have shown, Trump has lost ground with voters for two reasons: He has embraced conservative Republican policies, especially on healthcare, that break with the populist stance of his campaign, and he has behaved in ways that many voters find upsetting, distracting and, at times, simply scary.
Most voters don't expect politicians to be saints. But they don't like open expressions of racial prejudice. They may not care that their president is unpopular overseas. They do take note when their president needs to cancel a trip to London for fear of sparking massive demonstrations, as Trump did Thursday night. They don't really expect the president to be a genius, but they would like him to be stable.
White House officials know they need to win back some of those voters if Republicans are to avoid a wipeout this fall. They dearly wanted this week to shift the focus away from Trump's behavior and back to safer ground.
Once again, they learned, Trump is his own worst enemy.
THE 'DREAMERS' AND THE JUDGE
The fate of the "Dreamers" at this point may depend on the courts.
Wednesday night, as Joel Rubin reported, a federal district judge in San Francisco issued a temporary injunction to block Trump from ending DACA until legal challenges by the state of California, several other states and DACA recipients could be heard.
The Justice Department is expected to try to get a higher court to put that order on hold, which would allow the administration to proceed with its plans to end DACA as of March 5.
A lot will depend on whether the administration wins that move. If a higher court stays the judge's order, the Dreamers will start losing their protections at the rate of roughly 1,000 a day.
Unless Congress acts, they will have to quit work, and some will almost surely be deported.
But if the Supreme Court allows the injunction to remain in place until the case winds its way through the courts, then even if Trump eventually wins, the Dreamers could get a long reprieve. The litigation could easily take more than a year to resolve, and by then, Trump could be facing a Democratic congressional majority.
MORE FROM A WHIRLWIND WEEK
Sen. Dianne Feinstein released Senate testimony from the co-founder of the research firm behind the notorious Trump dossier. As Chris Megerian wrote, Feinstein's move sharply escalated partisan tensions with Judiciary Committee chair Sen. Chuck Grassley of Iowa, who hadn't wanted to reveal the testimony. It also made her a hero to many California liberals whose support she needs in her reelection bid.
Trump, angry over Wolff's book, said he would seek tighter libel laws. As Noah Bierman wrote, the remark, which Trump later repeated in an interview with the Wall Street Journal, is entirely bluster: There is no federal libel law, and the limits on libel that Trump says he dislikes were set by the Supreme Court.
Ironically, Trump is currently being sued for libel by one of the women who accused him last year of sexual assault. Summer Zervos says Trump defamed her by calling her a liar. To defend Trump, his lawyers are using many of the legal tools the president says he'd like to eliminate.
For a brief time Thursday morning, Trump's national security aides feared one of his tweets could kill their top legislative priority. His tweets about surveillance vividly illustrated the gap between Trump's personal views and the views the White House officially holds, Noah Bierman wrote.
In another, somewhat similar situation, Trump is expected today to announce that he's keeping the Iran nuclear deal intact by continuing to waive sanctions lifted by President Obama, Tracy Wilkinson wrote. He's frequently expressed his desire to kill the nuclear deal, but his advisors believe doing so would hurt U.S. security.
Trump is expected to add new sanctions not related to the nuclear program.
Interior Secretary Ryan Zinke's plan to expand offshore oil drilling is producing lots of headaches for the administration, Keith Schneider reported. Zinke flew to Florida this week for a hastily arranged meeting with Gov. Rick Scott to announce that state's coast would be exempted. That's led to demands from governors of other coastal states, including several Republicans, for similar treatment.
California Atty. Gen. Xavier Becerra has threatened to challenge the administration's drilling plan in court.
And in another energy-related move, Trump's own appointees to a federal regulatory board rejected a proposal by Energy Secretary Rick Perry to subsidize the owners of coal and nuclear plants. The unanimous rejection once again demonstrated how much trouble the administration faces in trying to keep market forces from eroding the coal business, Evan Halper wrote.
ALL THE PRESIDENT'S TWEETS
Twitter has long been Trump's favored means of pushing his message, as this week amply showed. We're compiling all of Trump's tweets. It's a great resource. Take a look.
LOGISTICS
That wraps up this week. My colleague Christina Bellantoni will be back Tuesday with the weekday edition of Essential Politics. Until then, keep track of all the developments in national politics and the Trump administration with our Essential Washington blog, at our Politics page and on Twitter @latimespolitics.
Send your comments, suggestions and news tips to politics@latimes.com.
If you like this newsletter, tell your friends to sign up.
---
Get our Essential Politics newsletter
The latest news, analysis and insights from our politics teams from Sacramento to D.C.
You may occasionally receive promotional content from the Los Angeles Times.