Trump takes six positions on gun control: Why that matters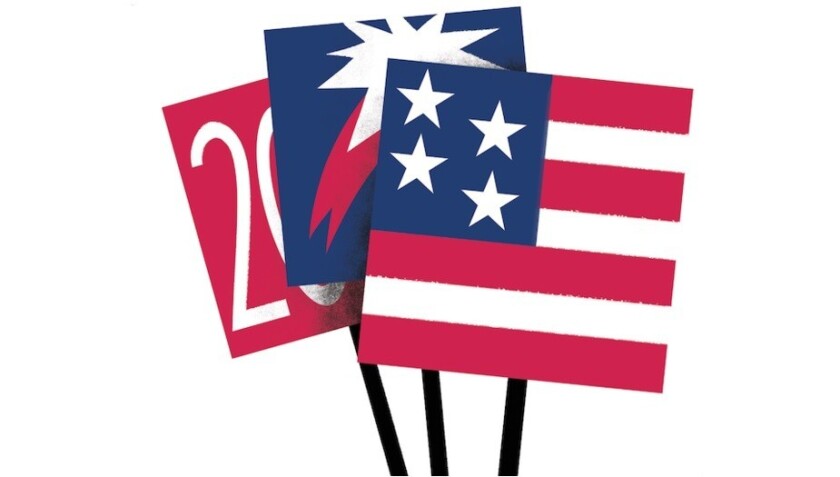 Reporting from Washington —
One of the paradoxes of Donald Trump's tenure is that a president who is among the least ideological to have held the job presides over one of the most ideological administrations in memory.
Trump, as senior Republicans know well, is a man who just a few years ago hosted a fundraiser for Sen. Chuck Schumer, the liberal New Yorker who is now the Senate's Democratic leader. But Trump's path to the Oval Office lay through the right wing of American politics, and ever since his election, he has given top priority to keeping a very conservative support base happy.
Every so often, the tensions between what his base wants and what Trump actually thinks come to the surface. They did so in dramatic fashion this week on the issue of guns.
I'm David Lauter, Washington bureau chief. Welcome to the Friday edition of our Essential Politics newsletter, in which we look at the events of the week in Washington and elsewhere in national politics and highlight some particularly insightful stories.
'TAKE THE GUNS FIRST'
Few issues lie closer to the core of conservative culture in the U.S. than guns.
Many urban American liberals like to blame Republican opposition to gun control measures on the National Rifle Assn., saying the group has intimidated GOP lawmakers with its financial power. But that mostly gets cause and effect backward.
The NRA gets its power because pro-gun attitudes have become central to the self-identity of many conservatives, especially those living in rural areas, as the non-partisan Pew Research Center showed last summer in an in-depth study of American attitudes toward guns. For many rural conservatives, the belief that the 2nd Amendment provides a vital check on government power is cherished as much as the 1st Amendment is revered in more liberal parts of the country.
Trump's remark at a televised session with lawmakers on Wednesday that government officials should have the power to seize guns from people who might pose a danger without going to court — "Take the guns first, go through due process second," he said — directly contradicted that view.
Trump didn't stop there. He urged the assembled members of Congress to pass a "comprehensive" gun control bill, as Christi Parsons wrote, saying that it should expand background checks, limit gun purchases to people 21 or older and perhaps even include a ban on the sale of some assault weapons. He harshly put down Rep. Steve Scalise (R-La.) when he tried to push for an NRA-backed proposal to expand gun owners' rights to carry concealed weapons from state to state.
Sen. Dianne Feinstein, who has long campaigned to revive the assault weapons ban that she got through Congress in the 1990s, literally shook with glee as Trump laid out his suggestions, as Sarah Wire wrote.
The session made for "fascinating television, and it was surreal," Sen. John Cornyn of Texas, the chamber's second-ranking Republican, told reporters afterward.
What it doesn't necessarily make for is actual legislation.
As Noah Bierman and Cathy Decker wrote, Trump's approach to guns may recapitulate his experience with immigration — floating ideas with bipartisan appeal only to pull them back when conservatives objected.
Indeed, by Friday morning, after Trump ate dinner Thursday night with a top NRA official, White House Press Secretary Sarah Huckabee Sanders was carefully walking back some of the president's comments.
On expanded background checks, for example, she said Trump's position was "not necessarily universal background checks, but certainly improving the background check system."
"Universal means something different to a lot of people," she said.
And on raising the age limit for buying a rifle? "Conceptually, he still supports raising the age to 21. But he also knows there's not a lot of broad support for that," she said, adding that "I think he thinks it would probably have more potential in the states than it would at the federal level."
'I WANT TARIFFS'
On guns and many other issues, Trump can shift positions on a moment's notice. On trade, however, he has pushed protectionism for decades. His promise to tear up "bad trade deals" formed a central element of his campaign.
In mid-summer, during an Oval Office meeting, he told his Chief of Staff John F. Kelly that he was tired of his advisors thwarting his desire to impose tariffs on countries he sees as unfair traders.
"I'm telling you, I want tariffs," he said, according to an account first published during the summer by the Axios news site.
For months, White House economic advisor Gary Cohn and other officials held Trump's desire for tariffs at bay, but Thursday, Trump declared that he had had enough. As Don Lee reported, he told reporters that he plans to impose 25% tariffs on imported steel and 10% on aluminum.
The announcement caused stock markets to plunge amid fear of a trade war that could damage economies worldwide. But Trump proceeded undaunted.
"Trade wars are good, and easy to win," he declared in a tweet Friday morning.
"Our steel industry is in bad shape. IF YOU DON'T HAVE STEEL, YOU DON'T HAVE A COUNTRY!" he said in a follow-up message.
Actually, the steel industry has been fairly healthy in recent years. It just doesn't employ nearly as many people as it once did, largely because new technology has greatly reduced the number of workers needed to produce a ton of steel. That reality, however, doesn't fit with Trump's view of the world, which on trade as on other issues, such as immigration and race, persistently hearkens back to an America of the late 1950s.
If Trump follows through, he'll probably lose yet another high-level advisor — people close to Cohn have been spreading the word that he plans to leave. And he would also put himself at odds with the GOP's business-oriented wing, which reacted strongly against his plans.
But a trade war with China could prove politically popular — at least at first — in the Midwestern states that were key to Trump's 2016 victory.
'BUILD THE WALL'
Trump is hardly the first president to follow an ad hoc approach to policy. Richard Haass, the head of the Council on Foreign Relations, noted last summer that Franklin D. Roosevelt also ran the White House as what Haass dubbed an adhocracy.
The difference, Haass wrote, was that Roosevelt had deep experience with government, which allowed him to play opposing advisors off against each other, keeping his own options open. Trump, by contrast, sometimes displays an ignorance of on-the-ground realities that surprises even those around him.
A good case study came this week with a tweet in which Trump threatened to block the building of further border barriers in California unless his long-promised border wall gets built.
Across the government, no one seemed to have an idea of what, if anything, the president was talking about, Noah Bierman, Sarah Wire and Kate Morrissey reported. And if the idea was to gain leverage over California officials, most shrugged it off.
"If he wants to waste that money in some other part of the country, that's fine with me," said Rep. Scott Peters (D-San Diego).
SPECIAL ACCESS FOR SPECIAL INTERESTS
Despite his own flexibility on issues, Trump has surrounded himself with appointees who have strongly ideological views.
One of the most prominent examples is EPA Administrator Scott Pruitt. Evan Halper reported on how Pruitt has traveled around the country, meeting almost exclusively with officials of industries regulated by his agency, as he has sought to remake a major environmental program that is designed to protect water quality.
FLEEING THE CHAOS
One side effect of the sort of chaos that Trump generates is that it increases the already high stress level involved in senior government positions. Not surprisingly, therefore, Trump has seen an unusually large amount of turnover. That, in turn, exacerbates the problem the White House has already faced in staffing key positions.
The most recent high-level departure was that of Hope Hicks, the White House communications director. As Noah Bierman noted, Hicks, who said she will leave in a few weeks, was the longest-serving Trump aide outside of his family members.
Earlier in the week, as Chris Megerian reported, Hicks had refused to answer numerous questions during an appearance before a congressional panel examining Russian interference in the 2016 election.
Her departure will leave Trump, who likes to operate with a small group of trusted loyalists, increasingly isolated. On Tuesday, Trump's son-in-law, Jared Kushner, lost his interim top secret clearance. As Brian Bennett reported, Kushner has been working for more than a year without a permanent security clearance.
Meantime, the administration continues to lose longtime government professionals. On Thursday, Roberta Jacobson, the U.S.ambassador to Mexico, announced she was leaving. Jacobson was one of the State Department's leading experts on Latin America.
Earlier in the week, the White House confirmed that Mexican President Enrique Peña Nieto had scrubbed plans to visit Washington. The cancellation came after a testy telephone call in which Trump refused Peña Nieto's request that he promise not to talk publicly about Mexico paying for the border wall during the visit.
One person who stubbornly has not quit — perhaps to the president's dismay — is Atty. Gen. Jeff Sessions. Last year, Trump spent weeks attacking Sessions, seemingly trying to drive him out. Eventually, Trump relented and stopped the public criticism.
This week, however, he was back at it, firing off an angry tweet Wednesday in which he referred to the Justice Department as "disgraceful." And as Joe Tanfani reported, this time, Sessions pushed back, issuing a public statement defending the department. He also ate a very public dinner that night at a prominent Washington restaurant with Deputy Atty. Gen. Rod J. Rosenstein. The dinner was widely interpreted in Washington as a sign of solidarity between the two men.
FOREIGN AGENTS
One piece of fallout from the Russia investigation: Megerian reports that dozens of Washington power brokers have registered as foreign lobbyists. The disclosures are required under the Foreign Agents Registration Act, but until recently, when Special Counsel Robert S. Mueller III began to threaten prosecutions for not registering, many lobbyists didn't bother.
PROGRAMMING NOTE
Monday's newsletter will come later in the morning than usual. Share your feedback.
LOGISTICS
That wraps up this week. My colleague Christina Bellantoni will be back Monday (a little later) with the weekday edition of Essential Politics. Until then, keep track of all the developments in national politics and the Trump administration with our Essential Washington blog, at our Politics page and on Twitter @latimespolitics.
Send your comments, suggestions and news tips to politics@latimes.com.
If you like this newsletter, tell your friends to sign up.
---
Get our Essential Politics newsletter
The latest news, analysis and insights from our politics teams from Sacramento to D.C.
You may occasionally receive promotional content from the Los Angeles Times.