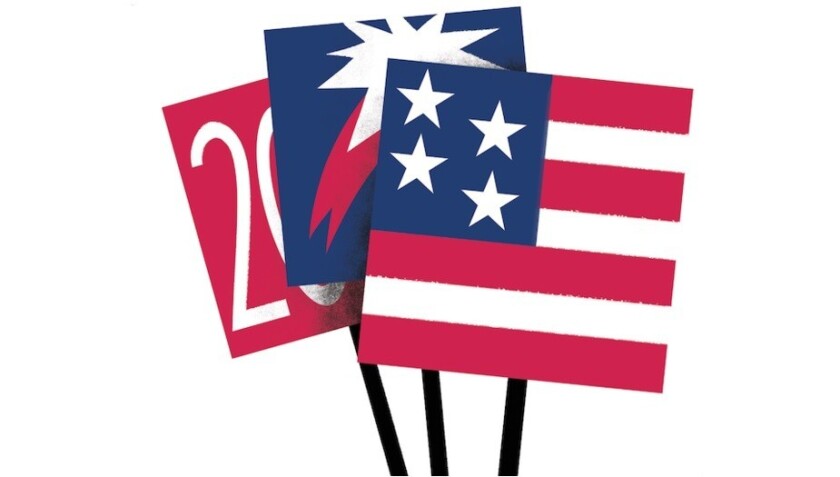 I'm Christina Bellantoni, the Essential Politics host today. Let's get started.
In the aftermath of the attacks in Paris, presidential candidates eager to criticize President Obama's foreign policy have fresh material.
The latest iteration is what to do about Syrian refugees in the United States, as many governors are now saying they will refuse to accept any in their states due to security concerns.
Molly Hennessy-Fiske and Lisa Mascaro counted at least half the nation's governors taking that stance, even as Obama said such actions "would be a betrayal of our values." Mascaro reports that new Speaker Paul Ryan is under pressure to block funding for Obama's plan to bring 10,000 refugees to American soil.
What's more, Republican members of Congress — including the chairmen of the Senate Armed Services, Senate Intelligence and House Homeland Security committees — have called for a halt to admitting Syrian refugees to the U.S. entirely.
In California, Gov. Jerry Brown issued a measured statement that he would work with the president to uphold America's role as a place of asylum while making sure refugees are "fully vetted" with sophisticated and reliable means.
Vice President Biden, in his first remarks since Friday's massacre, said in Los Angeles on Monday "there will be a tendency, both here and in Europe, to talk about closing down borders." He said acting on such reflexes would be a mistake, asserting that ISIS was incapable on its own of seriously menacing the U.S.
"I say to the American people: There is no existential threat to the United States," Biden said. "Nothing ISIS can do could bring down the government, could threaten the way we live."
Peter Jamison was there and has more details.
The clash hit the campaign trail as the president spoke in Antalya, Turkey, taking issue with Sen. Ted Cruz (R-Texas) for suggesting what Obama called a "religious test" for refugees trying to come to the U.S. from the war-torn Middle East.
The president's remarks followed Cruz's suggestion that Christians entering the U.S. don't pose a threat as Muslim refugees from Syria do.
"That's shameful," Obama said, speaking to reporters at the conclusion of the Group of 20 summit here. "That's not American. It's not who we are. We don't add religious tests to our compassion."
Donald Trump issued an "I told you so" rebuke, and former Florida Gov. Jeb Bush told his supporters "What's worse, today in Turkey, President Obama signaled absolutely no change in course and confirmed what we already knew: He doesn't believe in American leadership."
Still, David Lauter and Christi Parsons find that despite heated language, the candidates in both parties have been arguing that they would pursue the same approach as Obama, but would do it better. Almost none of them have called for sending U.S. troops into direct combat, which Obama once again ruled out Monday. The main exception has been Sen. Lindsey Graham of South Carolina, who has based his entire campaign on a call to send some 10,000 U.S. troops to combat Islamic State.
CRUZ KEEPS IT UP
The refugee conversation is happening as immigration continues to be a flashpoint among Republican presidential candidates.
Democrats pounced Monday when immigration hardliner Rep. Steve King of Iowa announced his endorsement of Cruz — even though he declined to back a candidate in 2012.
Lisa Mascaro notes a new ad from Cruz that pointedly notes he stood up against members of his own party seeking "amnesty" for people in the country illegally. That's a jab at rival Sen. Marco Rubio of Florida, who was a member of the Gang of Eight lawmakers who pushed a comprehensive plan with a pathway to citizenship.
Ted Cruz is up with first TV ads in #Iowa https://t.co/0vHWygEtnK

— Lisa Mascaro (@LisaMascaro) November 16, 2015
BERA GETS A CHALLENGER
Sacramento bureau chief John Myers reports on one of California's fiercest critics of federal immigration policy announcing his candidacy for Congress.
Sacramento County Sheriff Scott Jones will run as a Republican against Rep. Ami Bera (D-Elk Grove) in a competitive district that encompasses much of the suburbs surrounding Sacramento.
Bera won his 2014 race by less than a percentage point in a strong GOP year, and has found himself the target of criticism from organized labor this past summer after supporting the Obama administration's Pacific Rim trade deal.
Myers snapped this photo at the announcement event.
Sacramento Sheriff Scott Jones enters #CA7 race against @RepBera. pic.twitter.com/La6StJjz9H

— John Myers (@johnmyers) November 16, 2015
TODAY'S ESSENTIALS
-- Sarah Wire talks with Bay Area residents incensed over noisy planes overhead thanks to a new flight path. As the jets reach as high as 70 decibels, complaints have soared 2,706%. Similar problems could be headed to Southern California. Wire reports on what members of the California delegation are trying to do about it.
-- The California delegation to Paris for a global climate change summit will go on as planned, Chris Megerian reports.
-- L.A. Mayor Eric Garcetti's overhaul of how the city hires firefighters ― launched 16 months ago amid allegations of nepotism and bias ― has so far failed to meet his aim of diversifying the department, according to a Los Angeles Times analysis of government data.
-- Experts testified that CalPERS would have endured lower returns and higher volatility over the years had it not invested in private equity.
-- President Obama will honor James Taylor, Barbra Streisand, Steven Spielberg, Stephen Sondheim, Itzhak Perlman, retiring Sen. Barbara Mikulski, Willie Mays and (posthumously) Yogi Berra with the Presidential Medal of Freedom.
LOGISTICS
Miss yesterday's newsletter? Here you go. Did someone forward you this? Sign up here to get Essential Politics in your inbox daily. And keep an eye on our new politics page throughout the day for the latest and greatest. And are you following us on Twitter at @latimespolitics?
Please send thoughts, concerns and news tips to politics@latimes.com.
---