Newsletter: Essential Politics: Obama warns against 'hysteria' as Congress examines refugee program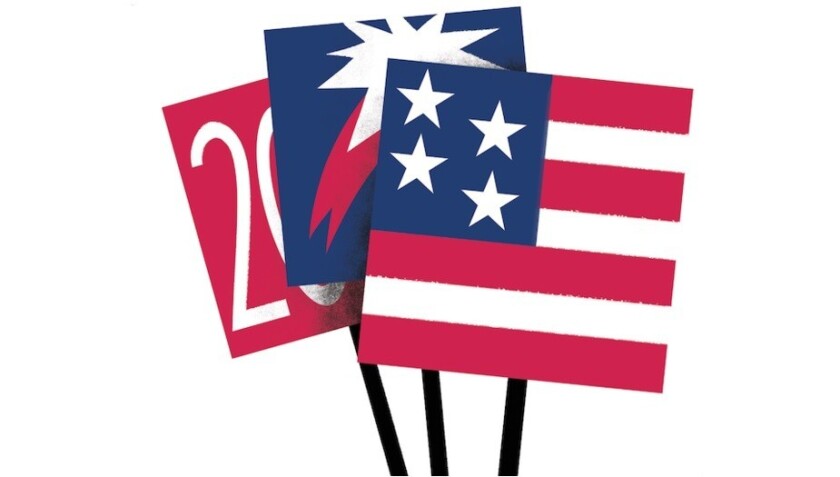 I'm Christina Bellantoni, the Essential Politics host today. Let's get started.
"First they were worried the press was too tough on them in the debates, now they're worried about 3-year-old orphans. That doesn't sound very tough to me."
That was President Obama in his sharpest rhetoric yet going after Republicans amid what has become a heated debate over allowing Syrian refugees into the United States.
The remarks came during a trip abroad as he held a bilateral meeting with Philippine President Benigno Aquino, and after Speaker of the House Paul Ryan called for a vote as soon as this week on a bill to "pause" the resettlement of Syrian refugees. Ryan said this moment since the deadly attacks in Paris is a time "where it's better to be safe than to be sorry."
"We cannot let terrorists take advantage of our compassion," he said.
As we reported yesterday, the issue has become a flashpoint in the presidential campaign. Tuesday, even as one candidate bid farewell, several candidates spoke out, while Ohio Gov. John Kasich said when his daughter asked why he is no longer in favor of allowing refugees in, he told her, "We understand these people are in trouble, but think about us putting people on our street that want to do us harm."
Obama said comments from political leaders in recent days — including Sen. Ted Cruz's suggestion Christian refugees are different from Muslims — have been "offensive."
"We are not well served when, in response to a terrorist attack, we descend into fear and panic. We don't make good decisions if it's based on hysteria or an exaggeration of risks," the president said.
"I cannot think of a more potent recruitment tool for ISIL than some of the rhetoric coming out of here in the course of this debate," he said. "They've been playing on fear to score political points or to advance their campaigns and it's irresponsible. It needs to stop because the world is watching. I was proud, when the attacks in Boston took place, and we did not resort to fear and to panic. Boston Strong. People went to the ball game that same week, and sang the national anthem. And went back to the stores and went back to the streets. That's how you defeat ISIL."
Back home, White House Chief of Staff Denis McDonough got on the phone for 90 minutes with a bipartisan group of 34 governors to drive home the administration's message. The White House said the group on the call hosted "an extensive question and answer session" and briefed the governors on "the rigorous screening and security vetting process that is required before a refugee is able to travel to the United States."
The day's events — and reaction from California's own refugee population — are detailed nicely in this front page story from our team.
Sarah Wire spoke with a varied sampling of California's congressional delegation and found they have competing viewpoints now that the debate has reached Congress. They also said constituents calling and emailing them are concerned current regulations aren't enough to keep out Islamic State members.
House Foreign Affairs Committee Chairman Ed Royce (R-Fullerton) told Wire there is a practical question at stake.
With Islamic State controlling parts of Syria, it is more difficult to trace refugees' histories, and people are worried fake Syrian passports are being used.
"It is not possible right now for U.S. authorities to contact the government in Damascus to do background checks on refugees coming out of Syria in order to be able to discern whether ISIS is embedded in their ranks or not," he said.
Rep. Janice Hahn (D-Los Angeles) cautioned against Congress reacting with too heavy a hand. "We have to be really careful [of] in any way branding refugees as terrorists. The majority of refugees from what I can see are women and children," she said.
We'll be covering every angle of the story in the days to come. Gov. Jerry Brown is in Southern California on Wednesday and will no doubt be asked more about the refugee screening process.
Keep up with the news on our politics page and via @latimespolitics.
CAMPUS UNREST
Our Metro staff used what's happening at Claremont McKenna College to take a look at college students inspired by events in Ferguson and the Black Lives Matter movement who are questioning institutions they once approached for answers.
In recent weeks these young adults have borrowed from tactics of the past — hunger strikes and occupation — to find a collective voice to address years, if not decades, of pent-up frustration and disappointment.
Meanwhile, a prominent former graduate of the Claremont Colleges urged caution and dialogue.
Patrick McGreevy talked with former state Assembly Speaker Fabian Nuñez, who graduated from Pitzer College in the 1990s.
"It's one thing to show solidarity with students at campuses across the country," Nuñez said. "Not that there isn't discrimination at the Claremont Colleges, but I just think people need to be more thoughtful and talk about issues and cooler heads would prevail, because calling for the ouster of the president of a college without having the real basis on which to do that is questionable at best."
He suggested he's worried about it getting out of control.
"You can never invalidate efforts when students engage in spirited expressions of their 1st Amendment rights. It's always something you have got to embrace," Nuñez said. "But I do think there is a fine line between stepping into a situation where you want to call out institutionalized racism or discrimination and situations where you want to find a problem. It looks to me more like a solution in search of a problem, instead of tackling a real issue" at Claremont.
TODAY'S ESSENTIALS
-- Rep. Michael Honda (D-San Jose) is leading a new Transgender Equality Task Force created by the Congressional LGBT Equality Caucus. The task force, which also includes Rep. Jackie Speier (D-Hillsborough), held a forum Tuesday on transgender life in the United States.
-- Phil Willon has details about the Kamala Harris campaign shakeup.
-- Meg James reports that political advertising spending could reach $6 billion in 2016, according to preliminary estimates from Wells Fargo Securities. That's a 16% increase compared to the last presidential campaign season.
--Rep. Susan Davis (D-San Diego) will work with the committee deciding the final details of the Elementary and Secondary Education Act, which determines funding for public education. The House and Senate passed different versions of the bill and now have to reconcile the differences.
-- The Chinese American scientists arrested for espionage charges and then released are demanding answers from the Department of Justice and have support from members of the California's congressional delegation.
-- Hillary Rodham Clinton scored the endorsement of the Services Employees International Union.
LOGISTICS
Miss yesterday's newsletter? Here you go. Did someone forward you this? Sign up here to get Essential Politics in your inbox daily. And keep an eye on our new politics page throughout the day for the latest and greatest. And are you following us on Twitter at @latimespolitics?
Please send thoughts, concerns and news tips to politics@latimes.com.
---
Get our Essential Politics newsletter
The latest news, analysis and insights from our politics teams from Sacramento to D.C.
You may occasionally receive promotional content from the Los Angeles Times.