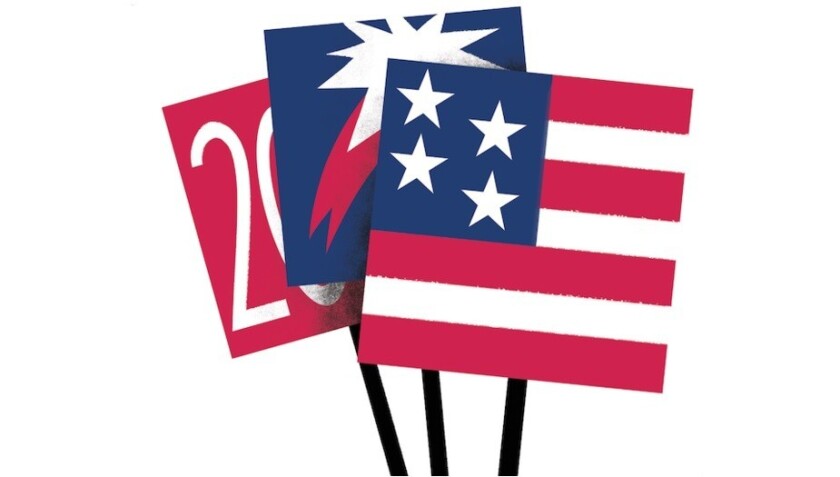 I'm Christina Bellantoni, the Essential Politics host today. Let's get started overseas, where California's delegation to the climate talks outside Paris is attempting to showcase the Golden State as a good example. Negotiators are working to finalize a deal that President Obama is closely monitoring.
But even as California sells itself as an environmental success story during the United Nations climate change summit, the state is in danger of failing to meet its own targets for getting clean vehicles on the road, Chris Megerian reports from Paris.
He writes that in a state with sprawling suburbs, stiff traffic and a longtime love affair with the internal combustion engine, slashing the amount of gasoline burned is a tall order. And unless it finds a way, California won't accomplish the emissions goals it has promoted as a model for the rest of the world.
Still, the group is optimistic about the role the state can play.
"This is an opportunity for people in California to try to make the case for the way that we've done things," billionaire activist Tom Steyer told Megerian in Paris.
Follow along on our live blog as the talks continue.
2016 CLIMATE CHECKLIST IN SACRAMENTO
The Paris summit includes a handful of prominent Democratic legislators, and already we're getting a sense of what they might be inspired to write into law once the Legislature reconvenes next month.
Megerian reports that state Sen. Ricardo Lara (D-Bell Gardens) will introduce legislation to cut so-called "short lived" climate pollution, from the soot-like material left from fuels to hydrofluorocarbons used in refrigerators and air conditioners.
And John Myers reports that the matriarch of California climate change efforts, state Sen. Fran Pavley (D-Agoura Hills), plans to push new efforts on a low-carbon fuel standard — a key goal that's been established toward meeting the greenhouse gas reductions in the 2006 landmark law she wrote and then-Gov. Arnold Schwarzenegger signed.
DEMOCRATS DOUBLE DOWN ON GUN CONTROL PUSH
Sarah D. Wire and Christine Mai-Duc report on Democratic efforts to gum up Congress until something is done on gun control.
Rep. Mike Thompson (D-St. Helena) and others moved to adjourn the House repeatedly Tuesday. It was a move they knew would fail, but which occupied the members with procedural votes and kept the House from considering must-pass legislation, like a bill to fund the government and avoid a shutdown before the end of the week.
The effort was led mostly by California members, with four of the five votes called by Thompson, Rep. Eric Swalwell (D-Dublin), Rep. Jackie Speier (D-Hillsborough) and Rep. Lois Capps (D-Santa Barbara).
Thompson says he's not done and House colleagues should expect a dozen or so such procedural votes each day until House Republicans allow a vote on a bill that would prevent individuals on the FBI's terror watch list from purchasing guns and explosives.
"I think we're going to resume trying to get their attention tomorrow," he said Tuesday afternoon.
Wire live-tweeted during the shenanigans Tuesday, so follow her for the latest.
Meanwhile, our team found a number of rattled customers streaming into gun stores this week in San Bernardino County, a relatively conservative region where gun culture has taken root more deeply than in California's affluent coastal areas.
CASTING CALL SEEKS ACTORS FOR ANTI-TRUMP VIDEO
In an only-in-L.A. moment, Colleen Shalby reports on a casting call for actors to play people Donald Trump has offended over the course of his campaign.
The result will be a video from the director of the "Potty-Mouthed Princesses" YouTube video that took the Internet by storm last year. LGBT activist Luke Montgomery has a habit for using provocative tactics, like young girls dressed as princesses dropping F-bombs to criticize sexism and Latino children flipping off the camera. He's the guy who was behind the $5,000 offer to disrupt Trump during his "Saturday Night Live" hosting gig.
It sounds as if he's got something even bigger in mind for this new project, dubbed "People offended by Trump respond" according to a casting call obtained by The Times.
The synopsis listed on a site for people who are registered with casting agencies reads, "A short political comedy video taking Trump to task for comments he's made about disabled people, breastfeeding mothers, blacks, gays, Jews, Muslims, Mexicans, women and overweight people."
The actors will be responding to comments from Trump they find offensive "with some comedically offensive language of their own."
Are you fat, Jewish, Asian, breastfeeding, Muslim, in a wheelchair or Latino? Montgomery has a role for you.
SOUNDS A BIT LIKE 1992
Cathleen Decker finds that Trump's "us against them" tactics have long been a staple of the nation's political landscape, particularly in times of economic stress and fear. And there has most often been a racial cant to the tactics.
She writes:
In 1992, when wide swaths of New Hampshire were hobbled by home foreclosures, Republican Pat Buchanan challenged incumbent GOP President George H. W. Bush with the sort of rhetoric familiar to anyone listening to Trump's campaign events.
He said that Jack Kemp, Bush's secretary of Housing and Urban Development, was "down there wearing native garb," a reference to Kemp's efforts to empower minorities. He called Chinese leader Deng Xiaoping "an 85-year-old chain-smoking Communist dwarf." In terminology aimed at Latinos, he said that immigrants who refuse to "assimilate" posed a threat to the United States.
"We are a particular kind of country. We speak the English language," he said.
"People used to come here to become Americans," he added, "but a lot of folks are coming now, in the Southwest, coming to get the benefits of the welfare state."
Buchanan played on turf previously trod by George Wallace, the longtime Alabama governor who fought against racial integration and repeatedly ran for president as a Democrat and, once, as an independent. Wallace's 1972 bid was cut short when he was shot during a campaign event in Maryland.
What Buchanan, Wallace and Trump had in common was a reflexive, strongman appeal to the economically and culturally stressed.
Lisa Mascaro, Mark Z. Barabak, Seema Mehta and Christi Parsons found the Republican presidential candidates' criticism of Trump — eagerly seconded by Democrats across the country — stopped notably short as top Republicans vowed to support the billionaire businessman, whatever their qualms, if he emerges as the GOP nominee.
Jessica Roy reports that while White House Press Secretary Josh Earnest says the comments disqualify Trump, Twitter didn't quite get it, and our graphics team uses a map to show what Trump's Muslim immigration ban might look like.
Sick of Trump? There's an app for that, and Dexter Thomas explains that it sort of works.
TODAY'S ESSENTIALS
-- Melanie Mason has details on the new leaders of the centrist "Mod" caucus in the Legislature, Assemblymen Rudy Salas (D-Bakersfield) and Jim Cooper (D-Elk Grove). The two men will lead a group of legislators that's increasingly at the center of every big political fight in Sacramento.
-- Mascaro reports on the House's rare bipartisan move to restrict travel to the U.S. by passing a bill that would end visa-free entry to those who have visited Syria, Iraq, Iran or Sudan.
-- The Supreme Court sounded poised Tuesday to order a significant shift in how political power is allocated in this country, one that could give more clout to rural and mostly Republican areas at the expense of Democratic-dominated cities.
LOGISTICS
Miss yesterday's newsletter? Here you go. Did someone forward you this? Sign up here to get Essential Politics in your inbox daily. And keep an eye on our politics page throughout the day for the latest and greatest. And are you following us on Twitter at @latimespolitics?
Please send thoughts, concerns and news tips to politics@latimes.com.
---