Tempers flare as lawmakers move forward with a dozen gun-control bills in wake of Orlando shooting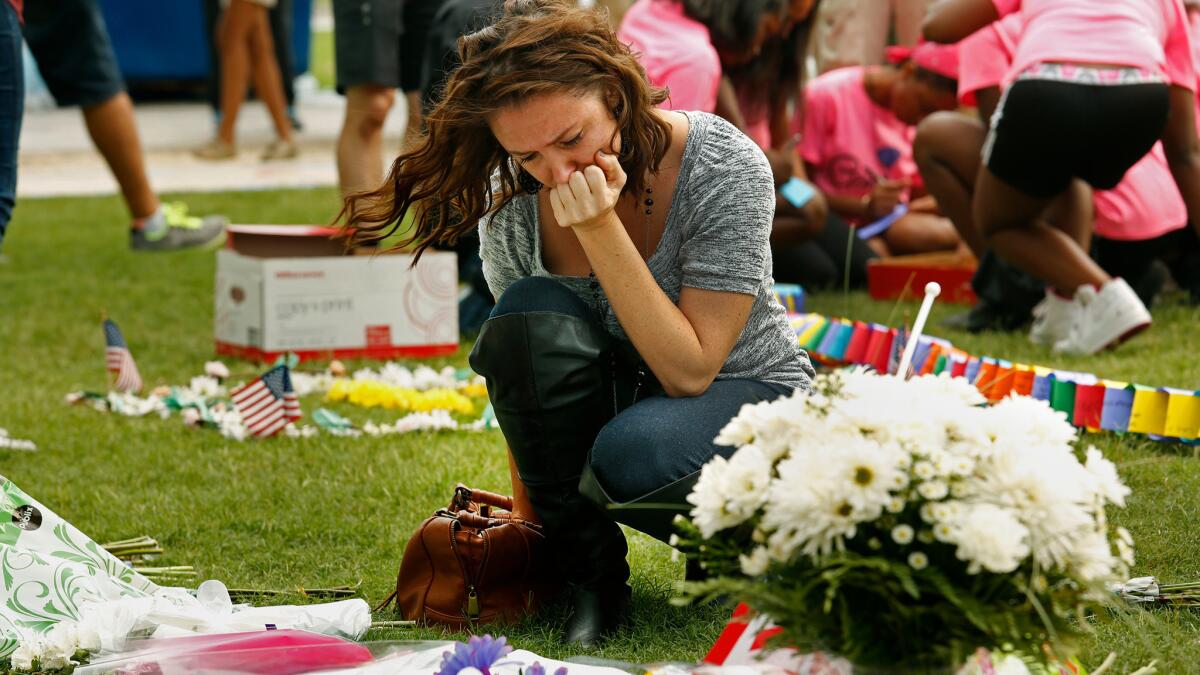 Reporting from Sacramento —
With emotions still raw over the massacre in Orlando, Fla., tempers flared Tuesday as divided California state lawmakers advanced a dozen gun-control bills, including proposals to outlaw the sale of semiautomatic rifles with easily detachable magazines.
The bills originally were introduced in response to a mass shooting in San Bernardino in December, but the killing of 49 people in an Orlando nightclub Sunday was invoked over and over Tuesday by Democrats as state legislative committees heard testimony before voting to send bills to the floor for votes.
At one hearing, Assemblyman Evan Low (D-Campbell) angrily confronted National Rifle Assn. lobbyist Dan Reid, accusing his organization of being responsible for the Orlando shooting because of its lobbying against gun control.
The reason they were murdered was because of your organization.
— Assemblyman Evan Low (D-Campbell) to NRA lobbyist Dan Reid
"Less than 72 hours ago, 49 people were slain in a nightclub in Orlando," Low said during the hearing. "It's very difficult for me to sit here and look you in the eye and have respect for you, Dan."
Low later added, "The reason they were murdered was because of your organization."
Sen. Isadore Hall (D-Compton) also denounced gun-control opponents who testified that the bills would not save lives. He called them "crazy, vicious, heartless" people, adding that "they need to wash their mouths because they are filthy."
Republican state Sen. Andy Vidak of Hanford later wrote to the leaders of the Senate ethics committee asking them to review whether Hall's comments violated the house's Standards of Conduct, which require members to behave in a manner that does not discredit the house.
"While the issue of gun control can be an emotional one, that is no excuse for Senator Hall to use such intolerant and disrespectful language aimed at those of us who don't agree with him," Vidak wrote. "I leave it to your committee to hand down whatever discipline is appropriate to restore the honor and integrity of the California State Senate."
Sam Paredes, executive director of Gun Owners of California, called Hall's criticism "misleading," arguing that many of the measures would make it harder for law-abiding citizens to protect themselves while the laws would be ignored by criminals.
Reid made that argument in opposing a bill that would require those buying ammunition to show a driver's license to make sure they are not felons or otherwise prohibited from possessing guns.
The bill, Reid said, will put "drastic and unjustified restrictions on law-abiding citizens while doing nothing to reduce violent crime."
The measure was one of several approved by either the Assembly or Senate Public Safety Committees on Tuesday as the Legislature rushed to get them to the governor's desk by the end of this month.
Most of the bills were approved on party-line votes, with Republicans opposed. Assemblyman Tom Lackey (R-Palmdale) said he is frustrated that "sometimes our reaction emotionally has a tendency to blur our vision about the remedies."
Assemblyman Reggie Jones Sawyer (D-Los Angeles), the committee chairman, said the ammo bill promotes responsible gun ownership. Inaction, he said "really just helps killers" and "mass murderers."
See the most-read stories this hour »
Amanda Wilcox of the Brady Campaign to Prevent Gun Violence said the bill by Sen. Kevin de León (D-Los Angeles) is needed to plug a loophole in the law.
"Many prohibited persons are buying ammunition," she said.
Assemblywoman Melissa Melendez (R-Lake Elsinore) voted against the bill, saying anyone can buy bullets on the black market.
"It is not going to keep criminals from getting ammunition," she said.
Both panels approved bills that would ban the sale of semiautomatic rifles with "bullet buttons" that allow the quick replacement of ammunition magazines in California.
Hall, the author of one of the measures, said it addresses a type of gun that has no legitimate civilian use.
"They are designed only to facilitate the maximum destruction of human life," he told the panel.
Reid of the NRA opposed the measure, saying it would outlaw "hundreds of thousands of constitutionally protected firearms" that he said have legitimate uses, including hunting and competition.
The Assembly panel also approved a de León bill that would require those who make guns at home to register them with the state and obtain a serial number so the weapons can be tracked.
Paredes said hobbyists have been making their own guns for decades, and the bill would hurt only the citizens who obey the law.
Lackey voted against the bill, saying it will be ignored by criminals, who "are not a respecter of rules," he said.
The panel also approved a measure that would prohibit the possession of ammunition magazines that hold more than 10 rounds, building on existing law outlawing their sale.
State Sen. Loni Hancock (D-Berkeley) said the mass shootings in San Bernardino, Newtown, Conn., Tucson and Orlando show the deadly impact of the devices.
Join the conversation on Facebook »
"Members, enough is enough," Hancock told the panel. "There is no reason to have the possession of these high-capacity magazines."
Reid opposed the bill, saying it would put average citizens in danger by limiting their ability to protect themselves.
Other bills approved would:
— Require law enforcement officials and those with concealed weapon permits who keep handguns in their vehicles to keep them in a locked box or the trunk to prevent thefts.
— Allow co-workers, employers and mental health workers to petition courts to issue restraining orders to have authorities confiscate firearms for one year from persons judged to be a danger to themselves or others.
— Require gun owners to report the loss or theft of firearms within five days of discovering they are gone as one way to stop illegal trafficking of guns.
Follow @mcgreevy99 on Twitter
ALSO
How the Orlando attack could mark a shift for gay Muslims
A night of terror: How the Orlando nightclub shooting unfolded
Gunman had used gay dating app and visited LGBT nightclub on other occasions, witnesses say
---
UPDATES:
4:30 p.m.: This article was updated with a statement from state Sen. Andy Vidak on comments made by state Sen. Isadore Hall.
This article was originally published at 2:46 p.m.
Get our Essential Politics newsletter
The latest news, analysis and insights from our politics team.
You may occasionally receive promotional content from the Los Angeles Times.