Robert Downey Jr. gets holiday pardon from Gov. Jerry Brown for 1990s drug offenses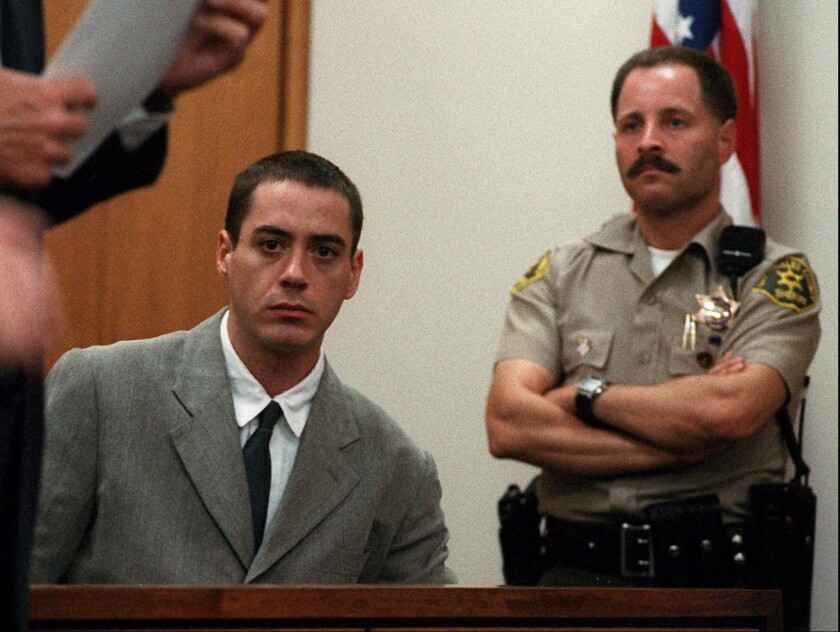 Reporting from Sacramento —
Actor Robert Downey Jr., who spent time behind bars in the late 1990s on drug convictions, received a Christmas Eve pardon from Gov. Jerry Brown, effectively removing a black mark from the movie star's checkered past.
The actor was one of 91 people to whom the governor granted clemency for past crimes, most of them minor drug offenses that no longer are felonies under California law, as well as robbery and burglary. It has become an annual Christmas Eve tradition: official proclamations for men and women who previously served time for mostly nonviolent crimes.
Downey has a long history of problems with drugs and the law, including repeated arrests in 1996.
In June 1996, he was pulled over by police in Malibu for speeding. They found him under the influence, with a gun, cocaine and heroin in the truck.
Then in July, the then-31-year-old actor turned up in the house of a neighbor, passed out in a spare bedroom. At the time, he had just completed the film "One Night Stand," portraying a character dying from AIDS.
"It's like I've got a shotgun in my mouth, my finger on the trigger and I like the taste of gun metal," Downey told a Los Angeles judge in 1999, as he was sentenced to three years in state prison. He was released one year later, and three months after that, was arrested in a Palm Springs hotel room where cocaine also was found.
He bounced between jail and rehabilitation clinics for several years, but then remarried and, in 2008, rekindled his acting career in the role of Tony Stark and "Iron Man" in a series of Marvel films.
In total, the actor served 15 months behind bars, and in 2002, he completed his parole.
SIGN UP for the free Essential Politics newsletter >>
Downey obtained an order on Oct. 20 from a Los Angeles County Superior Court judge, finding that he has since "lived an honest and upright life, exhibited good moral character, and conducted himself as a law-abiding citizen."
On Oct. 28, Brown inducted Downey into the California Hall of Fame, alongside Charlie Brown cartoonist Charles M. Schulz and country music legend Buck Owens.
The Christmas Eve pardon reads, "By completion of his sentence and good conduct in the community of his residence since his release, Robert John Downey, Jr. has paid his debt to society and earned a full and unconditional pardon."
The governor's grant does not expunge criminal records, but state and federal law enforcement agencies are notified of the executive clemency. The grant typically clears obstacles that applicants have encountered qualifying for state licenses and certain jobs.
About an hour before the pardons were made public, Downey tweeted an animated image of himself and some Christmas stockings with the text, "You're only on the naughty list if you get caught... #HappyAlmostChristmas."
Pardon applicants can first have themselves declared upstanding citizens by a Superior Court judge, or may apply directly to the governor. "Pardons are not granted unless they are earned," the governor's office said in a written statement.
Last year, Brown issued 105 pardons during the holiday but withdrew one of them after learning from the Los Angeles Times that he was granting clemency to a man recently disciplined by financial regulators.
With this batch, Brown to date has granted executive clemency to 1,087 people, including 683 since returning to office in 2011.
Brown's penchant for pardons far eclipses his predecessors. Democrat Gray Davis gave clemency to no one, and Republican Arnold Schwarzenegger pardoned just 15 people while in office.
But Ronald Reagan pardoned 574 individuals, and Earl Warren, who held office until 1953 before his appointment to the U.S. Supreme Court, pardoned 522 people during 10 years in office.
Brown takes the approach that "people make mistakes," said his spokesman, Evan Westrup. "To err is human. The question that the governor ponders is, how do folks respond? What do they do to pull themselves up?"
Schwarzenegger drew scrutiny for commuting the sentence, on his last day in office, for convicted killer Esteban Nuñez, the son of former Assembly Speaker Fabian Nuñez, who was the governor's political ally.
------------
FOR THE RECORD
2 p.m.: A previous version of this article said Schwarzenegger pardoned Esteban Nuñez. He commuted his sentence.
------------
The younger Nuñez and a friend had been involved in a knife fight in which another man was fatally stabbed in the heart. A state appeals court in June upheld the controversial grant of clemency, saying Schwarzenegger was acting within the power of his office.
For more, go to latimes.com/politics
ALSO
Governor sees stories of redemption in Christmas Eve pardons
Jerry Brown, climate doomsayer
Man's pardon withdrawn after Times discloses financial regulators' censure
---
Life is stressful. Our weekly mental wellness newsletter can help.
You may occasionally receive promotional content from the Los Angeles Times.