Will the crisis at Oroville Dam become a catalyst for change?
Reporting from Sacramento —
Jeffrey Mount, a leading expert on California water policy, remembers the last time a crisis at the Oroville Dam seemed likely to prompt reform. It was 1997 and the lake risked overflowing, while levees further downstream failed and several people died.
"If this doesn't galvanize action, I don't know what will," Mount said he thought at the time. But spring came, the waters receded and no changes came to pass.

For the record:
6:17 a.m. Sept. 27, 2023A reference to "curtailing" Southern California's reliance on Northern California reservoirs was modified to clarify that the sentence did not involve the state water board's formal process of curtailing water deliveries.
Now another threat looms in Oroville, where deteriorating spillways forced widespread evacuations, and more heavy rain is around the corner. State officials have remained focused on quick fixes at the dam needed to prevent catastrophic flooding, but some are already thinking about how the crisis could spur long-term shifts in policy.
It's a conversation that's gaining momentum in think tanks and government offices from Sacramento to Washington, and it touches on climate change, infrastructure spending and statewide water policy.
Wade Crowfoot, a former advisor to Gov. Jerry Brown who now leads the Water Foundation, a nonprofit research organization in Sacramento, compared the situation to the state's years-long drought.
"This is a wake-up call," he said. "The drought reminded us we need to use water more wisely. Oroville reminds us that we need to upgrade our infrastructure and our management to move water more wisely."
Follow live coverage of the situation at the Oroville Dam »
In 2014, the drought prompted Brown to sign the state's first-ever law for managing groundwater, which had been depleted as farmers tried to keep crops alive. Now there are new considerations as California strains under one of its wettest winters on record.
Crowfoot said officials should cut back Southern California's reliance on water delivered from the northern reservoirs including Lake Oroville, reducing pressure on the state's infrastructure by increasing water recycling or stormwater capture. Another step could be focusing on sending more water to aquifers, replenishing groundwater supplies.
With Oroville the subject of round-the-clock news coverage, state leaders can "treat it as an opportunity to rethink how we're providing water and moving water," Crowfoot said.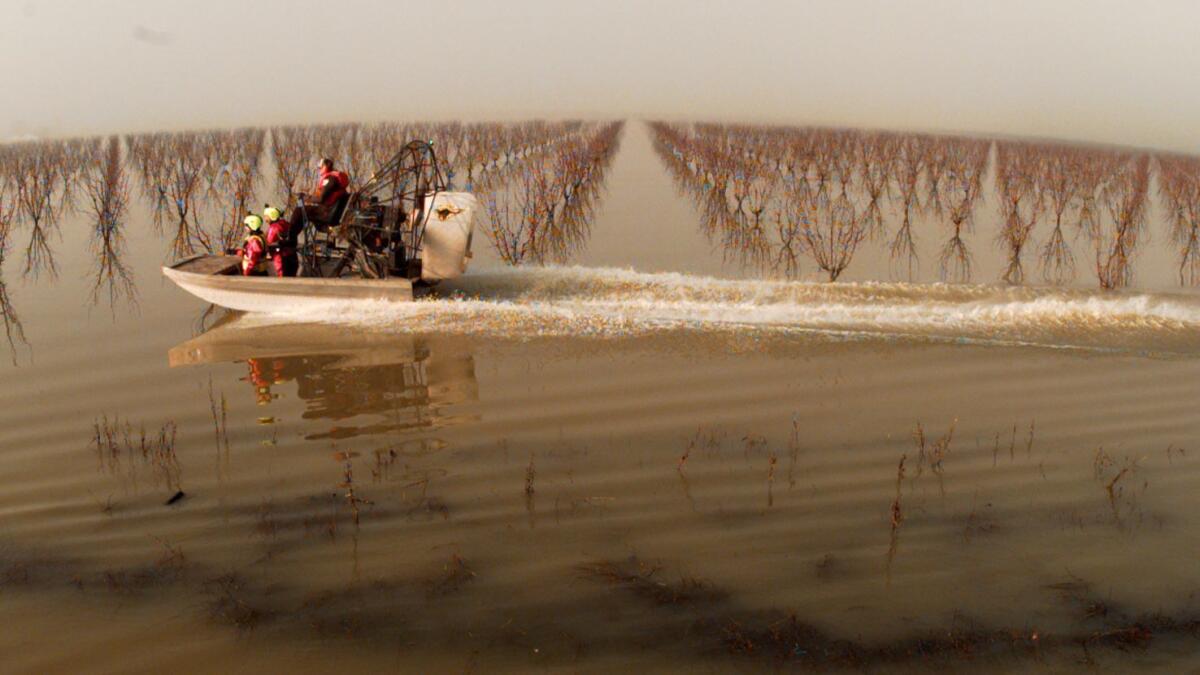 California has always grappled with cycles of drought and deluge — Gov. Leland Stanford used a rowboat to reach his inauguration in 1862 — but the problems are expected to be exacerbated by climate change.
Environmentalists view Oroville as a reminder of that looming threat.
"This is a dam that was designed in the '50s and built in the '60s," said Adrienne Alvord, a California-based director of the Union of Concerned Scientists. "It was built for a climate we no longer have."
Infrastructure needs to be assessed based on the increasing chance of extreme weather, she said, just like buildings near fault lines are constructed to deal with the possibility of strong earthquakes.
"We need to figure out how to design infrastructure to withstand these forces," Alvord said. "Oroville is kind of the tip of the iceberg."
Although President Trump has not embraced the fight against global warming, he's talked extensively about the need to spend more money on the country's infrastructure. White House Press Secretary Sean Spicer on Tuesday called Oroville "a textbook example" of overdue investment.
"Dams, bridges, roads and all ports around the country have fallen into disrepair," he said. "In order to prevent the next disaster, we will pursue the president's vision for overhaul of our nation's crumbling infrastructure."
Rep. John Garamendi (D-Walnut Grove), whose district includes areas that would be flooded by a failure at the Oroville Dam, echoed the call for more spending on infrastructure from the U.S. House floor on Tuesday.
"Do we want to wait until there's a disaster to take cautionary steps or to put it back together?" he said. "Or do we want to get ahead of these potential disasters?"
Representatives from the Oroville area aren't quite ready to start talking about next steps, especially with lives still in danger if the risk of flooding returns.
"I'm in 100% public safety mode," said Assemblyman James Gallagher (R-Yuba City), whose district line runs across the dam itself. "We're just trying to make sure we get through this crisis, and people are kept safe through this whole thing."
But Gallagher has talked about the need to boost the state's investment in reservoirs, and he expects to return to the topic in the future.
"Once we get through this, I'm absolutely going to be talking about how this underscores how we need to invest in our infrastructure, and ensure that all of our infrastructure is being properly maintained," he said. "That should be a top priority in California's budget every year."
The current situation "puts an exclamation point on that," Gallagher added.
Even if state and federal policymakers move forward on fixes, it's likely they'll run into a problem that dogs nearly all government decisions — where will the money come from?
Early estimates put a price tag of $100 million to $200 million on repairs to the Oroville Dam. The concrete spillway has a gaping hole, and the adjacent emergency spillway has suffered from erosion that threatened to topple a concrete wall along the lake's rim, unleashing a 30-foot wall of water.
So far workers have been using boulders and concrete to patch the erosion, but more repairs will probably be needed in the future.
Questions of cost have been a factor in past conversations about reinforcing the Oroville Dam's facilities. Mount, a senior fellow at the Public Policy Institute of California, expects it to be a hurdle again.
"What I fear will happen is what happened in 1997. When we sit down and start to look at the price tag, we're going to run into two problems," he said. "It's really expensive, and no easy way to pay for it."
Twitter: @chrismegerian
ALSO
It's not just Oroville: Record rain is straining California's whole flood control network
Inside the desperate battle to shore up the eroded hillside next to Lake Oroville
Get our Essential Politics newsletter
The latest news, analysis and insights from our politics team.
You may occasionally receive promotional content from the Los Angeles Times.