Capitol Journal: With Chad Mayes' ouster, Assembly Republicans did what they often do: Dump their leaders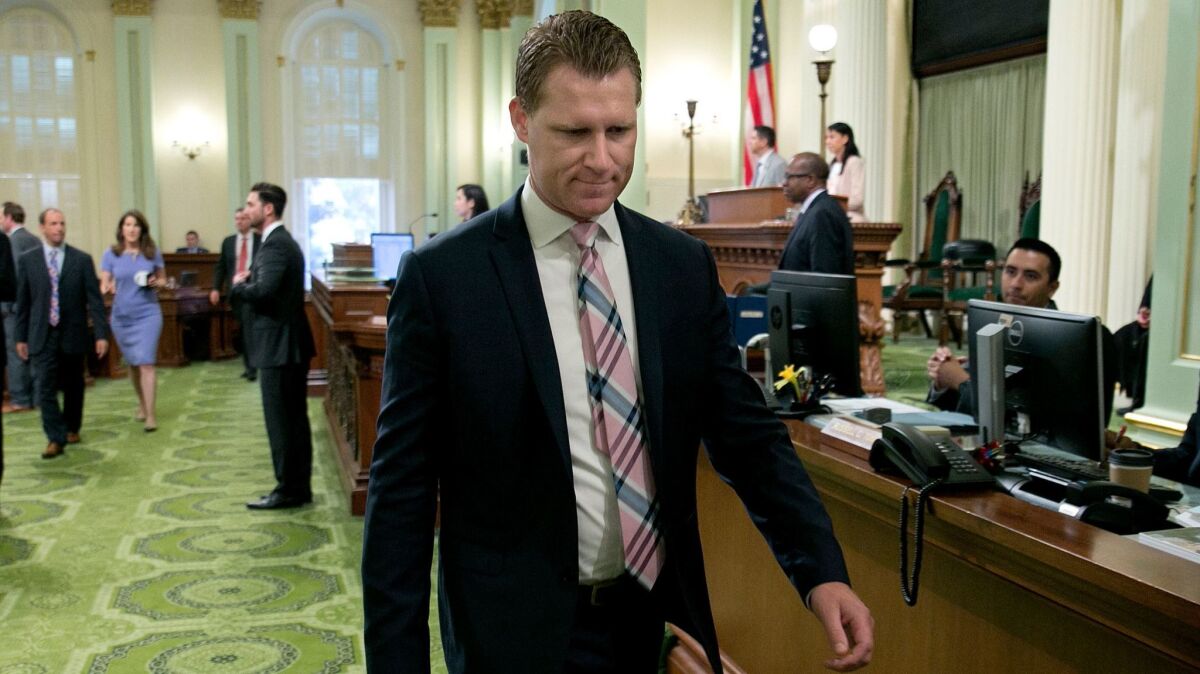 Reporting from Sacramento —
Conservative Republicans in the state Assembly dumped their moderate leader last week, and it was hardly a shock.
That historically has been what Assembly Republicans do mostly: oust their leaders.
They're collectively a grouchy bunch. You'd be, too, if you were perpetually stuck in the minority and practically irrelevant in serious lawmaking.
"The minority party removes its leaders faster than the majority because there's no reason to be happy," says Republican consultant Richard Temple, who once worked for five Assembly GOP leaders within 12 years. "They have no power."
There's another thing that makes Republican leaders vulnerable to a coup, Temple notes. They've got very little power to ward off rebels. Democrats see to that. The Assembly speaker appoints all heads of committees and dishes out the perks.
So when Assembly Republican Leader Chad Mayes of Yucca Valley was booted — actually, he resigned under pressure and escaped being fired — it wasn't just about a cadre of cave dwellers failing to adapt to modern ways and further endangering survival of the California GOP species. There was that, of course, but it wasn't so simple.
The public reason Mayes was pushed out is that he sided with Gov. Jerry Brown and Democratic legislators in voting to extend California's climate-fighting cap-and-trade program, which requires companies to buy permits to emit greenhouse gases. Most Republicans strongly oppose the program, calling it a "tax increase" on consumers who ultimately are saddled with the permit costs.
Never mind that the state Chamber of Commerce and business organizations supported the legislation because it offers polluters flexibility. It's "better than Soviet-style command and control," Mayes said.
He told his colleagues during the floor debate: "California Republicans are different than national Republicans. Many of us believe that climate change is real and … we have to work to address it."
He got a sweet deal for GOP interests in negotiations.
Brown agreed to scuttle a hated fire-prevention fee paid by 800,000 rural landowners. The governor also extended a manufacturers sales tax break until 2030. And he supported a proposed constitutional amendment requiring the 2024 Legislature to reallocate cap-and-trade revenue. That would require a supermajority vote and jeopardize funding for his bullet train.
But only six other Assembly Republicans followed Mayes in voting for the bill. Eighteen Republicans voted "no." It's an old truism that a leader without followers is just taking a walk, often headed for a cliff. Mayes stumbled over it.
It wasn't just ignoring the Republican Caucus that irritated his party. Immediately after the vote, Mayes joined Brown and Democrats in a celebratory high-five photo-op. Republicans thought he should have just held his own little news conference rather than cuddle with the enemy.
Worse, they griped, Mayes tactically should have insisted that all politically vulnerable Democrats vote for the controversial bill before any Republicans did. Democrats wound up obtaining the necessary supermajority support with one vote to spare, thanks to Mayes. But he allowed a few Democrats facing competitive races next year to escape voting for the legislation.
That was a mistake.
It also didn't help Mayes that there was bad blood between him and the state party over fundraising. The California Republican Party board voted Aug. 18 to urge Mayes to resign his position. "I'm not going to capitulate," he vowed. But last Thursday, he did.
"I'm still on a mission to try to change the face of the Republican Party in California," he told me. "If we don't, we're going to continue the death spiral we've been in."
Fewer than 26% of California voters are registered as Republicans. At the present trend, GOP registration soon will trail "no party preference." Democrats are near 45%.
There has been a gradual GOP slide. Ten years ago, it was at 34%. In 1990, it was 39%.
Over the years, dispirited Republicans in both legislative houses have bounced many leaders.
Senate Minority Leader Dave Cogdill of Modesto was canned one hour after voting for Gov. Arnold Schwarzenegger's tax increase in 2009. Assembly GOP Leader Mike Villines of Clovis also voted for it and afterward was shunned by the party.
Senate Republican Leader Ken Maddy of Fresno, one of the best legislators ever, was ambushed and dumped one night in 1995 by colleagues who didn't think he was partisan enough.
In 1991, Assembly Minority Leader Ross Johnson of La Habra was bounced because — get this — he wouldn't support Republican Gov. Pete Wilson's big tax increase. Yes, things were different back then. Republicans actually were winning governorships and other statewide offices.
Mayes will be replaced by one of his supporters: conservative Assemblyman Brian Dahle, 51, a likable seed farmer from the state's northeastern corner. It's gorgeous country with lots of pines and wildlife. The Pit River runs through Dahle's 2,000-acre farm.
Dahle's hometown is Bieber in Lassen County, with a population of 312 at the last census. Cellphone service is spotty. To get to Sacramento requires a 4 1/2-hour drive. Or he can grab a plane 2 1/2 hours away in Reno.
His nine-county district voted for President Trump in landslide numbers. Dahle backed Trump, too, but wasn't an early supporter.
"California has a lot of challenges," he says. "We've got lots of poor people, we have housing issues, we're overregulated. It's getting harder and harder for business to survive. It's death by a thousand cuts."
And he'd better look over his shoulder. There's probably some Republican plotting a coup.
Follow @LATimesSkelton on Twitter
ALSO
He rallied support for California's climate change fight. Now Chad Mayes is out as Assembly Republican leader
Gov. Brown's climate change deal was a lesson in compromise that should be studied in the White House
California Republicans have nowhere to go but up — and Assemblyman Chad Mayes could be the one to lead them there
---
Life is stressful. Our weekly mental wellness newsletter can help.
You may occasionally receive promotional content from the Los Angeles Times.