Column: Gov. Jerry Brown's parting gift to his successor: ship-shape state finances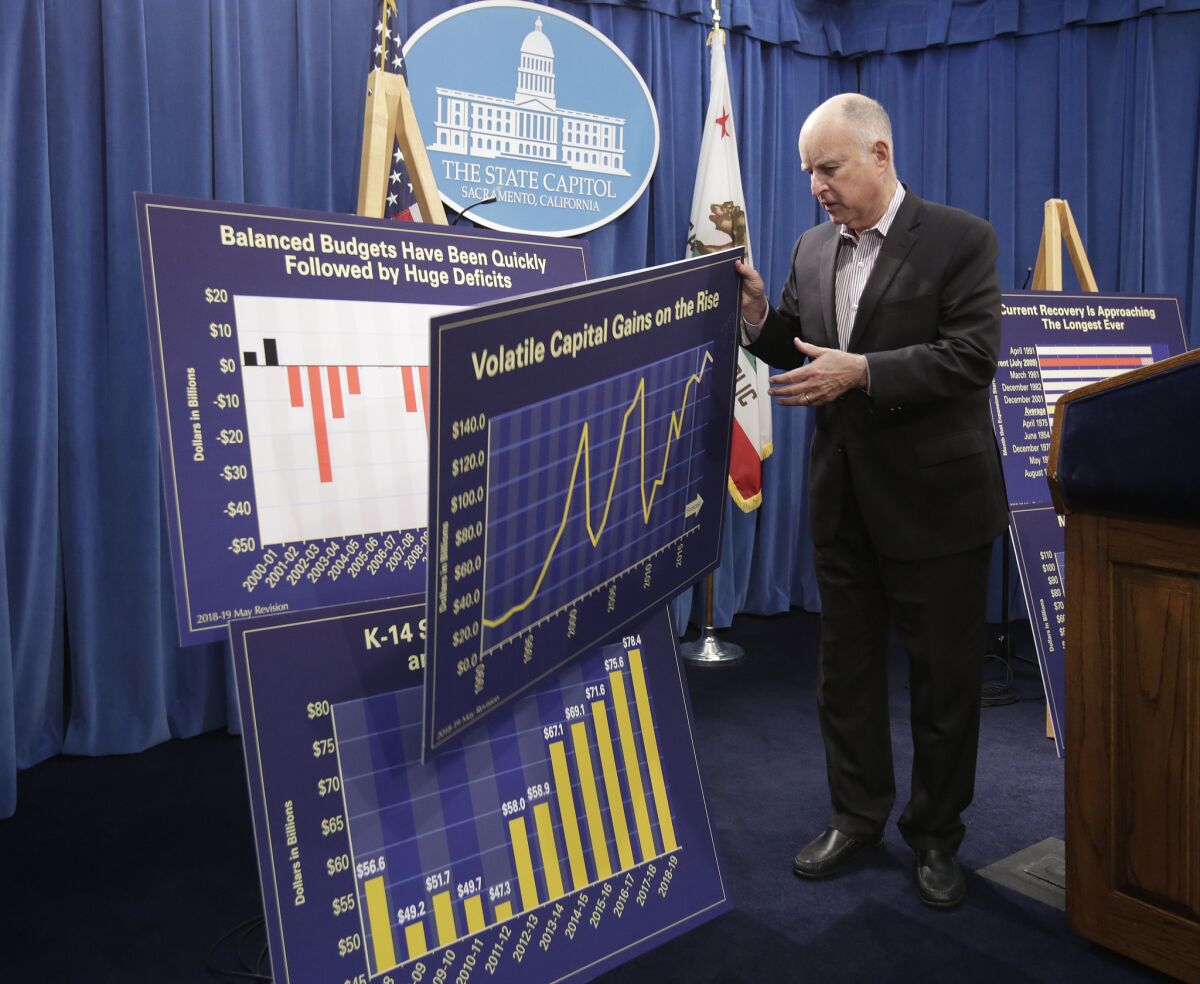 Reporting from Sacramento —
Gov. Jerry Brown is massaging the final state budget of his long career, and his No. 1 priority is simple: Don't leave his successor the same mess he did the last time.
When Brown shut the door on the governor's office in 1983 after occupying it for eight years, he bequeathed George Deukmejian a $1.5-billion deficit headache.
Brown's father, Pat Brown, did pretty much the same to Ronald Reagan in 1967. Pat Brown had changed the state's accounting system to show more revenue than there actually was, a gimmick to avoid raising taxes as he ran for a third term.
Here's how Reagan later described it: "We got in and found that to get through the election year, the previous administration had changed the bookkeeping and had [an annual] budget that was financed by 15 months' revenue."
During the transition, Reagan continued, the tight-lipped Brown budget director "said in his briefing to one of my representatives: 'Look, we're spending a million dollars a day more than we're taking in. I've got a golf game. Good luck.'"
Reagan raised taxes by a record amount. Deukmejian eventually avoided a tax hike 16 years later because the economy turned around.
Dumping a bucket of red ink on one's successor, usually during an economic slide, is practically a California gubernatorial tradition.
Goodwin J. "Goodie" Knight did it to Pat Brown, who then enacted a big tax increase. Reagan did not do it to Jerry Brown. But Deukmejian did to Pete Wilson, who set a new record for hiking taxes.
Gray Davis left Arnold Schwarzenegger a huge deficit. And the film star flubbed up by borrowing money to fill the gap. That just dug a deeper hole. The Great Recession hit and Schwarzenegger left Jerry Brown $26 billion in the red.
By contrast, Brown on Friday reported an $8.9-billion surplus in a revised $199-billion budget proposal for the fiscal year starting July 1. Legally, legislators must pass a budget by June 15 or forfeit their paychecks for every day they're tardy.
Brown knows from experience that dumping a deficit on a successor is not a legacy enhancer. The new governor then has a handy punching bag to blame for any tax hikes or program whacks.
"I don't want to get caught in the jaws of the persistent fiscal instability of the state of California," Brown once told reporters. "One thing we know is when governors leave town with big deficits, they're more scorned than praised."
Brown deserves credit for being tight with a buck. Yes, there is one glaring exception: the troubled $77-billion bullet train project. But, generally, the centrist governor has kept a lid on fellow Democrats' spending.
The current surplus, however, can largely be attributed to Brown's hefty income tax increase on the wealthy that voters approved in 2012. The tax hike was supposed to have been temporary, but the teachers union in 2016 persuaded voters to extend it until 2030.
It's projected to bring in $8.3 billion during the next fiscal year. And that accounts for nearly all the surplus. It raises a question about whether the tax extension was really needed.
The "soak the rich" tax exacerbates a problem Brown continually harps about like a sidewalk preacher warning the end is near: tax revenue volatility. Because California leans too heavily on rich people's income taxes — especially their capital gains — the state's revenue stream varies wildly between floods in good times and trickles in bad.
Coverage of California politics »
"We're nearing the longest economic recovery in modern history, and as Isaac Newton observed: What goes up must come down," Brown said in his budget statement. "This is a time to save for our future, not to make pricey promises we can't keep…. Let's not blow it now."
It also would be a good time to modernize the decades-old, outdated tax code. Asked about that, Brown replied there first needs to be political will, "which I don't think exists today."
That political will could start with gubernatorial leadership. But Brown is about to leave office, and most legislators are running for reelection. So tax reform is left for the next governor.
State Treasurer John Chiang, a Democratic gubernatorial candidate who's trailing badly in polls, issued a statement declaring he's all-in on overhauling taxes.
"Tame the current feast or famine revenue volatility that makes it nearly impossible to build and plan for the long term," he asserted.
But he didn't offer details.
Brown's revised budget anticipates taking in $8 billion more in taxes than he had projected when proposing his original spending plan in January. But "revenue projected is not revenue in the bank," he reminded.
Of the $8.9-billion surplus, the governor prudently proposed to stash $5.8 billion in reserves. He'd spend $1.1 billion on deferred maintenance. The rest would go to one-time projects addressing such things as infrastructure, homelessness and mental health.
He'll need to resist liberal Democrats determined to spend more on "safety net" programs for the poor. Assembly leaders, for example, are seeking $1 billion to expand healthcare access.
"I'll certainly look at any measure," Brown told reporters. "But we're already overextended…. I'll be very cautious…. All the people who want things won't be getting what they'd like to have."
Neither will the next governor be getting a barrel of red ink. That will be a refreshing change.
Follow @LATimesSkelton on Twitter
Life is stressful. Our weekly mental wellness newsletter can help.
You may occasionally receive promotional content from the Los Angeles Times.