Environmentalists oppose Gov. Brown's transportation plan for giving truckers a break on future pollution rules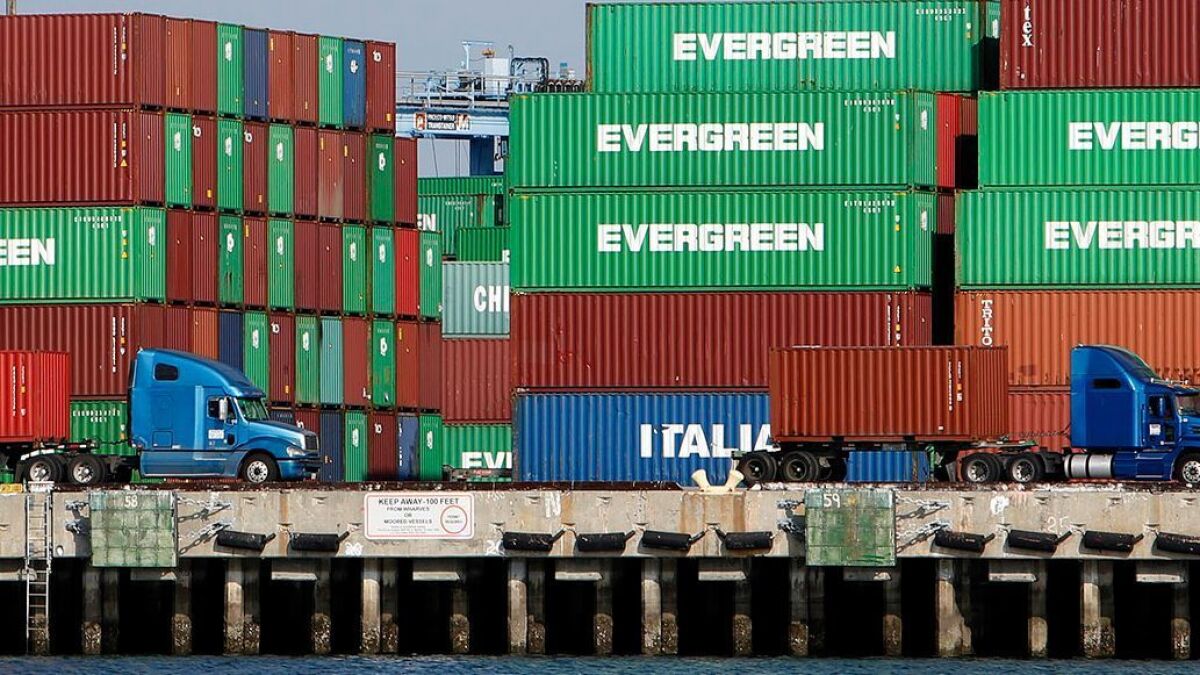 Reporting from Sacramento —
Dozens of environmental groups on Friday urged California legislators to vote against Gov. Jerry Brown's proposal to raise the gas tax to fix the state's roads, citing a provision that would give the trucking industry a break on future antipollution rules.
The opposition to a last-minute change to the legislation could jeopardize the timeline Brown and legislative leaders set for the bill, which they developed together. They want lawmakers to approve the road repair bill by next Thursday, when legislators leave for spring break.
It also complicates the governor's difficult task of winning support from all Democratic lawmakers to provide the two-thirds vote needed to pass the legislation by that self-imposed deadline, when votes are scheduled.
Key environmentalists sent "action alerts" to Democratic legislators who have been their allies, urging the lawmakers to vote against the legislation, Senate Bill 1, unless the trucking provision is removed.
"This is one of the most extreme efforts to put bounds on the regulatory agencies' activities to stop pollution that I have seen in recent times," said Kathryn Phillips, director of Sierra Club California. She said she urged the Legislature to delay the vote beyond Thursday so lawmakers can properly weigh the consequences.
On Friday, the Brown administration went on defense, noting that the bill includes more than $8 billion in the first 10 years to improve the environment with expanded mass transit, bike and pedestrian facilities.
The legislation gives the trucking industry flexibility in complying with standards adopted in the future, but it also forces recalcitrant truck owners to comply with antipollution standards by 2020, said Brian Kelly, secretary of the California State Transportation Agency, in a teleconference call with reporters.
"This bill is not just about meeting our transportation needs," Kelly said. "It's trying to meet those transportation needs while we also meet our climate and environmental objectives."
The legislation was also defended by Mary Nichols, chairwoman of the California Air Resources Board, who disputed environmentalists' claim that it would unreasonably tie the hands of regulators who want to adopt new rules.
The transportation bill would increase gas taxes and vehicle fees to raise $52 billion in its first 10 years to pay for repair and replacement of California's system of failing roads, highways and bridges.
In addition to raising the base excise tax on gasoline by 12 cents per gallon, the bill would also raise the sales tax on diesel from 5.75% to 9.75% and the excise tax on diesel by 20 cents per gallon.
The California Trucking Assn., whose members will pay more for fuel as a result, won a provision in the bill that prevents clean-air agencies from imposing new pollution reduction requirements on existing trucks until the vehicles are 18 years old or have 800,000 miles on the odometer.
The change does not affect an existing rule requiring that, by 2023, every truck in the state must have been built in 2010 or later. Starting in 2010, manufacturers were required to produce trucks that have engines with stronger pollution controls.
However, if a new, cleaner engine technology comes to market next year, the controversial bill provision would prevent the Air Resources Board from requiring that it be installed on existing trucks for many years, said Bill Magavern, policy director for the Coalition for Clean Air.
The state air board also asked its staff last week to report back in a year on new standards to reduce pollution from transportation hubs including warehouses, ports and airports, which draw a lot of truck traffic.
Magavern said the new bill would prevent any new rules for those hubs from immediately requiring changes to existing trucks.
"It would tie the hands of the air board and local air districts in the future from doing anything to clean up trucks that are already on the road," he said.
Nichols said her reading of the provision is that the air board could still require warehouses, ports and airports to find ways to reduce pollution that don't involve retrofitting existing trucks.
For instance, a port could require that the newest, cleanest trucks in each fleet be sent to the facility, said Nichols, who was originally appointed to the board by Republican Gov. Arnold Schwarzenegger and was reappointed by Brown in 2011.
"We believe that it does not impede our ability to operate our programs as we envision them going forward," Nichols said.
She noted the controversial provision is paired with legislation that would require the Department of Motor Vehicles to stop registering trucks that have not complied with existing pollution standards. About 28% of trucks in California are not in compliance.
"It gives us a major, important tool to use with our current regulations, which will have the most immediate short-term effect because it deals with existing polluting vehicles already out there on the road," Nichols said.
The assurances did not change the opposition to the bill from Jeanie Ward-Waller, policy director for the California Bicycle Coalition, even though the rest of the measure would advance her cause by expanding bike lanes.
"This late change is such an egregious one, in giving a free pass to a polluting industry and hurting a lot of the poor communities, that we have to backpedal on our support for a lot of things that are going to advance our mission," Ward-Waller said.
Twitter: @mcgreevy99
Updates on California politics
ALSO
Gov. Jerry Brown is making appeals to legislators for votes on his new transportation plan — one district at a time
California isn't waiting on Trump — Gov. Brown wants $5.2 billion a year in new taxes and fees to fix roads
---
Life is stressful. Our weekly mental wellness newsletter can help.
You may occasionally receive promotional content from the Los Angeles Times.