'Trust me, I'll do just fine,' Trump says about upcoming meeting with Putin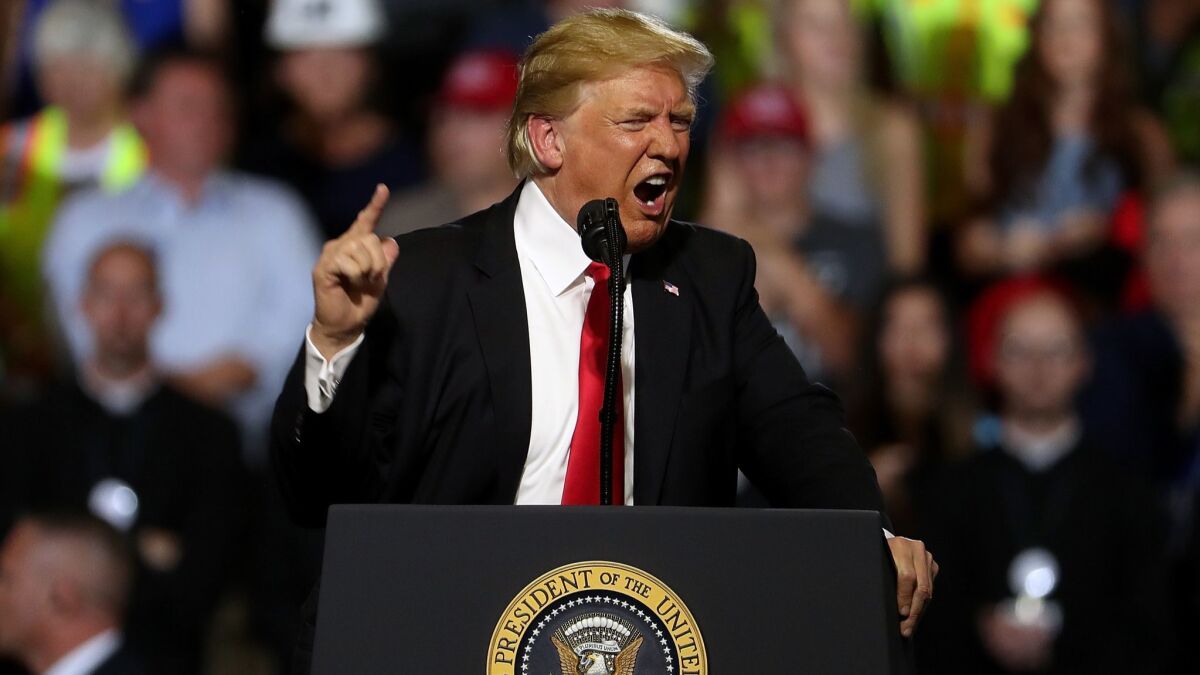 Washington Post
Reporting from Great Falls, Mont. —
President Trump mocked critics of his personal diplomacy with Russia and North Korea on Thursday, saying he will be judged unfairly no matter how he handles delicate diplomacy such as his upcoming meeting with Russian President Vladimir Putin.
Critics were horrified last year when Trump was lashing North Korea with harsh rhetoric and threats, the president said, "and now they say, 'he's too nice!'"
He was referring to the historic meeting with North Korean leader Kim Jong Un in Singapore last month, which Trump said resulted in an agreement for North Korean denuclearization.
Trump's critics and the news media also question his readiness for the session with Putin this month in Helsinki, Trump said.
"Will he be prepared for the meeting?" Trump said, affecting an exaggerated newscaster baritone.
"Trust me, I'll do just fine," Trump said as he campaigned here for Republican Senate nominee Matt Rosendale.
Trump said his approach in both North Korea and Russia is to try to forge better relations with the United States. In the case of North Korea, the approach has averted a potential war, Trump claimed.
Trump also previewed his meeting next week with NATO leaders, and tied U.S. engagement with Europe to what he claimed are unfair trade relationships.
He complained that Germany pays too little toward defense, and appeared to renew threats to change the nearly 70-year-old Transatlantic alliance.
"And I said, 'You know, Angela, I can't guarantee it, but we're protecting you, and it means a lot more to you than protecting us," Trump said, referring to German Chancellor Angela Merkel.
""Because I don't know how much protection we get by protecting you."
Rosendale, the state auditor, joined Trump on stage and told the crowd that Trump is working for the state's military service members and veterans.
"I mean business about standing with President Trump to make America great again," Rosendale said. "What's good for America is great for Montana."
Democratic Sen. Jon Tester leads in polls and Real Clear Politics rates the race as leaning Democratic, despite Trump's popularity in Montana.
Trump won Montana by more than 20 percentage points over Democratic nominee Hillary Clinton in the 2016 presidential election. Tester won reelection in 2012, besting his Republican opponent by just four percentage points.
"Jon Tester says one thing when he's in Montana, but I will tell you, I'm testament to it, he does the exact opposite when he goes to Washington," Trump said.
"A vote for Jon Tester is a vote for Chuck Schumer, Nancy Pelosi and the new leader of the Democrat party, Maxine Waters," Trump said, referring to the congressional Democratic leadership and the Democratic congresswoman from California who has been among Trump's most vocal critics.
Waters, Trump said, is "a low-I.Q. person," estimating her IQ as below 70.
When Trump crowed about his victory over "Crooked Hillary" in the state, the crowd responded with an extended chant of "Lock Her Up," the campaign-trail call for prosecution of the Democrat over her handling of classified material when she was secretary of state.
Trump also mocked Sen. Elizabeth Warren, D-Mass., as "Pocohontas," laughing along with the crowd as he said Warren had falsely claimed Native American heritage, and he would not apologize for what critics have called a racist reference.
Trump joked that he would apologize to the "real" Pocohontas, referring to the historical figure, but not to Warren.
Tester took out full-page newspaper ads Thursday welcoming the commander in chief to Montana and thanking him for signing 16 bills that Tester had pushed.
Montana is one of a handful of states that Trump won by a large margin in 2016 and that Republicans see as targets to pick up Senate seats this fall.
The president has targeted Tester in particular, warning that the Democrat would "have a big price to pay" for his role in sinking Trump's nomination of Ronny Jackson to lead the Department of Veterans Affairs in April.
Trump praised Jackson on Thursday and said "I feel guilty" that Jackson had agreed to be nominated.
"I put him into the world of politics!" Trump said. "How vicious is the world. But Jon Tester said things about him that were horrible and that weren't true." In his role as the ranking Democrat on the Senate Veterans' Affairs Committee, Tester released a list of allegations that created a portrait of a long history of professional misconduct by Jackson. Those included claims that Jackson had a "pattern" of distributing medication with no patient history and that he crashed a government vehicle while intoxicated after a Secret Service going-away party.
Trump continued to defend Jackson, a rear admiral in the Navy and longtime White House physician, after he withdrew his nomination. And several pro-Trump groups have launched television and digital ads targeting Tester, including one that branded him a "disgrace.'
The inspector general of the Department of Defense has since opened an investigation into the allegations against Jackson.
Tester's ad, which ran in a dozen newspapers, highlights legislation related to veterans affairs and other issues on which the senator and Trump have worked together.
"Welcome to Montana & THANK YOU PRESIDENT TRUMP for supporting Jon's legislation to help veterans, hold the VA accountable, and get rid of waste, fraud and abuse in the federal government," the ad reads.
Wagner reported from Washington.
---
Life is stressful. Our weekly mental wellness newsletter can help.
You may occasionally receive promotional content from the Los Angeles Times.