Essential Politics: Energy Department endorses a once-fringe COVID-19 theory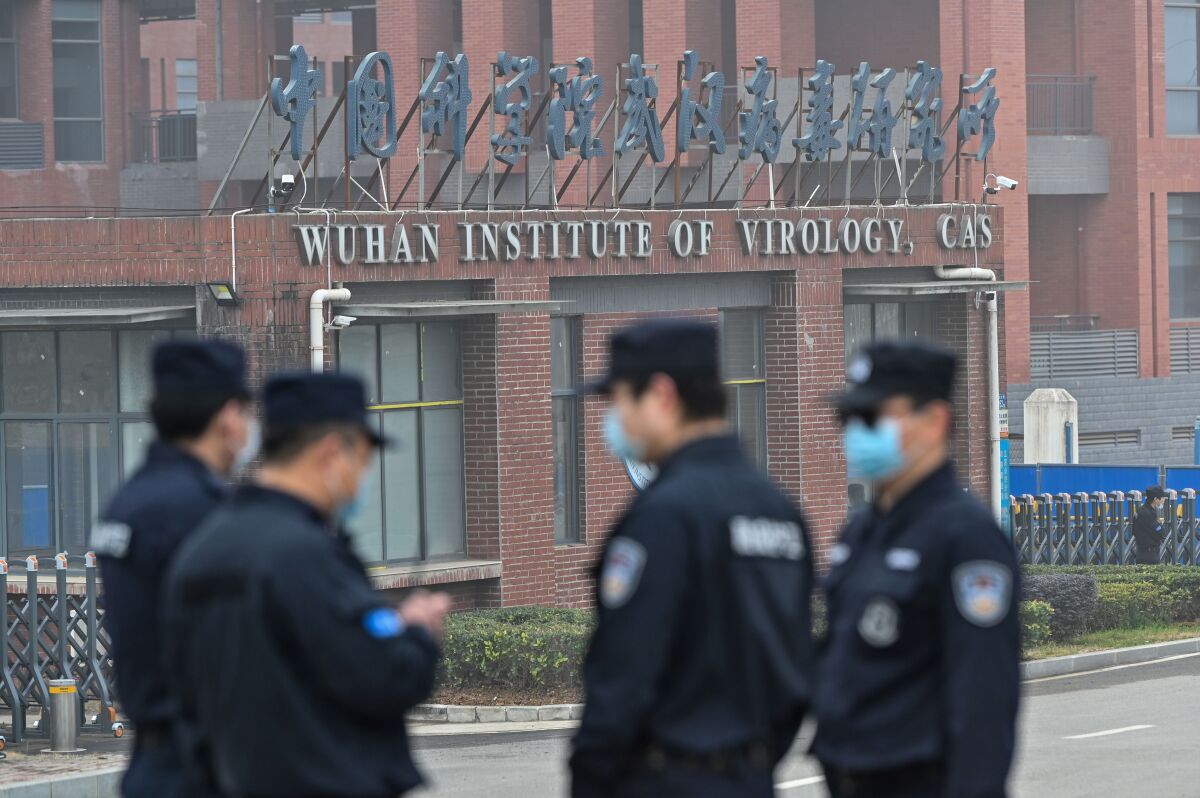 WASHINGTON —
In late January 2020, I was sitting by a fire in a pub in London and reading the Daily Mail to distract myself from a dry cough that would not go away.
The articles in the tabloid warned of a novel coronavirus that would upend the world. The tabloid also insinuated that the virus might have come from a lab in Wuhan, China. The story struck me as sensational. So when I got back to the States, I was shocked to see how quickly the idea of a lab leak took hold.
Alex Jones and other conspiracy theorists have since then peddled this idea.
But on Sunday, the Wall Street Journal offered new legitimacy to the theory.
According to the newspaper, the U.S. Energy Department has concluded that the COVID-19 pandemic likely stemmed from a leak at the Wuhan Institute of Virology.
[Read more: COVID-19 pandemic most likely began with a lab leak, U.S. Department of Energy says.]
The determination was made with "low confidence," the outlet reported. A plethora of federal agencies disagree with the determination. But the department's scientific expertise makes the disclosure substantial.
Republicans seized upon the revelation, calling on President Biden to provide more insight. The White House, however, has repeatedly refused to confirm (or deny) the Journal's reporting and keeps emphasizing that U.S. intelligence agencies have not reached consensus.
What does this all mean? Will China or the Biden administration provide more clarity?
Hello girlies, my name is Erin B. Logan. I cover national politics for the L.A. Times. This week, we are going to discuss the origins of the COVID-19 pandemic.
Get our Essential Politics newsletter
The latest news, analysis and insights from our politics team in D.C.
You may occasionally receive promotional content from the Los Angeles Times.
The conspiracy theory that wasn't
Since the pandemic began, many have criticized China for a lack of transparency. The nation's leaders waited six days to warn the world of a likely pandemic, the Associated Press reported.
The initial (and official) story was that the virus crossed over from an animal sold at a wet market in Wuhan, China.
When Biden took office in 2021, he directed his administration to determine the origins of the pandemic in the hopes of averting another one.
In 2021, the FBI said it believed the virus leaked from the Wuhan Institute of Virology. Other agencies disagree.
But the Energy Department's conclusion is significant because the department "has considerable scientific expertise and oversees a network of U.S. national laboratories, some of which conduct advanced biological research," the Wall Street Journal article noted.
[Read more: Did the coronavirus escape from a lab? The idea deserves a second look, scientists say.]
More transparency
The news prompted calls for more transparency and more investigation.
In a statement, Wisconsin GOP Rep. Mike Gallagher called on Biden to declassify intelligence so the public can learn more.
"As evidence clearly mounts in favor of the lab-leak hypothesis, the American people deserve complete transparency from the federal government on the origins of COVID-19," Gallagher said. "In order to prevent the next pandemic, we have to know how this one began."
Many in Washington are also calling for transparency from China.
(The World Health Organization reportedly abandoned plans for a deeper probe into the pandemic's origins after China said it would block scientists' access to the country for research.)
Nicholas Burns, the U.S. ambassador to China, called on China to "be more honest about what happened three years ago in Wuhan with the origin of the Covid-19 crisis."
On Monday, National Security Council spokesman John Kirby noted that Biden had asked the federal government to determine the origins of the pandemic and that the government has not yet come to a consensus.
Kirby said that Biden believes that it's important to prevent future pandemics, and that utilizing new technology and techniques is key to learning more about viruses. Biden, however, "also believes that that research must be done in a safe and secure manner and as transparent as possible to the rest of the world so that everyone knows what's going on," Kirby said.
He added: "The president believes it's really important we continue that work and we find out how it started so we can better prevent a future pandemic."
Check out "The Times" podcast for essential news and more
These days, waking up to current events can be, well, daunting. If you're seeking a more balanced news diet, "The Times" podcast is for you. Gustavo Arellano, along with a diverse set of reporters from the award-winning L.A. Times newsroom, delivers the most interesting stories from the Los Angeles Times every Monday, Wednesday and Friday. Listen and subscribe wherever you get your podcasts.
The latest from the campaign trail
—Florida Gov. Ron DeSantis has surged to a lead among California Republicans over Trump for the party's 2024 presidential nomination, a poll released Friday found. Times writer Seema Mehta reported that about 37% of GOP voters backed DeSantis, while 29% preferred Trump, according to the new poll. California matters to Republican presidential contenders despite its overall Democratic majority.
Enjoying this newsletter? Consider subscribing to the Los Angeles Times
Your support helps us deliver the news that matters most. Become a subscriber.
The view from Washington
—The Supreme Court's conservatives gave a sharply critical hearing Tuesday to Biden's plan to forgive more than $400 billion in student loans, arguing that only Congress could approve such a large amount of federal spending, Times writer David G. Savage reported.
—The Supreme Court said Monday that it would decide on the constitutionality of the Consumer Financial Protection Bureau, created in the wake of the 2008 Wall Street collapse and funded directly by the Federal Reserve, Times writer David G. Savage reported. The case poses a threat to an array of independent agencies, including potentially the Federal Reserve.
—Republicans are continuing to criticize Biden for not going to East Palestine, Ohio, where a train carrying toxic, cancer-causing chemicals derailed Feb. 3, Times writer Kwasi Gyamfi Asiedu reported. Meanwhile, federal environmental authorities announced Sunday that shipments of contaminated waste out of the site of the fiery accident near the Pennsylvania state line will resume Monday to two approved sites in Ohio.
—Rep. Judy Chu and other House Democrats have fired back after a Republican congressman questioned her loyalty to the U.S. using what they say is anti-Asian rhetoric, Times writer Melissa Gomez reported. On Wednesday, Rep. Lance Gooden (R-Texas) appeared on a Fox News show to discuss Biden's appointment of Dominic Ng to lead the country's trade interest in Asia. House Republicans, including Gooden, have written to the FBI with claims that Ng should be investigated for potential ties to the Chinese Communist Party.
The view from California
—Hours after announcing a screening of "Black Panther: Wakanda Forever," embattled Los Angeles City Councilmember Kevin de Léon postponed the event because of "rainy weather," Times writer Kenan Draughorne reported. De Léon, who was previously recorded taking part in a racist conversation in which fellow council members made disparaging remarks about Black people, had posted Monday afternoon that he would host the screening on Tuesday. He quickly changed his mind, apparently unaware that criticism was starting to mount online.
—Several months before the Nov. 8 election, California lawmakers killed a proposal that would have asked voters to eliminate an exception in the state Constitution that allows for involuntary servitude for criminal punishment, Times writer Hannah Wiley reported. Division between moderate Democrats and progressives, along with the price tag associated with the plan, eventually tanked the legislation. But now Democrats are trying again, hoping that passage last year in other states could help sway more support in California.
—After two high-profile mass shootings in California, the majority of voters surveyed in a new statewide poll said they worry that gun violence will affect them or someone close to them, Times writer Hannah Wiley reported. The survey also revealed a stark political divide over fear about gun violence among Californians, and the disproportional concern among women, city residents and people of color in the state.
—California's COVID-19 state of emergency officially ended Tuesday, bringing a symbolic close to one of the most challenging chapters of state history and of Gov. Gavin Newsom's political career, Times writer Taryn Luna reported.
Sign up for our California Politics newsletter to get the best of The Times' state politics reporting. And don't forget to follow me on Twitter and send pictures of your adorable furbabies to me at erin.logan@latimes.com.
Life is stressful. Our weekly mental wellness newsletter can help.
You may occasionally receive promotional content from the Los Angeles Times.