Democratic 2020 field now at 21 as Massachusetts Rep. Seth Moulton drops out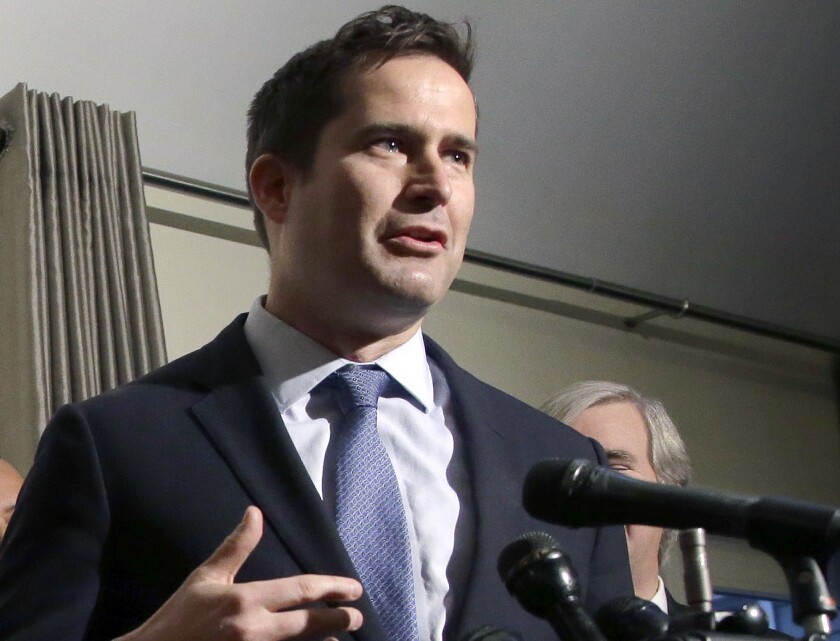 WASHINGTON —
Massachusetts Rep. Seth Moulton dropped out of the Democratic presidential primary race on Friday, becoming the second 2020 candidate to exit the large field this week.
Moulton announced the end of his campaign during remarks to the Democratic National Committee at its summer meeting Friday in San Francisco, and he said he would seek reelection to Congress.
"Though this campaign is not ending the way we hoped, I am leaving this race knowing that we raised issues that are vitally important to the American people and our future," he said.
Moulton focused his 2020 candidacy on mental health treatment after revealing his own struggles on that front as a combat veteran.
The Marine Corps veteran said he ran for president to highlight that Democrats should not yield the idea of patriotism to Republicans. He told DNC members that he will campaign vigorously for the party's eventual 2020 presidential nominee.
President Trump, who routinely mocks the large field of Democrats vying to face him, noted Moulton's exit in a tweet: "The Dow is down 573 points perhaps on the news that Representative Seth Moulton, whoever that may be, has dropped out of the 2020 Presidential Race!"
The stock market dropped earlier in the day after Trump tweeted that he had "hereby ordered" U.S. companies to consider alternatives to doing business in China and vowed that he would respond to Beijing's latest tariff increase.
Asked about Trump's tweet, Moulton told reporters that he was glad Trump thinks the congressman has more effect on the Dow than the president does.
Washington Gov. Jay Inslee also left the presidential race this week. His climate-centered campaign had failed to gain traction.
Washington Gov. Jay Inslee is ending his bid for the Democratic presidential nomination.
Inslee, 68, made the announcement Wednesday. He had reached the 130,000 unique donors necessary to qualify for the Democratic debate in September, but had not secured the required 2% support in four polls. He also couldn't secure a place in a presidential debate focused on climate change where he might have pressed an advantage over other candidates with less aggressive plans.
In an email to supporters, Inslee vowed to "continue to lead, to demand bold action, and to do everything in my power to ensure the fight to defeat climate change stays at the top of the national agenda."
Inslee will run for a third term as governor, he said in a statement Thursday.
"I want to continue to stand with you in opposing Donald Trump and rejecting his hurtful and divisive agenda, while strengthening and enhancing Washington state's role as a progressive beacon for the nation," he said.
Former Colorado Gov. John Hickenlooper had a floundering presidential campaign, but could become a front-runner for Senate.
Also Thursday, another former 2020 candidate, John Hickenlooper, said he will run for the U.S. Senate. The former Colorado governor had dropped out of the presidential field Aug. 15; his campaign never took off.
Hickenlooper became the immediate front-runner in a crowded Democratic field aiming to challenge Sen. Cory Gardner, one of the most vulnerable Republican incumbents seeking reelection next year in a state where Trump is deeply unpopular.
Twenty-one prominent candidates remain in the Democratic primary field.
The field is down to Joe Biden now that Bernie Sanders ended his presidential campaign. Here is the Democrat heading for a battle with President Trump.
---
Get our Essential Politics newsletter
The latest news, analysis and insights from our politics team in D.C.
You may occasionally receive promotional content from the Los Angeles Times.