Jay Inslee's 2020 plan: Become president, save the planet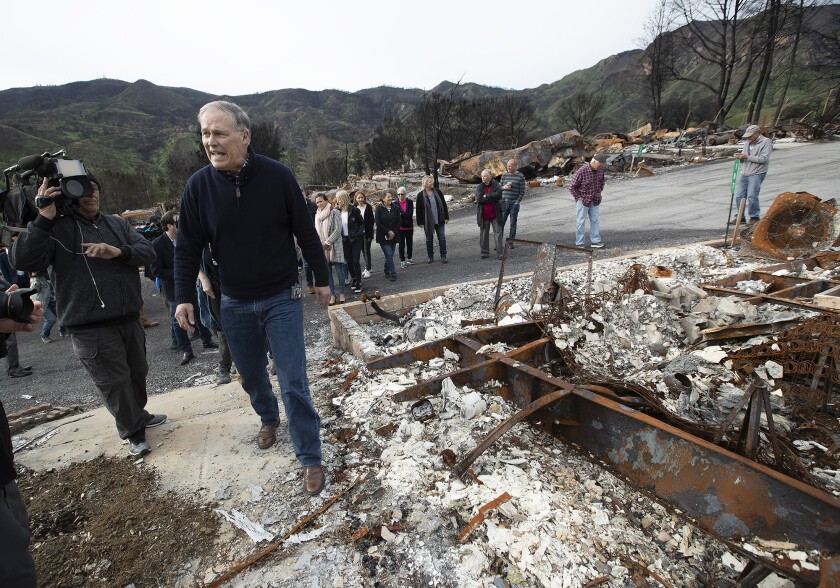 Reporting from Davenport, Iowa —
The heap of ashes behind Jay Inslee used to be an acute-care center in Paradise, Calif.
Now it was a backdrop for the message the Democrat was about to bring to the 2020 presidential campaign trail — the message he has embraced for more than two decades.
"We can't allow climate deniers in the White House," Inslee said in a short video he posted to Twitter soon after the deadly November wildfire. "You can't stand here and say you don't believe in climate change."
Inslee, who is serving his second term as governor of Washington, doesn't see climate change as an issue for the next president of the United States to address. He sees it as the issue.
It's why he's turned flooded towns in Iowa and burn zones in California into campaign stops; it's why he's giving headaches to Democratic leaders by demanding a climate debate.
"My wife and I had a discussion about this," Inslee, 68, said about his decision to run for president on a climate platform. "We wanted to be able to say we did everything we could. And we realize how diminished and degraded and despoiled my grandchildren's lives will be if we don't get a president in the next term to make it job number one."
Inslee grew up hiking, skiing and kayaking and lives on idyllic Bainbridge Island outside Seattle. His parents were amateur conservationists who helped restore the alpine meadows on Mt. Rainier in the summers.
As a congressman from Washington state, he warned his fellow representatives in July 1999 about "insidious" greenhouse gases overheating the planet.
Inslee saw an obvious solution: The government could help create a clean-energy economy to cut emissions and create jobs.
The transformation didn't happen. But the story of Inslee's political career is that if at first you don't succeed, you can try, try again — and again, and again, and again.
"He's like the Energizer Bunny in that regard," said Brian Bonlender, a former congressional chief of staff and former head of Washington's Department of Commerce under Inslee. "He will not stop."
2020 candidate Jay Inslee's ambitious climate plan: 100% renewable energy by 2035 »
Climate scientists warn that world leaders are running out of time to prevent a future of scorching temperatures, rising oceans, worsening natural disasters.
But President Trump's administration has unapologetically rolled back Obama-era environmental policies meant to monitor and limit climate change.
"We got a guy in the White House telling us that the climate crisis is a Chinese hoax. What a bunch of baloney," Inslee said after visiting businesses damaged in recent Iowa flooding, anger creeping into his voice.
"It makes me" — Inslee searched a moment for the word, settling on a safe folksiness — "hopping mad, as you can tell."
The governor's campaign will be a test of whether a climate-focused candidacy can translate into the kind of environmentalist victories recently seen in European elections.
Inslee hasn't polled above the low single digits but has secured enough donors to qualify for the first round of Democratic primary debates.
The satire publication the Onion has taken notice and has caricatured the Bunyanesque governor as the Democratic field's own Captain Planet, armed with a solar-powered mech suit and guarded by a loyal pack of dolphins. "We need someone like him who's going to prioritize the planet over being elected," The Onion ribbed.
The Democratic National Committee has refused his call for a climate debate, drawing condemnations from environmentalists and prominent Democrats including former Vice President Al Gore.
It's the same kind of politically inconvenient demand Inslee has made of his fellow politicians for the last 20 years, when the timing has rarely ever been right.
In 2003, Inslee compared U.S. leaders to the tyrant Nero, who "sang while Rome burned," for not having acted more aggressively in studying clean-energy technologies. In 2005, he proposed the 476-page "New Apollo Energy Act" to domestically develop green tech and cut oil use. (It didn't pass.)
He also led a push in 2010 for then-Secretary of State Hillary Clinton to block the Keystone XL pipeline, which has since been approved by the Trump administration.
After Inslee became governor of Washington in 2013, he pressed his warnings locally, struggling to win cooperation from the Republicans then controlling the state Senate.
But there are signs that more policymakers are coming around to Inslee's philosophy of pairing clean-energy investment with jobs, housing and other liberal policy initiatives. Now congressional Democrats are discussing a Green New Deal to transform the economy to produce clean energy.
"He was one of the people who was arguing for a Green New Deal before the Green New Deal was the Green New Deal," said Michael Brune, the executive director of the Sierra Club environmentalist group. "He doesn't get much credit for that."
Several Democratic presidential candidates have now proposed aggressive climate investment programs. But Inslee's plan, which includes closing all coal plants by 2030 and investing $3 trillion in emissions-efficient transportation, infrastructure and housing, has received the biggest raves from climate experts and activists.
"@JayInslee's climate plan is the most serious + comprehensive one to address our crisis in the 2020 field," Democratic New York Rep. Alexandria Ocasio-Cortez, a key proponent of the Green New Deal, tweeted in May.
Inslee also secured perhaps the biggest climate-policy breakthrough of his career this spring with the signing of a law requiring Washington state to adopt 100% clean energy by 2045. The victory was made possible after Democratic state senators gained a majority in 2017.
Nationally, Inslee is betting that the political opening for a climate-centered candidacy will keep growing as voters encounter more and more disasters linked to the effects of climate change: bigger wildfires, heavier floods, rising oceans.
"When you're surfing, you gotta wait for the wave," Inslee said in a recent interview. "The wave is showing up now in the form of Paradise, Calif., burning to the foundations; Iowa and Nebraska being underwater; Miami Beach being flooded. Seattle, Wash., had to close its swimming pools last summer because of the smoke [from wildfires]. So the wave has arrived."
In March, Inslee visited Agoura Hills, Calif., where the Woolsey fire had razed the Seminole Springs mobile home park to the foundations.
"Trying to stop these forest fires just with raking the leaves is like trying to turn back the rising tide with a spoon," Inslee said during the visit, mocking a suggestion made by Trump.
Marsha Maus, 75, who'd lost her home, hugged Inslee. "Thank you for what you do. You give me hope."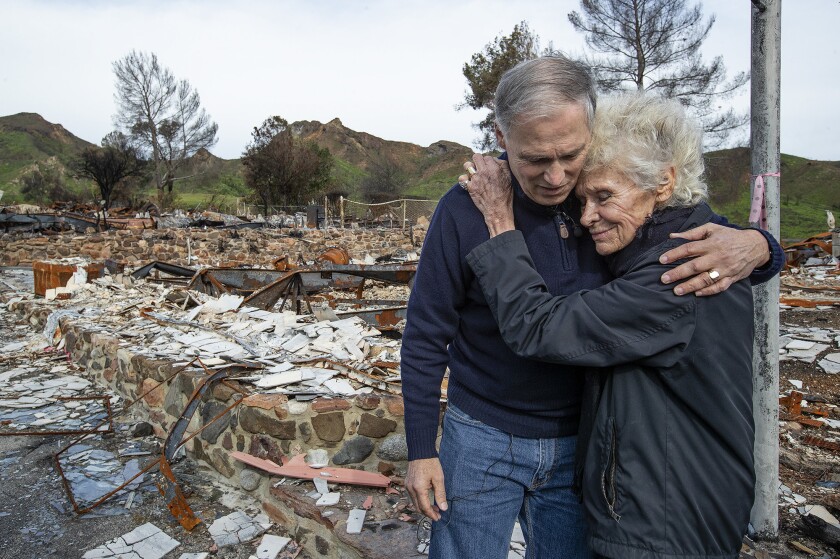 On a recent campaign visit to Davenport, Iowa, Inslee toured businesses along the Mississippi River that had been deluged by record flooding. Workers tossed plastic bags filled with waterlogged belongings into dumpsters as Inslee talked to three women who help run the Dress for Success store. The nonprofit, which provided clothes for women in need, lost half its inventory.
"There's not enough sandbags in the world to protect you from these floods," Inslee told them.
LuAnn Haydon, a Dress for Success board member, agreed, urging immediate action to halt climate change. "Look at the fires all over California. Look at the floods in the Midwest. It's not going to stop," she told Inslee.
So far, Inslee's focus on climate hasn't led to a breakout moment on the trail.
His low profile in the race is common for governors, his campaign staff says, citing Bill Clinton's successful 1992 presidential campaign as a little-known, slow-starting governor from Arkansas.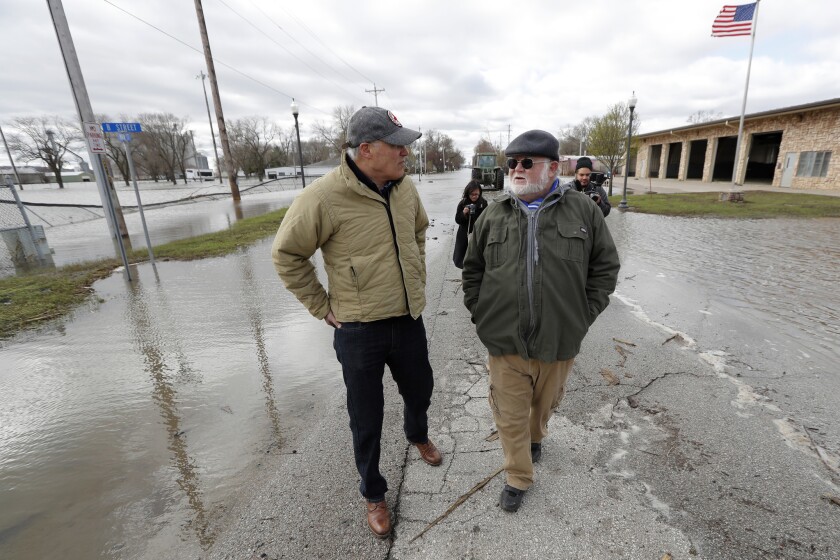 They believe Inslee will also benefit if voters learn about his liberal record on matters other than climate change. Under him, Washington had the first state-level net neutrality law; the first state-run public health insurance option; free college for low-income students; a ban on the death penalty; and guaranteed paid family leave.
Inslee supports the U.S. Senate abolishing the filibuster and theorizes that progressives can secure lasting victories with just 50% majorities.
"We've never actually gone backwards once we've embraced any degree of social change, from Social Security, to Medicare, to Obamacare, to civil rights, to gay marriage equality," Inslee said. "Once you win, you only have to win once."
But he worries that other Democratic candidates, who lack his lifetime of effort, are treating the issue as one policy battle among many.
"You can't totally restructure the United States economy to be a clean economy by mid-century by putting it on your to-do list," Inslee said. "This has to be the central defining mobilizing tenet and organizing principle of your entire administration.
"And I am convinced to a moral certainty," he said, "that I'm the only candidate who has the fire in the belly to actually do it."
Times staff writer Melanie Mason contributed to this report.
---
For reporting and exclusive analysis from bureau chief John Myers, get our California Politics newsletter.
You may occasionally receive promotional content from the Los Angeles Times.