America is 'crying out for leadership': Biden, Harris make first appearance as Democratic ticket
WILMINGTON, Del. —
Joe Biden and Kamala Harris made their debut as a presidential ticket on Wednesday, introducing their unconventional political partnership and promising a purposeful approach to the weighty challenges facing the nation and their bid to defeat President Trump.
It was the first time the presumptive Democratic nominee offered at-length insights into why he chose Harris, California's junior senator, as his running mate, making her the first Black woman and first Asian American poised to be nominated for vice president by a major party. The choice, he said, was all the more serious given the consequences of this election — and he had "no doubts" that he made the right pick.
"Kamala is smart. She's tough. She's experienced. She's a proven fighter for the backbone of this country, the middle class and those struggling to get into the middle class," Biden, 77, said at the Wilmington, Del., high school gymnasium where they appeared on stage together. "Kamala knows how to govern. She knows how to make the hard calls. She's ready to do this job. And we're both ready to get to work rebuilding this nation."
Harris, 55, responded with praise of Biden, touting him as the answer to a country "crying out for leadership."
"Here's the good news," she said. "We don't have to accept the failed government of Donald Trump and Mike Pence. In just 83 days, we have the chance to choose a better future for our country."
Joe Biden introduces Kamala Harris as his running mate in Wilmington, Del.
(Getty Images)
Joe Biden and Kamala Harris.
(Carolyn Kaster / Associated Press)
The candidates arrived wearing masks.
(Drew Angerer / Getty Images)
Harris and her husband, Douglas Emhoff, right, applaud Joe Biden and his wife, Jill.
(Carolyn Kaster / Associated Press)
Taking the stage.
(Carolyn Kaster / Associated Press)
Harris and her husband greet Jill Biden.
(Carolyn Kaster / Associated Press)
Harris and husband Douglas Emhoff.
(Carolyn Kaster / Associated Press)
Joe Biden speaks during the campaign event.
(Carolyn Kaster / Associated Press)
Kamala Harris speaks.
(Carolyn Kaster / Associated Press)
The candidates on TV monitors in the media briefing room at the White House.
(Andrew Harnik / Associated Press)
Joe Biden listens as his running mate speaks during the campaign event.
(Carolyn Kaster / Associated Press)
Harris listens as Biden speaks.
(Carolyn Kaster / Associated Press)
Joe Biden supporters outside the event in Wilmington, Del.
(Carolyn Kaster / Associated Press)
She laced into the president's handling of the coronavirus pandemic and blamed him for the swelling numbers of unemployed Americans.
"He inherited the longest economic expansion in history from Barack Obama and Joe Biden — and then, like everything else he inherited, he ran it straight into the ground," she said.
Wednesday's event marked the culmination of Biden's protracted search for a running mate. After the former vice president committed last spring to choosing a woman for the ticket, his campaign came up with a list of more than 20 contenders, 11 of whom were seriously considered.
But Harris, a rival in the presidential primary, was long considered a front-runner, given her national campaign experience and deep resume. One day after Biden announced his decision via text message to supporters, the two walked on stage together wearing black masks and blue suits, maintaining social distance as they traded off turns at the podium to attest to their working relationship and shared vision of the campaign.
The introduction event is typically a jubilant campaign milestone, but the standard pageantry of adoring supporters and a sea of campaign signs was jettisoned for a tightly controlled event, constrained by the COVID-19 pandemic.
In the running mates' first joint appearance, both hew toward the party's center, disappointing the left, but a possible general election plus.
Attendance was sharply limited to a few dozen reporters. There were roughly as many flags lined up behind the podium as there were people allowed in the room.
But after dozens of events in which Biden has not addressed a crowd but just a camera in his basement or on his back porch, the lack of an audience didn't make the former vice president falter, even as the room Wednesday remained eerily silent.
He approached the occasion with solemnity, noting it was the third anniversary of a white supremacist march in Charlottesville, Va., that he saw as such an affront to the country's values that it prompted his presidential run.
He described his relationship with his potential vice president in substantive terms, saying he has asked Harris to be the final sounding board before he makes decisions, much like the role he played for former President Obama.
"I asked Kamala to be the last one in the room. To always tell me the truth, which she will. To challenge my assumptions if she disagrees. Ask the hard questions," he said. "That's the way we make the best decisions for the American people."
Ethnic solidarity with Kamala Harris, the daughter of an Indian immigrant, could draw votes and donations for the Democratic ticket.
Adding to the pensive air was the frequent mention of Biden's late son, Beau, who died from brain cancer five years ago. Harris' long-standing friendship with the younger Biden, who served as Delaware's attorney general when she occupied the same post in California, was the foundation of their bond.
"Beau was the kind of guy who inspired people to be a better version of themselves. He really was the best of us," Harris said, as Biden listened with visible emotion on his face. "And when I would ask him, 'Where'd you get that? Where did this come from?,' he'd always talk about his dad."
There were no signs of lingering tension between the two former rivals, more than a year after a Democratic primary debate in which Harris, then a presidential candidate, confronted Biden for his record on civil rights issues and statements showing pride in his ability to work with Southern segregationists early in his Senate career.
On Wednesday Harris demonstrated the skill that was a big part of her appeal as a candidate — her ability to deliver a lacerating critique of President Trump.
"As somebody who has presented my fair share of arguments in court, the case against Donald Trump and Mike Pence is open and shut," Harris said, an echo of the prosecutorial theme of her unsuccessful presidential bid.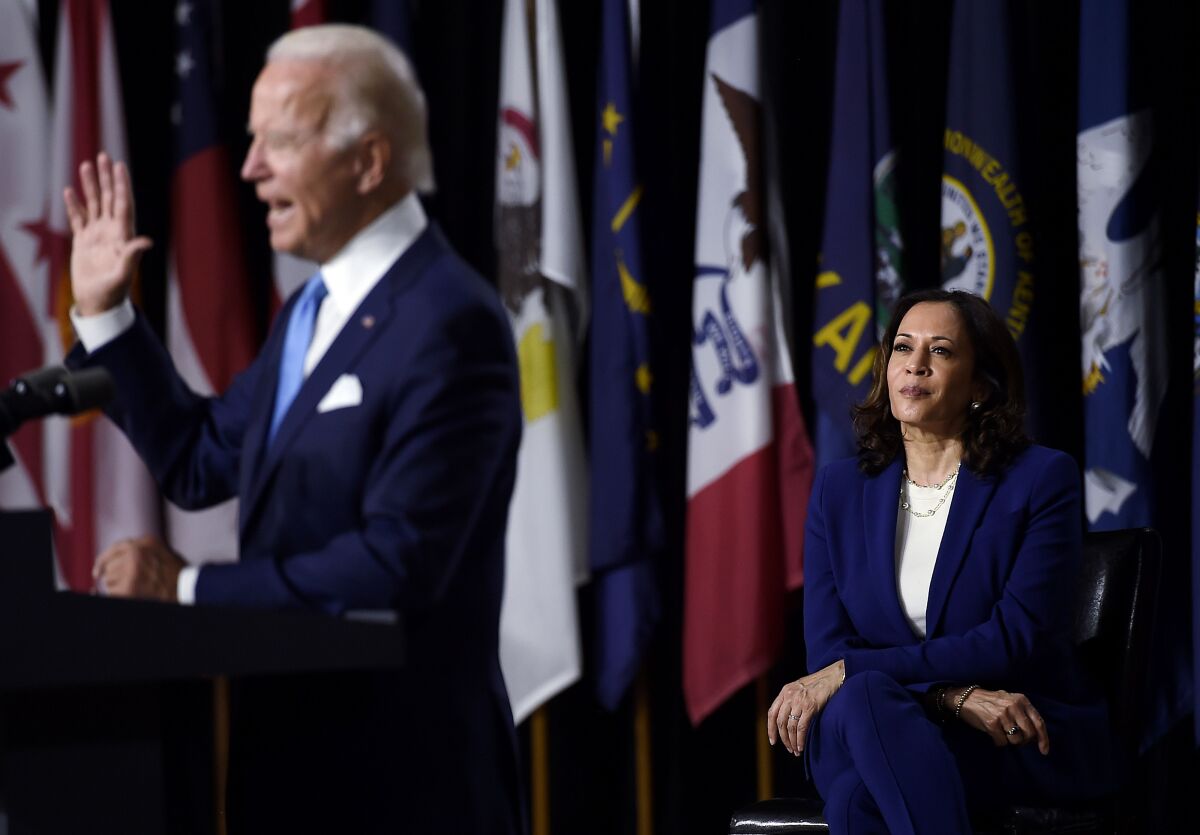 Harris delivered her remarks crisply and energetically, turning at times to address the most personal lines to Biden, who sat at a distance behind her. In a nod to Biden's famously family-centric outlook, she spoke of her own bonds to her husband, stepchildren and other children in her life.
"Whether I'm cheering in the bleachers at a swim meet, setting up a college dorm room, helping my goddaughter prepare for her school debate, building Legos with my godson, hugging my two baby nieces, or cooking Sunday dinner — my family means everything to me," she said.
She mirrored her running mate's emphasis on the consequence of the upcoming election, positioning their candidacy as part of a social vanguard for change.
"Everything we care about — our economy, our health, our children, the kind of country we live in — it's all on the line," she said. "We're reeling from the worst public health crisis in a century. The president's mismanagement of the pandemic has plunged us into the worst economic crisis since the Great Depression and we're experiencing our moral reckoning with racism and systemic injustice that has brought a new coalition of conscience to the streets of our country, demanding change."
Despite the pandemic-inflected tone of the event, there were some signs of normalcy: Roughly 200 supporters gathered outside the gymnasium, in hopes of catching a glimpse of the newly announced ticket. Hannah Hrobuchak, still in medical scrubs after she came directly from work, said she decided to drop by to "see a part of history."
The 25-year-old medical student said Harris was a smart selection by Biden.
"Whatever will get him to the presidency is what we need," Hrobuchak said. "And I think she has shown that she is capable of that."
Democrats welcome the contrast Harris will provide in what will likely be the high point of the campaign for her: the debate with Vice President Mike Pence. As a charismatic woman of color who is the daughter of immigrants, she will present a stark contrast with the low-key white Trump lieutenant who will doubtless have to defend the administration against charges of racism and sexism.
Harris has proven to be an effective if uneven debater, performing better when she has a scripted line of attack than when she has to extemporize.
Biden pointedly promised to be on alert for negative attacks against his running mate. Noting that Trump already laced into Harris, calling her "nasty," he vowed to "have her back."
"She's going to stand with me in this campaign and all of us are going to stand up for her," he said.
Trump, speaking at a news conference shortly after the speeches, said he watched snippets of their remarks, "and that was enough."
The president disparaged Biden's choice, saying that Harris floundered in her presidential bid and recalling her clashes with Biden.
"She said horrible things about him. Horrible things. And she mocked him — openly mocked him. That's why I thought it was a very risky pick," Trump said. (While Harris and Biden had a notable standoff during the primary, she did not personally insult or make fun of the former vice president.)
After their event, Biden and Harris hosted a virtual grassroots fundraiser. So far, Harris appears to be a boon to the pair's financial resources; the Biden campaign said it raised $26 million in the 24 hours after her selection was announced.
Times staff writer Janet Hook in Washington contributed to this report.
Get our Essential Politics newsletter
The latest news, analysis and insights from our politics team.
You may occasionally receive promotional content from the Los Angeles Times.