Brandon Zucker dies at 13; injury at Disneyland brought focus to amusement park safety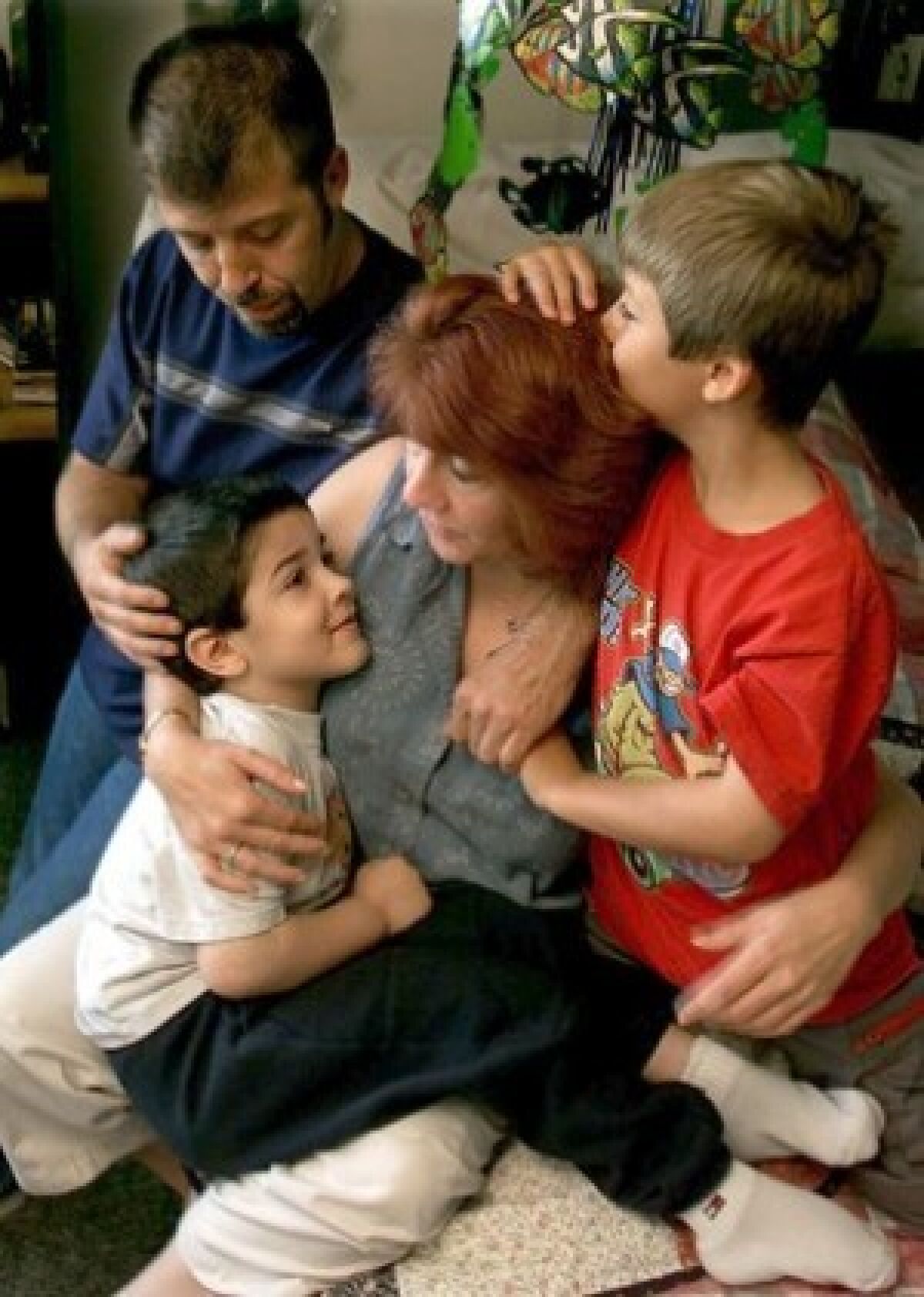 In the days and months after 4-year-old Brandon Zucker was trapped under the Roger Rabbit Car Toon Spin ride at Disneyland in September 2000, his mother said, she would sit at his hospital bed and whisper her son's favorite phrase into his ear: "I have an idea." She would beg, even as hope dimmed, "Get up and let's get out of here. Let's go home."
Although Brandon, who turned 13 two weeks ago, left the hospital, he never recovered from his injuries. He died early Monday morning in his mother's arms at Children's Hospital of Orange County, more than eight years after the widely publicized accident that helped focus attention on amusement park safety.
Now, his mother envisions, he's making up for lost time.
"He's running and playing with all his legs and feet on his scooter up in heaven," Victoria Zucker said.
During a family visit to Disneyland, Brandon tumbled from a spinning Roger Rabbit "taxicab" and was trapped under another car. The vehicle rolled over him, folding his 45-pound body in half. He was stuck for about 10 minutes before being freed, suffering serious brain damage. Although he would occasionally smile and laugh, he never talked or walked again.
On Sunday morning, Brandon's father, David Zucker, found him unresponsive at their home in Anaheim and called 911, officials said. Brandon was taken to St. Joseph's Hospital and later transferred to Children's Hospital in Orange, where he died at 1:13 a.m. Monday, said Jim Amormino, a spokesman for the Orange County Sheriff's Department.
"He battled with this for eight years, in and out of the hospital, and he fought for a very long time," Victoria Zucker said.
"We did every kind of therapy and everything we could possibly do for him in the eight years. He just got tired. But he still gave us a lot of love, and we gave it to him."
The accident marked the first major investigation conducted by the state Division of Occupational Safety and Health under a law regulating amusement parks. That law required parks to report serious injuries and accidents and gave the state the authority to investigate and order fixes.
The state determined that Disneyland employees did not properly load Brandon into the ride -- with the smallest child farthest from the cutout entryway -- and failed to fully lower the lap bar.
It also ordered significant safety changes to the ride, including a sensor-equipped guard around the bottom of each car.
The Zuckers sued Disneyland, settling for an undisclosed sum that helped pay for his costly medical care.
A spokeswoman for park officials said Monday that thoughts and prayers were with the family.
Brandon, who was born Jan. 12, 1996, had several bouts of cellulitis and in the last year, his health declined, his mother said. His scoliosis, which worsened as he grew, made it increasingly difficult for him to breathe.
"It's done," Victoria Zucker said. "Every time he was poked and prodded, another piece was taken out of my heart. I've been grieving for eight years."
In addition to his mother, who lives in Laguna Hills, and his father, Brandon is survived by an older brother, Nicholas. Memorial services are being arranged.
---
Get our free Coronavirus Today newsletter
Sign up for the latest news, best stories and what they mean for you, plus answers to your questions.
You may occasionally receive promotional content from the Los Angeles Times.