Chinese coronavirus outbreak has reached U.S. shores, CDC says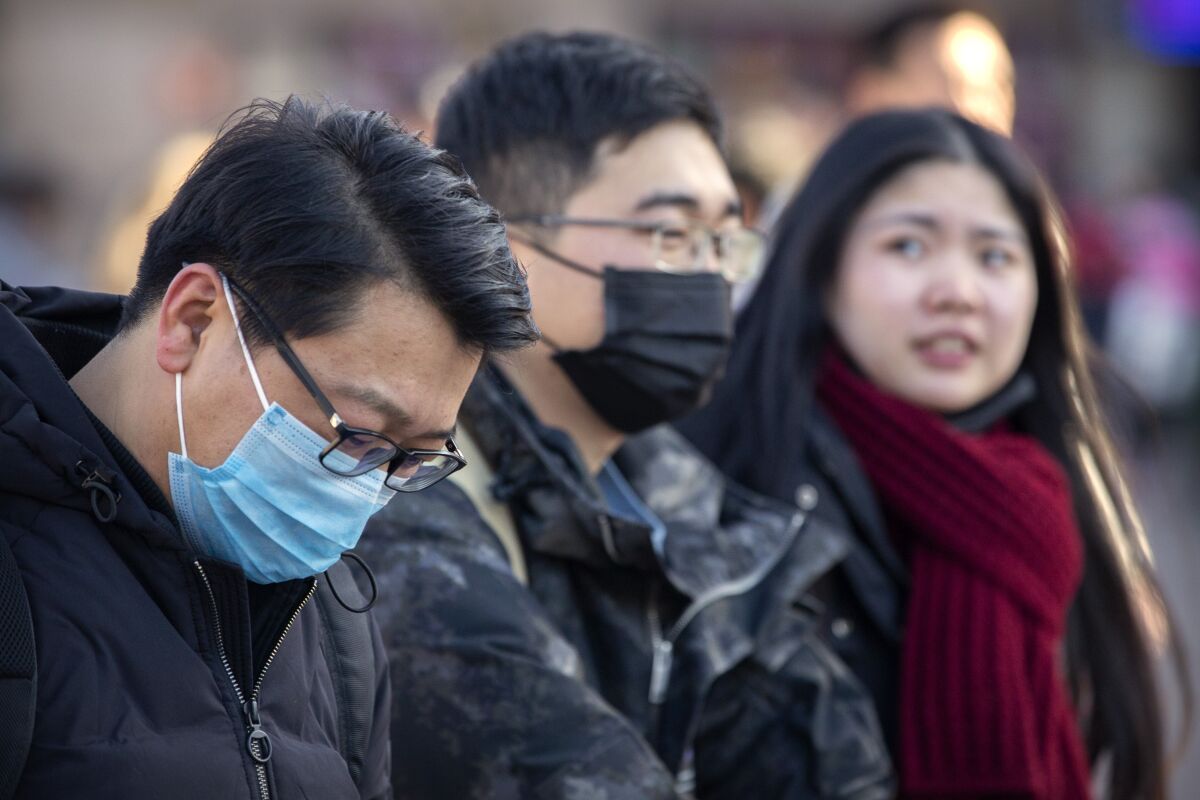 A man in Washington state has been sickened by the new coronavirus spreading through Asia, marking the first confirmed case in the United States, experts from the Centers for Disease Control and Prevention announced Tuesday.
The patient, a resident of Snohomish County, Wash., recently returned to the United States after visiting the region around Wuhan, China, the epicenter of the outbreak. Once inside the U.S., he began to experience pneumonia-like symptoms and notified his doctor about his travel history. Test results for the virus returned positive over the weekend.
The man, who is in his 30s, was transported to Providence Regional Medical Center in Everett, where he is being monitored and is good condition, officials said.
Chinese officials said that at least 440 cases had been reported as of early Wednesday, most of them in Wuhan and surrounding Hubei province, where nine have died. Officials have also identified 21 cases in Beijing, Shanghai and southern Guangdong province.
Additional cases of infected patients have been confirmed in South Korea, Japan and Thailand, according to the Chinese government. And Taiwan's disease surveillance officials said Tuesday that one traveler to Wuhan has returned sickened with the virus.
The patient in Everett is the only known case outside of Asia, and he represents the farthest spread of the novel coronavirus.
"We do expect additional cases in the U.S. and globally," said Dr. Nancy Messonnier, director of the CDC's National Center for Immunization and Respiratory Diseases.
At the same time, public heath officials emphasized that the virus poses a low risk to the American public, and that it's unlikely to spread widely here.
Health officials around the world are keeping a close watch on an outbreak of a virus in China. Here's what you need to know about the coronavirus.
Chinese health officials initially said that most patients infected with the virus in Wuhan were exposed to live animals in a large seafood market, suggesting that the virus jumped from another species into humans and may not spread directly from person to person. But the Washington state patient, along with several others, said he had not visited the market.
On Monday, Zhong Nanshan, a Chinese government scientist, announced on Chinese state television that the virus can be transmitted between humans.
Even before that development, public health officials were concerned that the virus would spread more widely as travel picks up for the Lunar New Year.
Airline passengers arriving from the outbreak region are already being screened for the virus' pneumonia-like symptoms at Los Angeles International Airport, San Francisco International Airport and John F. Kennedy International Airport in New York. The CDC said it would begin monitoring travelers at Chicago's O'Hare International Airport and Hartsfield-Jackson Atlanta International Airport this week.
The Washington state patient entered the country before any of those screenings were implemented. But even if they had been in place, he would not have been detected because he was asymptomatic at the time, experts said.
"Leave no doubt: Entry screening is just one part of a multilayered system," said Dr. Martin Cetron, the head of the CDC's Division of Global Migration and Quarantine. "Individuals are empowered to make good decisions if they're informed."
Outside experts cautioned that the increased airport screenings will be expensive, and that it will take some time to get answers to basic questions like what animal was the source of this virus and what makes some people more susceptible to infection than others.
"Basic epidemiology questions remain unanswered," said Rebecca Katz, the director of the Center for Global Health Science and Security at Georgetown University. "The CDC is the best of the best, and we should have faith in their leadership."
Officials have begun to trace the Washington man's contacts from China to his home in the United States in order to identify other people who may be infected, said Dr. Scott Lindquist, a communicable disease epidemiologist at the Washington State Department of Health.
Get our free Coronavirus Today newsletter
Sign up for the latest news, best stories and what they mean for you, plus answers to your questions.
You may occasionally receive promotional content from the Los Angeles Times.