U.S. regulators give full approval to Pfizer COVID-19 vaccine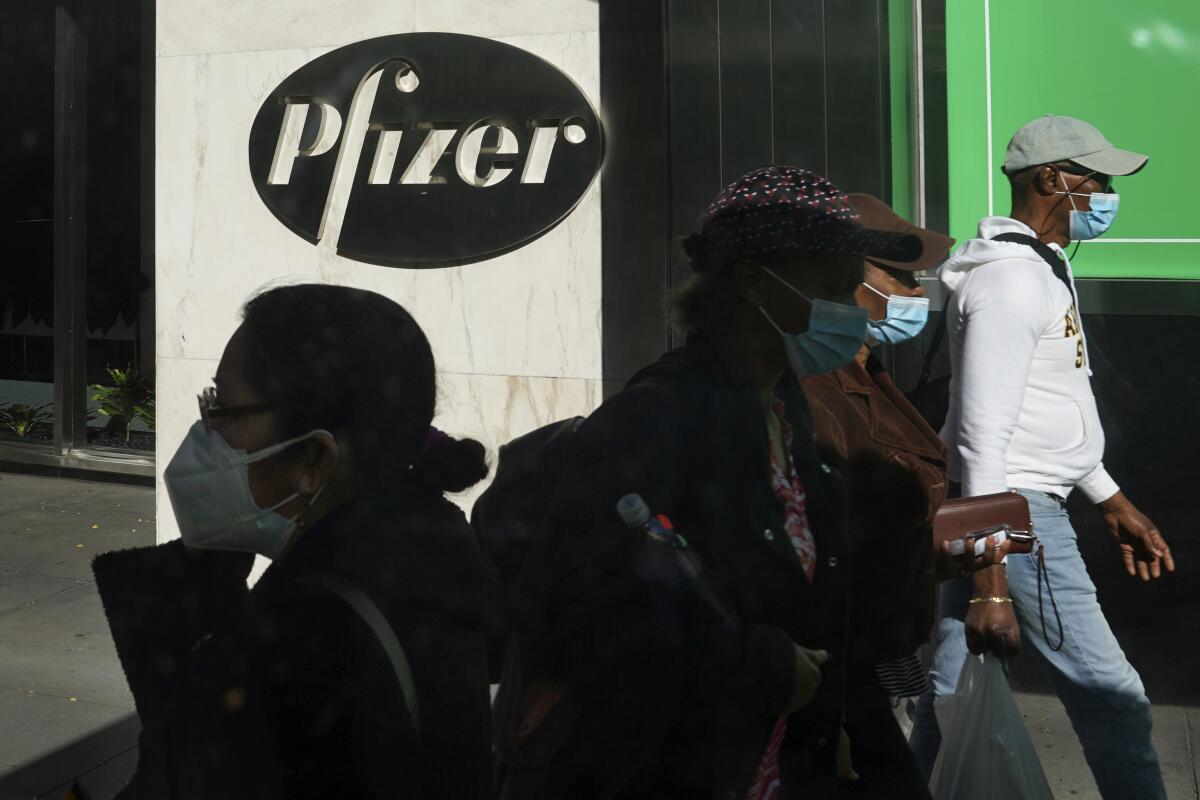 The U.S. Food and Drug Administration has granted full approval to the Pfizer-BioNTech vaccine for people 16 and older, an endorsement that experts hope will dramatically boost vaccination rates.
Until now, all three COVID-19 vaccines being administered in the United States had been given only emergency use authorization. The announcement Monday is expected to increase public confidence in vaccines and spur institutions public and private to start mandating vaccination for employees.
Roughly 85 million Americans are eligible for vaccination but haven't received shots. A recent poll by the Kaiser Family Foundation revealed that almost a third of unvaccinated people say they would be more likely to get the vaccine if it were fully approved.
"At the end of the day, this is all about trust and public perception," said Dr. Georges Benjamin, the executive director of the American Public Health Assn.
"People have been watching the development of science in real time, and — it makes sense — they aren't used to doing that. I'm looking forward to relaying this to people who have been concerned about the amount of research behind the vaccine."
The Pfizer vaccine — which will now be marketed under the name Comirnaty — is a crucial part of the U.S. strategy to squelch the spread of the virus. Moderna's application for the full approval of its vaccine is still under review, and Johnson & Johnson is expected to apply soon as well.
Late last year, the Pfizer shot was the first to receive emergency use authorization, after a clinical trial tracking more than 40,000 people for at least two months showed it to be safe and effective.
Pfizer continued its study into 2021 because the FDA typically requires about six months of safety data before granting full approval. Under pressure to move quickly, the agency reviewed hundreds of thousands of pages of data from Pfizer and carried out factory inspections in 97 days — less than half the time of a typical evaluation.
With access to an unprecedented amount of product data — more than 200 million doses of the drug have been administered in the United States — the FDA determined that severe side effects, such as heart inflammation in young adults, remained extremely uncommon.
The data also showed that although protection against mild COVID-19 infection waned over time — from about 96% two weeks after full vaccination to 84% at the six-month marker — the vaccine still remained 97% protective against severe disease.
More recent data from the U.S. Centers for Disease Control and Prevention show that the vaccine still holds up well against severe disease in the face of the Delta variant, which is driving the current surge in infections.
"The public can be very confident that this vaccine meets the high standards for safety, effectiveness and manufacturing quality the FDA requires of an approved product," said Dr. Janet Woodcock, the agency's acting commissioner. "Today's milestone puts us one step closer to altering the course of this pandemic in the U.S."
About 170 million people in the United States are fully vaccinated, including more than 92 million who have received the Pfizer-BioNTech vaccine.
The U.S. vaccination campaign stalled in July, but the threat of the Delta variant appeared to usher in a new wave of interest. On Saturday, a million people sought vaccinations for the third day in a row. Some of the most striking increases in vaccination rates have occurred in Arkansas, Mississippi, Alabama and other states being hit hardest by the surge.
Across the country, about 150,000 new COVID-19 cases and 1,000 new deaths are reported each day. The death toll is far smaller than that of the average day last winter, when most elderly people were unvaccinated.
Dr. Richard Besser, the president of the Robert Wood Johnson Foundation and former acting director of the CDC, said he hopes the "real-world experience of administering hundreds of millions of vaccine doses" in the U.S. is enough data to "move many people to a 'yes' on vaccination."
Still, he said, public health communication will remain vital: "We will not get there by shaming or berating those who have not yet gotten their shots."
Many public health experts anticipate an explosion of vaccine mandates in the wake of the regulatory approval. The Biden administration already requires government workers to sign forms that verify they are either vaccinated or will undergo regular COVID-19 testing, and the Pentagon said Monday that it will now require service members to receive the vaccine.
In addition to workplaces and universities, vaccine mandates may also arise more broadly among businesses. United Airlines recently announced that it will require employees to show proof of vaccination within the next five weeks. Local officials in New York City, San Francisco and New Orleans are requiring proof of vaccination for those who want to enter crowded indoor spaces such as restaurants and bars.
According to a recent poll by the Associated Press-NORC Center for Public Affairs Research, more than half of Americans are in favor of requiring full vaccination in certain public spaces where transmission is a risk.
"You're going to see a lot more groups being more comfortable saying a shot is required," Benjamin said. "They'll be more firm about helping people understand that, pure and simple, it is much safer to get the vaccine than to get the disease."
The Monday approval does not apply to children 12 to 15, for whom the shot is still under emergency use authorization. The American Academy of Pediatrics said Monday that, although the approval means it is legally permissible for doctors to give off-label shots to children under age 12, the group highly discourages that.
It said research on the use of the vaccine in younger children is still underway, with much smaller doses than in the adult regimen, the group said.
"We do not want individual physicians to be calculating doses and dosing schedules one by one for younger children," said Dr. Yvonne Maldonado, the chair of the group's Committee on Infectious Diseases. "I know parents are anxious to protect their children, but we want to make sure children have the full benefit of ongoing clinical trials."
Last week alone, 180,000 new cases of COVID-19 were detected among children and adolescents.
The Pfizer vaccine also remains under emergency use authorization — not full approval — among people with impaired immune systems who have been fully vaccinated but are seeking a third shot, as the data reviewed by the FDA did not include any type of booster injection.
As the Delta variant gains footing, booster shots for other groups may begin this fall.
The Associated Press contributed to this report.