Ringo Starr & His All Starr Band set 30th anniversary world tour, to begin at Harrah's near San Diego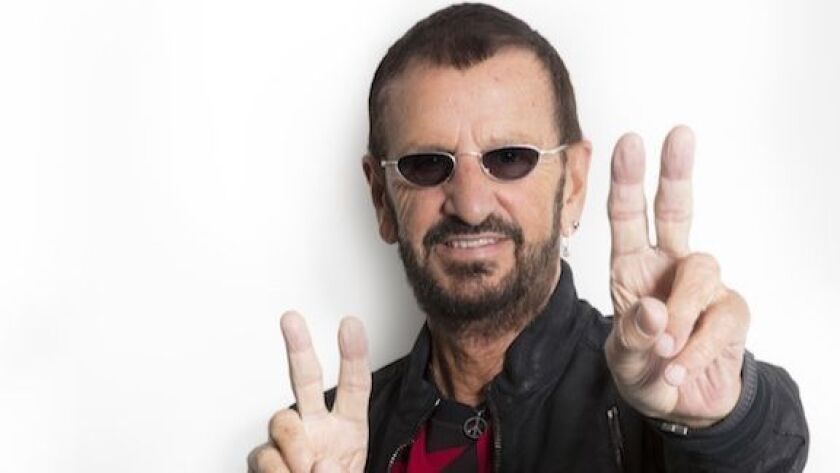 Sir Ringo Starr is gearing up for a big year in 2019, including a new book and his 30th anniversary world tour with his All Starr Band.
The tour will kick off March 21 at Harrah's Resort Southern California in Valley Center, north of San Diego. It will be followed by a nine-show leg in Japan, followed by a return to North America.
Other confirmed dates include an Aug. 1 concert at Caesar's in Windsor, Ontario, followed by Aug.3 and 4 double bills with the Beach Boys at Ravinia, outside Chicago, and Aug. 7 and 8 performances at the Ryman Theater in Nashville.
The tour will conclude Sept. 1 at the Greek Theatre in Los Angeles, nearly 30 years to the day when Starr's first edition of his All Starr Band completed its debut concert trek on Sept. 3, 1989.
Starr is the sole member of that first group who is still on board. The current lineup includes longtime All Starr Band members Toto guitarist Steve Lukather, Santana and Journey keyboard alum (and former Poway resident) Gregg Rolie and former Woody Herman/David Lee Roth drummer Gregg Bissonette. The most recent additions are journeyman instrumentalist and sing Warren Ham, Men At Work's Colin Hay and Average White Band co-founder Hamish Stuart, who previously toured with Starr's group in 2006 and 2008..
As of this writing, none of Starr's 2019 concerts appear on his website. His March 21 Harrah's show is listed on the casino and resort's website, but with no ticket information and a link to the Ticketmaster site for his Harrah's date has not yet been activated.
A full 2019 tour itinerary will be announced soon for Starr, who turns 79 on July 7. Nearly all of his previous All Starr Band tours have included a San Diego show — usually at Humphreys Concerts by the Bay, where he and his group performed a sold-out show Sept. 27. The 24-song set list for their most recent Humphrey's performance included five classics from Starr's tenure in The Beatles and at least four songs from his solo career.
Meanwhile, Starr is set to release his third book, "Another Day In The Life." It will be released late this month in a limited edition by Genesis Publications, then more widely released in April. Pre-orders for the limited edition can be made at ringobook.com.
On Nov. 27, Starr will receive the Humanitarian Award from the George Harrison Fund for UNICEF at the organization's annual Snowflake Ball in New York City.
Ringo Starr & His All Starr Band 2019 tour dates*
(* More shows will be announced later)
March 21: Harrah's Resort Southern California, Valley Center
March 27: Sun Palace Hall, Fukuoka, Japan
March 29: Uenogakuen, Hiroshima, Japan
April 1: Tokyo Electron Hall Miyagi Sendai Japan
April 2: Shimin Center, Koriyama, Japan
April 3: Hitomi Kinen Kodo, Tokyo, Japan
April 5: Dome City Hall, Tokyo, Japan
April 9: Zepp, Nagoya, Japan
April 10: Archaic Hall, Japan, Osaka
April 11: Orix Theatre, Osaka, Japan
Aug. 1: Caesar's, Windsor, Ontario
Aug. 3 and 4:Ravinia, outside. Chicago
Aug. 7 and 8: Ryman Theater, Nashville
Sept. 1, Greek Theater, Los Angeles
george.varga@sduniontribune.com
Twitter @georgevarga
---