Laguna Beach High artists display their work during First Thursdays Art Walk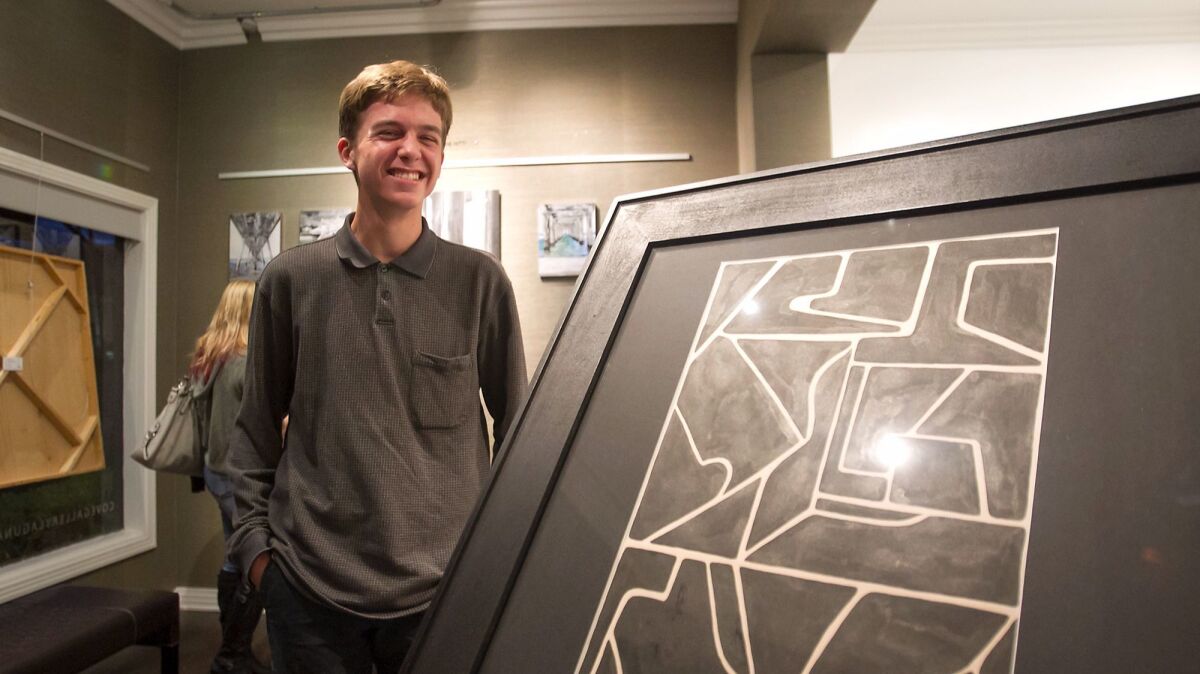 Two Laguna Beach High School seniors got a taste of the professional art world when they were invited to show their art inside the Cove Gallery Thursday. The evening event was the fruit of a budding partnership between the school and the Laguna business.
People steadily walked into the gallery at 1550 S. Coast Hwy. during First Thursdays Art Walk, a monthly event in which gallery owners open their doors in the evening.
Works from Zander Raymond and Sophia Diaz-Anderson stood on pedestals of varying heights, greeting art enthusiasts as they stepped inside.
"We had to do a splash for them," Steve Bernstein, one of the gallery's resident artists, said. "We want people who walk in the gallery to see their art."
Zander and Sophia, both 17, helped usher in a program between the gallery and high school, in which two artists will display their works for two months while learning financial aspects of the business, including pricing art.
Bernstein, a photography-based digital artist, thought of the idea of involving high school art students a year ago and approached fellow members of a gallery steering committee to gauge their interest.
"It did not take too much convincing," Bernstein said. "Everyone responded positively."
"We got together and asked, 'What can we do to support the community?'" Bill Knauer, another of Cove's resident artists, said earlier this week. "We decided it would be a good, socially-responsible way to support the high school."
High school administrators and teachers embraced the idea.
School instructors nominated multiple students to gallery committee members, who selected Zander and Sophia, said Bridget Beaudry Porter, Laguna Beach High's Advanced Placement studio art teacher.
Zander and Sophia have been shadowing gallery artists for the past few weeks, Beaudry Porter said.
"It's an exciting experience," Beaudry Porter said, adding that students will learn about marketing their work as well.
Sophia's works often depict expressive portraits that incorporate modern social themes. She primarily works in watercolors, pen and ink, acrylic and sculpture, according to the Cove Gallery's website.
One of her portraits, titled "Disconnected," shows the face of a boy who has no eyes and multi-colored areas on his face and neck. The areas represent elements of his character or spirit.
"He's kind of falling apart," Sophia said.
A theme of Sophia's work is the toll spending too much time on technological devices can take.
"Some of my friends are obsessed with technology," Sophia said. "It's getting to the point of being sad and rude."
Zander is an interdisciplinary visual artist who works in pen-and-ink. He takes inspiration from a variety of places and living things such as eucalyptus trees in Laguna and a hotel he saw in Reno, Nev.
"The way the building is shaped, it spoke to me," Zander said of his piece titled "Monte Carlo Motel."
"It was retro. It did not look like a building with modern architecture."
Zander and Sophia's works will be on display for two months unless someone buys one of their pieces.
That's just what happened in the first hour of Thursday's Art Walk — one of Zander's works sold.
David Hagen, a Laguna Niguel resident, purchased "Shape Study."
Hagen said he liked the design and the drawing carried sentimental value.
Using photos taken of eucalyptus trees in Laguna, Zander created the composition in a sketchbook, then put ink to paper. The shapes represent the patterns of the tree bark.
"I lived in a house, when I was younger, that had great big eucalyptus trees [nearby], so this had meaning to me," Hagen said.
The goal is to rotate artists working in a variety of mediums, Beaudry Porter said.
"I was excited," Zander said. "I always wanted to show in Laguna. I'm really happy they opened their doors for us."
Twitter: @AldertonBryce
---