Laguna Beach High will get new restrooms and snack bar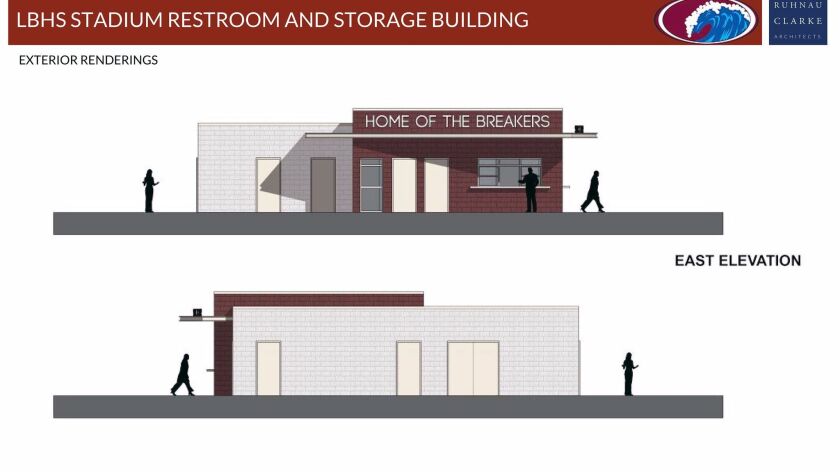 Plans are moving along for a new building near the track at Laguna Beach High School that will offer storage space, a snack bar and restrooms.
Laguna Beach Unified School District's Facilities Director Ryan Zajda earlier this week updated the school board about the project during a study session.
The 2,322-square-foot structure will include men's and women's restrooms and equipment storage space for multiple high school sports teams such as football, track and field, lacrosse and baseball.
The facility, which will be located between the track and baseball field, will also house lockers and coaches' office space.
The facility is a win for both players and spectators, said Athletic Director Lance Neal.
Teams have used portable containers to store equipment while spectators on the visiting side of Laguna's Guyer Field have used portable restrooms.
"We have a lack of athletic storage space as we have expanded [sports offerings] such as lacrosse," Neal said.
The new building will have room for equipment such as lacrosse goals, high jump landing pads and hurdles, and shoulder pads.
Neal told trustees the locker room could solve the issue of players changing in or out of their uniforms next to their cars parked on nearby streets.
The new snack bar will offer grab-and-go fare and drinks and unobstructed views of action on the field or track.
The current snack bar sits behind a row of bleachers, making it impossible for customers in line and people manning the booth to watch games.
Trustees voted to add the building to the district's facilities master plan in 2014, Assistant Supt. of Business Services Jeff Dixon wrote in an email.
The project originally was part of Guyer Field's renovation, but was delayed due to lack of funding, Dixon added.
Last year the district replaced the artificial turf, added a new layer to the track and installed more drains to prevent flooding.
The district will next solicit bids for a contractor to construct the building and return to the board at a future date.
Laguna Beach Unified hopes to start construction, estimated at $1.2 million, next July and complete it by December 2018, Zajda said.
Twitter: @AldertonBryce
---