Angels' Albert Pujols denies taking PEDs, says he will sue Jack Clark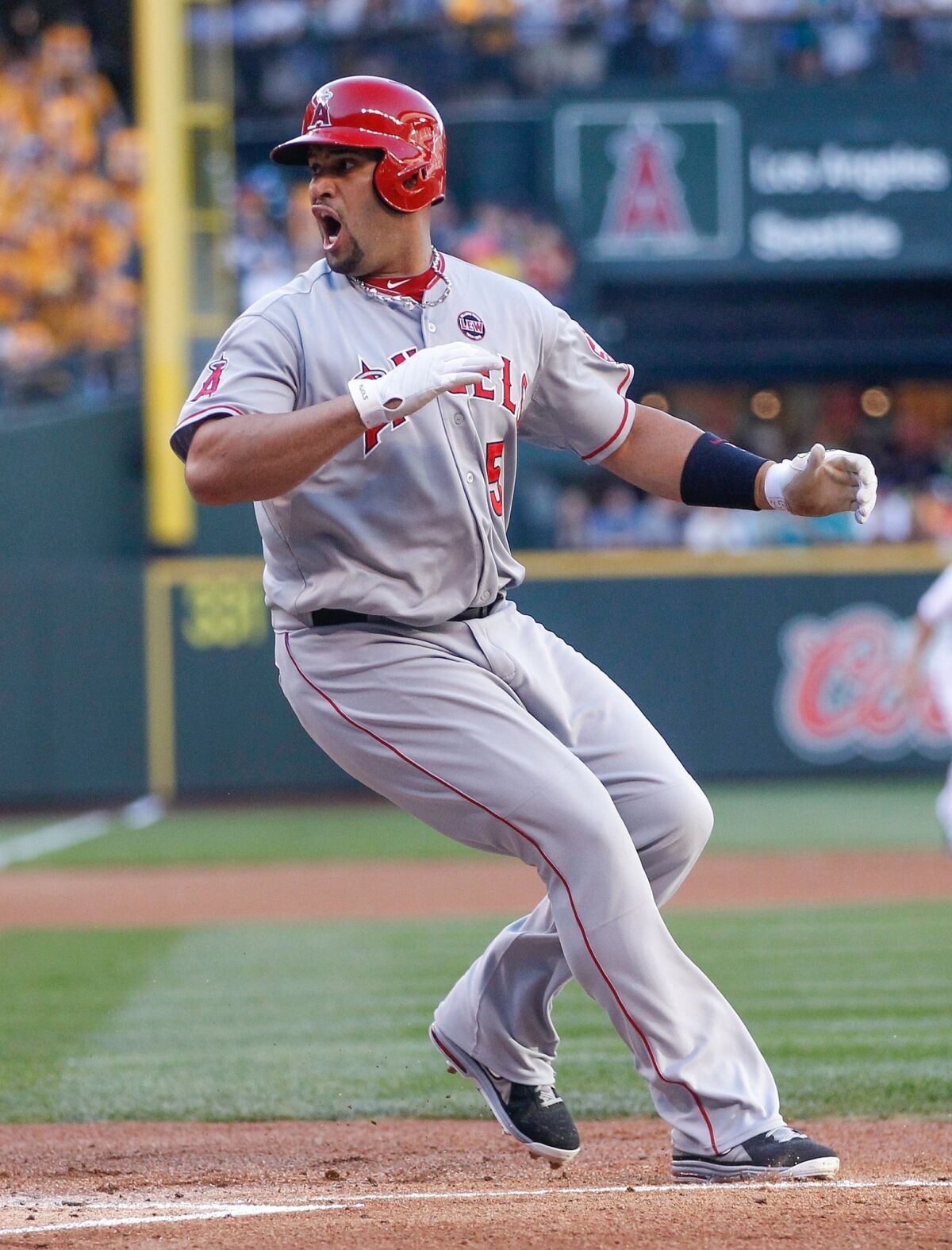 CLEVELAND — Albert Pujols angrily denied Jack Clark's accusation that he used performance-enhancing drugs during his early days with the St. Louis Cardinals, and the Angels slugger said Friday night that he will take legal action against Clark and the radio station the former major leaguer works for.
"It is irresponsible and reckless for Jack Clark to have falsely accused me of using PEDs," Pujols, who is on the disabled list and did not travel with the Angels to Cleveland, said in a statement. "My faith in Jesus Christ and my respect for this game are too important to me. I would never be able to look my wife or kids in the eye if I had done what this man is accusing me of.
"I know people are tired of athletes saying they are innocent, asking for the public to believe in them, only to have their sins exposed later down the road. But I am not one of those athletes, and I will not stand to have my name and my family's name dragged through the mud.
"I am currently in the process of taking legal action against Jack Clark and his employers at WGNU (920 AM). I am going to send a message that you cannot act in a reckless manner, like they have, and get away with it."
Clark, who hit 340 home runs during an 18-year big league career from 1975-92, began working at WGNU in St. Louis last week. He based his accusation on conversations he had with Chris Mihlfeld, Pujols' former personal trainer, who worked with the Dodgers when Clark was that team's hitting coach in 2000.
When on-air partner Kevin Slaten recently said that he long believed Pujols "has been a juicer," Clark jumped in with his own take.
"I know for a fact he was," the St. Louis Post-Dispatch reported Clark saying Friday. "The trainer that worked with him, threw him batting practice from Kansas City, that worked him out every day, basically told me that's what he did."
Clark then spoke of a conversation he claimed he had about a dozen years ago with Mihlfeld, who has worked for several big league organizations and is now coaching youth baseball in the Kansas City area.
Mihlfeld "had told me what he was doing with 'Poolie' — threw him batting practice, worked him out, shot him up, all that stuff," Clark said on the air.
Mihlfeld strongly denied the allegation.
"I haven't even talked to Jack Clark in close to 10 years — his statements are simply not true," Mihlfeld said in an e-mail. "I've known Albert Pujols since he was 18, and he would never use illegal drugs in any way. I would bet my life on it and probably drop dead on the spot if I found out he has. As before, once again, both Albert and myself have been accused of doing something we didn't do."
Clark's accusations came in a week in which 13 players received suspensions of at least 50 games, including a 211-game penalty for New York Yankees third baseman Alex Rodriguez, in the wake of the Biogenesis investigation.
Pujols, who signed a 10-year, $240-million deal with the Angels before 2012, has never been known to fail an MLB drug test, and his name did not appear in the 2007 Mitchell Report, an independent investigation into illegal PED use.
Mihlfeld was Pujols' coach at Maple Woods Community College in suburban Kansas City in 1998. Pujols was a 13th-round pick of the Cardinals in 1999 but emerged as a superstar in 2001, the beginning of an 11-year, Hall-of-Fame-caliber career with the Cardinals in which he hit .328 with 445 homers.
"I've said time and again that I would never take, or even consider taking, anything illegal. I've been tested hundreds of times throughout my career and never once have I tested positive," Pujols said in his statement.
"I have five young children, and I take being a role model very seriously. The last thing I want is for the fans, and especially the kids out there, to question my reputation and character."
Get the latest on L.A.'s teams in the daily Sports Report newsletter.
You may occasionally receive promotional content from the Los Angeles Times.