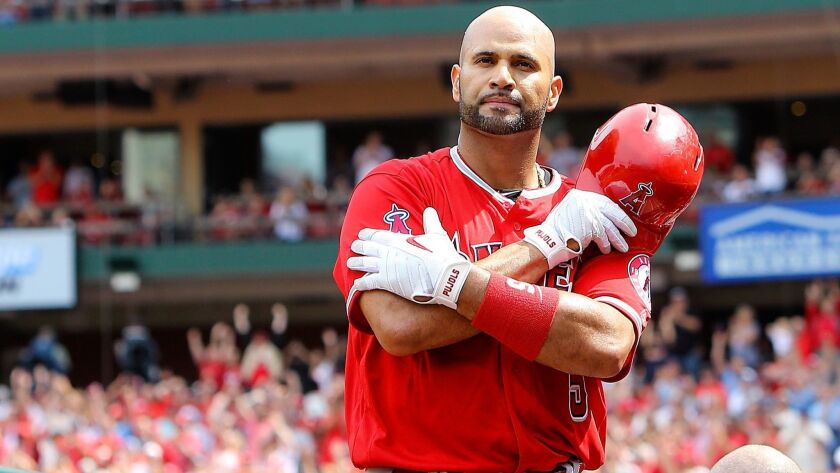 Reporting from ST. LOUIS —
Albert Pujols had batted six times at Busch Stadium this weekend, and each time, the fans who packed the ballpark gave him a standing ovation.
On Saturday afternoon, with the Angels trailing the St. Louis Cardinals in an eventual 4-2 loss, the process repeated itself in the seventh inning.
Catcher Yadier Molina, Pujols' longtime teammate here, stood in front of home plate to draw out the crowd reaction. Pujols gave himself a moment to enjoy it, then settled into the batter's box. Spectators took their seats as Cardinals starter Dakota Hudson, who had retired 11 in a row in six scoreless innings, pitched to Pujols to start the inning.
This time, there was a hitch. This time, Pujols drove the fourth pitch of the at-bat — an elevated 93 mph sinker right down the pipe — with a resounding crack.
Sign up for our daily sports newsletter »
The ball hurtled through the air. Pujols watched its trajectory on his way out of the box. Fans in the announced crowd of 46,711 rose to their feet.
Less than five seconds later, the ball landed in the bullpen beyond the left-field wall, in the outstretched cap of an Angels reliever, for a home run. Busch Stadium erupted in cheers.
"I'm trying to go around the bases and get to the plate and get to the dugout and hold everything in," Pujols said. "It was hard."
The roars of the crowd drew Pujols up the dugout steps. He doffed his helmet, like he'd done in St. Louis countless times before.
The home run did little to ignite the rest of the Angels sluggish offense, which collected only six hits, the last of them Justin Upton's eight-inning two-out solo shot. Felix Pena's four-run outing, in which he walked only one batter but gave up two runs on a misplayed bunt and two more on Marcell Ozuna's homer, was insurmountable.
"Cardinals fans got what they wanted today," manager Brad Ausmus said. "They got a win and an Albert home run. They're always very respectful to him."
Pujols had homered here 211 times, including the playoffs, during his 11-year career with the Cardinals.
In his first game back, Pujols was held to an infield single in three at-bats Friday night.
Pujols grounded out to the left side of the infield to end his first two at-bats Saturday. Then came the seventh inning, the deafening cheers and the first home run Pujols had hit in Busch Stadium since Sept. 22, 2011.
"Too bad we lost the game, but to do something special for the fans, it's amazing," said Pujols, who led off the ninth inning with a groundout to second base and was cheered again on his jog off the field. "This is a moment I will treasure forever."
---