Reporting from ST. LOUIS —
When it was over, after he had swapped jerseys with Yadier Molina, whom he refers to as a little brother, and trekked back into a Busch Stadium clubhouse that was once foreign to him, Albert Pujols stood in front of the cameras for his umpteenth news conference of the weekend and apologized.
The Angels, powered by a four-run ninth inning that saved them when relievers Jake Jewell and Hansel Robles combined to give up four runs, had just defeated the St. Louis Cardinals 6-4 Sunday night. They had parlayed a scoreless five-inning effort by left-hander Tyler Skaggs, who built on his strong 71/3-inning effort from last week by limiting the Cardinals to four hits, into their sixth victory of an 11-game trip.
But Pujols wasn't sorry for his team's success. He was sorry that his close friend Molina had stepped out in front of home plate all 12 times Pujols batted here this weekend to draw out the standing ovation Pujols received each time he went to the plate.
"I apologize for throwing some of the pitchers out of their routine," he said. "It's really tough, but I can't control the best fans in baseball."
For three days, whatever the Angels did or did not accomplish on the field took a backseat to the hoopla of Pujols' first game at Busch Stadium since signing a decade-long contract with the Angels in December 2011. Nor did it matter to the fans who packed the stadium in droves with sellout crowds of more than 45,000 announced for each game. They cheered so passionately that Pujols had to compose himself on multiple occasions, like when he hit a solo home run Saturday and gave a curtain call when the fans refused to sit down.
"To see the fans do that, for that long ... that moment right there said it," Pujols said. "That moment brought me to tears. I had to walk down to [put away] my helmet and my glove because I felt I was going to lose it."
Those who witnessed both teams score four runs in the ninth inning Sunday even found themselves cheering for Pujols when he batted with the bases loaded and one out. The Angels led by a slim 2-0 margin at the time, a reasonable deficit for the Cardinals to overcome. But the fans' appreciation for someone who shepherded the St. Louis club to two World Series championships and won three most valuable player awards reigned supreme.
The result of the at-bat was anticlimactic. Pujols popped out to first base. But he still received a standing ovation. Once again, it didn't end until Pujols stepped out of the dugout, doffed his helmet and mimed hugging the crowd.
"This was one of the most tremendous things I've seen in baseball in terms of the way he was treated," Angels manager Brad Ausmus said. "St. Louis fans, and I played in St. Louis a lot [as a catcher with the Houston Astros], I've always known how great the fans are. This was really special. It was one of the most special things I've seen in my 25 years."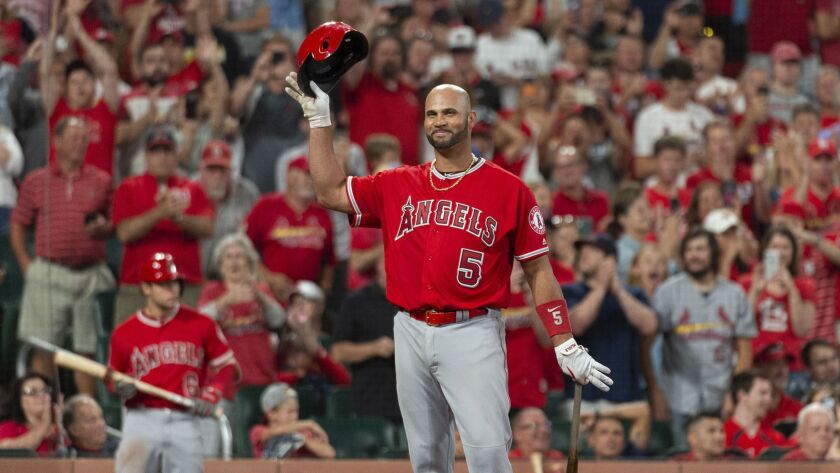 For Pujols, the weekend was bittersweet. He had four hits in 11 at-bats. The Angels dropped two of three games here and fell to four back for the second wild card in the American League race.
But Pujols had anticipated this return to St. Louis for so long. He worked tirelessly during the offseason to get his body ready for 2019, doing what he could to make sure he was healthy at the start of spring training following the knee surgery that ended his season last year. He and the Angels worked out a plan so that he'd get sufficient rest this season and avoid another injury.
Sign up for our daily sports newsletter »
Entering the series, Pujols had played in 61 of the Angels' 76 games. He had made 41 starts at first base. No injuries had prevented him from playing.
He had accomplished his mission and the fans loved him for it.
The reception was so much grander than he expected that he devised a plan to thank everyone. Before Sunday's game, he coordinated with the Cardinals to record a video expressing his gratitude. It played before the Cardinals batted in the bottom of the ninth inning and elicited another warm reaction, capping an emotional series.
"If I get to come tomorrow and do it again, I'd do it in a heartbeat," Pujols said. "This weekend took me back to 2011 when we were in the playoffs and World Series. I enjoyed every moment. If I had to do it again tomorrow or next week, let's go. This was fun."
---