Hector Santiago suffers setback in quest to stay in Angels' rotation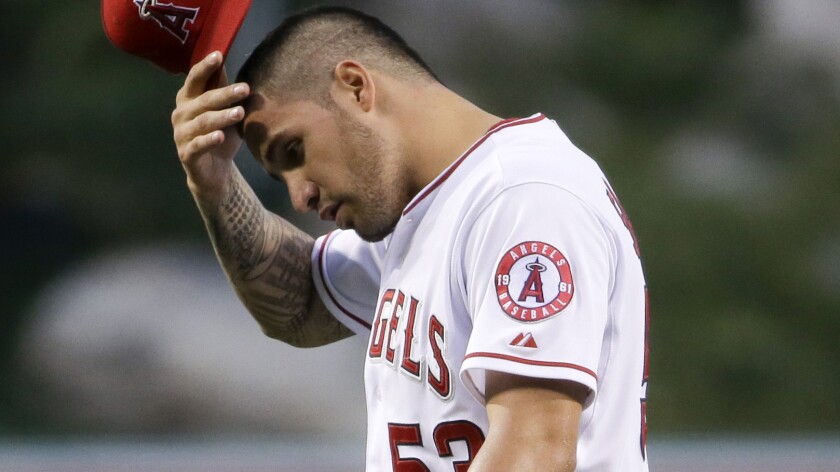 While right fielder Kole Calhoun, fresh off a five-game triple-A stint, was activated off the disabled list on Wednesday, Angels left fielder Josh Hamilton and pitcher Hector Santiago both packed their bags and headed for Salt Lake.
Hamilton's departure felt like a celebration, the end of a 6 1/2-week journey back from a torn ligament in his left thumb. He is expected to play three or four games for the Bees and join the Angels Monday in Seattle.
Santiago's departure was more solemn, accompanied by handshakes and empathetic man-hugs from teammates who don't know when he will return.
For Santiago to take a step forward, he must take one big step back, which is why the Angels optioned the struggling left-hander to triple A to clear a roster spot for Calhoun.
Santiago was 0-6 with a 5.19 earned-run average in seven starts when he was demoted to the bullpen May 9. He pitched twice in relief in 11 days, including a sharp two-inning stint Monday against Houston.
It was clear to the Angels Santiago would be better off remaining a starter in triple A instead of withering in the bullpen with no role.
"It's a little bump in the road," Santiago, 26, said before ace Jered Weaver threw a complete game in Wednesday night's 2-1 win over the Astros at Angel Stadium. "Obviously, you want to be in the big leagues and help the team. But who says in two weeks I'm not going to be back up here and back in the rotation?"
Santiago was victimized by poor run support and shaky defense, but he also walked 18 batters in 34 2/3 innings as a starter.
"We still have high expectations for Hector," Scioscia said. "Right now, the only course of action is for him to go down and pitch. He needs to find his delivery, repeat pitches, get that continuity he had in spring training. Once he does that and commands counts better, you'll see a guy who is a major league pitcher."
Santiago had a hunch something like this would happen, so he was not surprised when he was called into Scioscia's office to meet with the manager, General Manager Jerry Dipoto and pitching coach Mike Butcher.
"We were very open and honest about what we saw and what he needs to do, and Hector was very receptive," Scioscia said. "I think he has a good frame of mind to work on the things he needs to work on. I'd be very surprised if he isn't throwing the ball to his capabilities in a short amount of time."
Santiago tried to view the move not as a demotion but a necessary step in becoming a fixture in the Angels rotation.
"In the big picture, you can see how it can be a good thing," Santiago said.
"They want me in the rotation. They want me stretched out. It's hard to keep me in the bullpen throwing 15, 20 pitches or one inning once a week."
Calhoun, meanwhile, was transitioning back to the big leagues after missing five weeks because of a sprained right ankle.
"It's going to be awesome to join a team that's playing great baseball," Calhoun said before the Angels won for the 10th time in 13 games. "Hopefully, I won't mess it up."
---
Get the latest on L.A.'s teams in the daily Sports Report newsletter.
You may occasionally receive promotional content from the Los Angeles Times.