Jered Weaver leaves game early with back tightness in Angels' win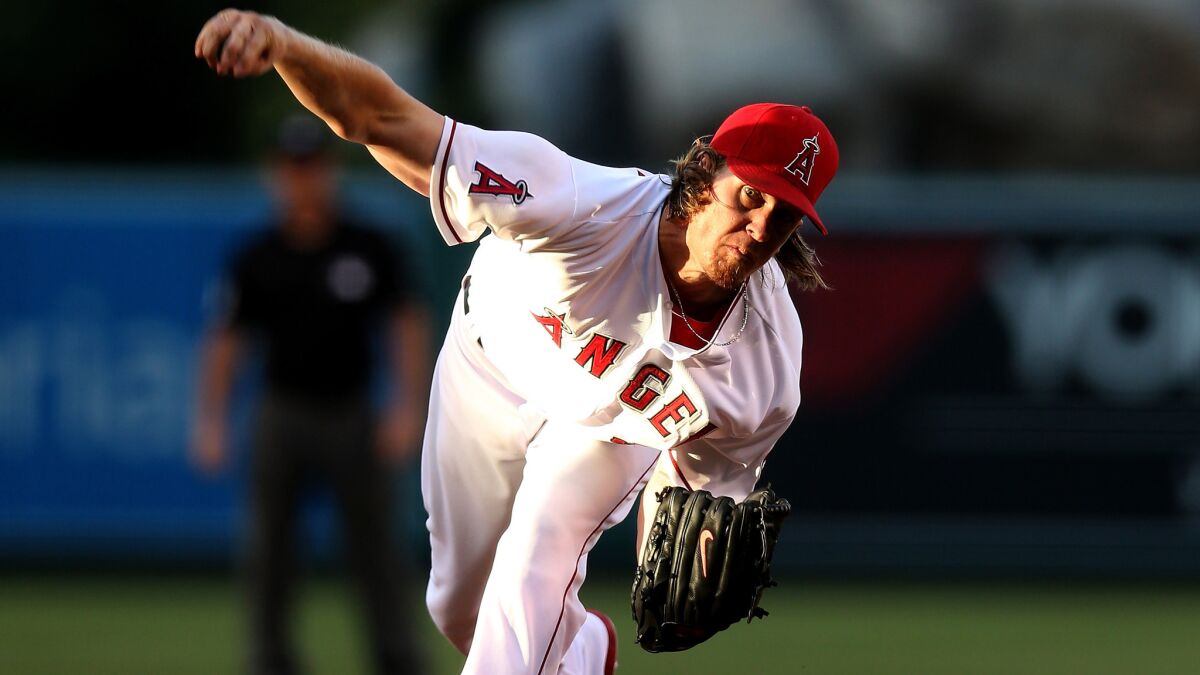 Jered Weaver was perfect Monday night, retiring every Toronto batter he faced. Unfortunately for the Angels, their ace lasted only two innings; lower-back tightness forced Weaver out of the game before the third inning.
But in a season where so much has gone right for the Angels, they got some great news after their 5-2 victory over the Blue Jays in Angel Stadium — Weaver's injury is not believed to be serious.
"It feels about 80 times better now than it did when I came out of the game," said Weaver, who is 9-6 with a 3.50 earned-run average. "I'm pretty confident I'll be able to make my next start."
Weaver needed only 24 pitches to retire the first six batters, but he tweaked his back while fielding Adam Lind's comebacker in the second inning, and the back began to tighten up and spasm in the dugout after the inning.
The right-hander, who prides himself on pitching through nagging aches and pains, threw one warm-up pitch before the third before summoning Manager Mike Scioscia and athletic trainer Adam Nevala to the mound. Weaver was pulled immediately in favor of right-hander Matt Shoemaker.
"In between innings, it stiffened up a bit, and when he went back out, it was really knotted up," Scioscia said. "He was not going to be able to be effective.
"For Weave to come out of a game, you know he's hurting. He wanted to continue to pitch, but there's no way we could take a chance right now with where we are and how well he's throwing the ball. We had to get him out of there."
Shoemaker, who threw 102 pitches against Houston on Thursday night, was put on alert after the second inning that he might be needed, so he ran to the clubhouse to get his cleats and headed down the long back tunnel toward the bullpen.
Little did he know that Weaver was already coming off the field as he began his jaunt to the bullpen, and it took him several minutes to enter through the left-field gate.
"He ran out to the bullpen instead of the mound, so it took a while to track him down," Scioscia said. "We were out there waiting."
How did the Angels track him down?
"Eventually, he just found us," Scioscia said.
The Angels didn't miss a beat without Weaver. Shoemaker gave up two runs and five hits in 3 2/3 innings, striking out two and walking none in a 61-pitch stint to gain the victory and improve to 7-2.
"Shoemaker definitely earned big respect points going on three days rest, not thinking he was going to pitch tonight," Weaver said. "For him to step up and do what he did tonight was pretty spectacular. It was an awesome job from him and the rest of the bullpen to shut the door."
Trailing, 2-1, the Angels rallied for four runs in the fifth, an inning in which they batted around and got run-scoring hits from Albert Pujols, Howie Kendrick and Erick Aybar on the way to extending their home winning streak to 11, one shy of the club record set in 1967.
The Angels, who at 52-36 have the second-best record in the majors, have won 14 of their last 17 games and are 21-8 since June 6, the best record in the major leagues in that span. They remain 3 1/2 games behind the first-place Oakland Athletics in the American League West.
Scioscia said before the game that Shoemaker would start Thursday at Texas, a decision that meant left-hander Hector Santiago would be bumped from the rotation to the bullpen.
But with Shoemaker thrust into an emergency role Monday, Santiago, who is 0-7 with a 4.50 ERA, will likely start Thursday and remain in the rotation until Weaver returns.
Weaver has been on the disabled list only three times in nine years, and one of those stints was for a lower-back strain and inflammation near a disk in May 2012.
"This was comparable to what happened in 2012," Weaver said, "but it definitely didn't bite as hard."
Twitter: @MikeDiGiovanna
Get the latest on L.A.'s teams in the daily Sports Report newsletter.
You may occasionally receive promotional content from the Los Angeles Times.