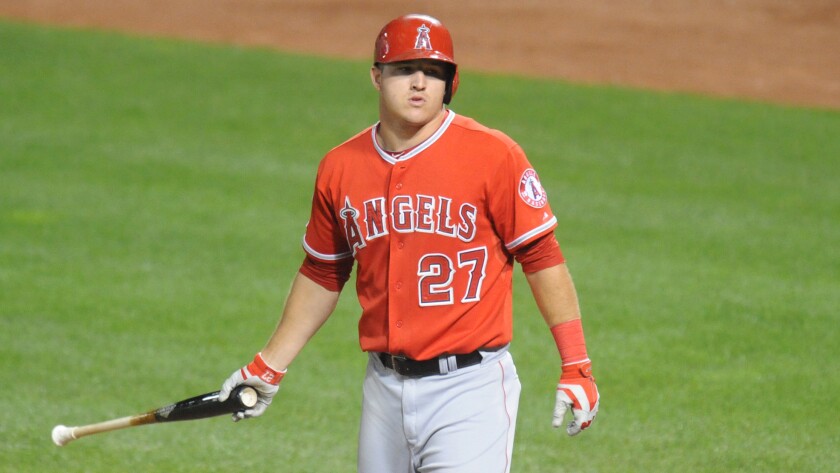 Reporting from Baltimore —
The Angels are not in Texas anymore. Remember that four-game sweep of the lowly Rangers before the All-Star break, when the Angels scored 33 runs and 51 hits and went 17 for 43 (.395) with runners in scoring position?
In 12 games since, including Wednesday night's 4-3 loss to the Baltimore Orioles in Camden Yards, the Angels have hit .224 while scoring 39 runs, an average of 3.25 a game, and hitting .202 (20 for 99) with runners in scoring position.
The competition has stiffened, the Angels playing their first 13 games after the break against wild-card-contending Seattle and division leaders Baltimore and Detroit, and so has the pitching.
The Angels have faced the Mariners' Felix Hernandez and Hisashi Iwakuma, the Tigers' Max Scherzer and Justin Verlander, and the Orioles' Bud Norris and Kevin Gausman, who used a 97-mph fastball and lively split-fingered pitch to limit the Angels to three runs and three hits in seven innings Wednesday night.
And they'll face Norris, who has a 3-0 record and 0.46 earned-run average in three career starts against them, in Thursday night's series finale.
"It's probably a combination of both," Manager Mike Scioscia said, when asked whether the slump was a result of dominant pitching or sluggish hitting. "We faced good pitching a lot of times when we were putting up wins.
"I'm not going to take anything away from the way guys have pitched, but our guys are a little out of sync. You can see where we're a little bit soft."
Strangely enough, one of the softest spots has been Mike Trout, who leads the major leagues with 59 extra-base hits and ranks second in the American League with a .970 on-base-plus-slugging percentage.
In his last nine games, Trout, is five for 34 (.147) with two runs batted in and 13 strikeouts, his average slipping from .313 to .299. With the Angels trailing, 4-3, runners on second and third and two outs in the fifth inning Wednesday, Trout struck out on Gausman's 1-and 2 split-fingered fastball.
"It was a pretty good splitty with some late movement," Trout said. "My timing is a little bit off right now. I'm picking up the ball late. The pitches I should be hitting, I'm seeing them late and rushing my swing."
Trout had a similar slump from May 3-19, when he hit .158 (nine for 57) with two homers and 10 RBIs in 16 games, but he broke out of it in a big way. Trout is confident he'll rebound from his current skid, but the Angels can't expect the star center fielder — or any one player, for that matter — to carry them.
"He's important to us, but we are not contingent on one guy being hot for us to have our offense going," Scioscia said. "There's always a lot of focus on Mike and Albert [Pujols] and Josh [Hamilton], but we need our lineup to get deeper. We have to be more than Mike, and we know we are."
General Manager Jerry Dipoto is a firm believer in his club, saying the Angels "have as good a chance as anyone else to compete" for the World Series, which is why he is not expected to make a major move before Thursday's 1 p.m. PDT non-waiver trade deadline.
Dipoto did his heavy lifting in late June and mid-July, boosting a beleaguered bullpen by acquiring closer Huston Street and setup man Jason Grilli.
"Right now, there's a pretty good flow to this team, it works together," Dipoto said. "We're not looking to do anything that would change the roster in a dramatic way."
The Angels (63-43) would benefit from adding a front-line starter, but they don't have the high-end prospects to acquire pitchers such as Boston's Jon Lester and John Lackey, Tampa Bay's David Price and Philadelphia's Cole Hamels.
"If there's a subtle move we can make to get deeper, we'll look at it," Dipoto said, "but I wouldn't expect anything big."
---