Angels Manager Mike Scioscia retains faith in C.J. Wilson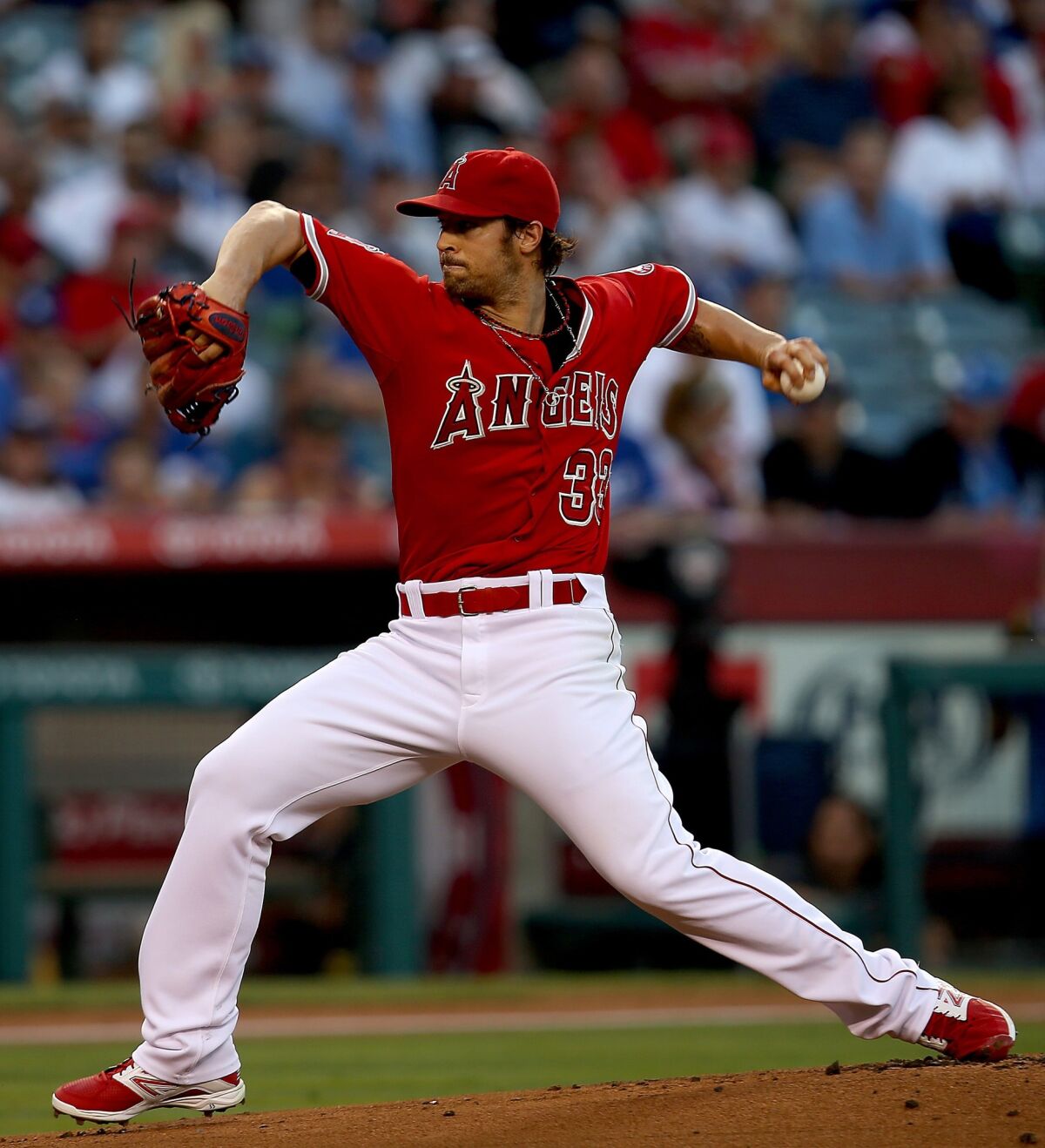 The Angels scored five runs off Zack Greinke, the Dodgers' No. 2 starter, on Monday and three runs off Dodgers ace Clayton Kershaw on Tuesday, but they had no answer for the riddle that has become Hyun-Jin Ryu on Thursday night.
Ryu gave up two hits in seven shutout innings, striking out four and walking one, in a 7-0 victory before a sellout crowd of 44,561 in Angel Stadium, the Dodgers winning the final three games of the four-game Freeway Series to extend their National League West lead over San Francisco to 3 1/2 games.
Combined with the two-hit shutout he threw against the Angels in May of 2013, Ryu (13-5) has given up four hits in 16 innings against the Angels, striking out 11 and walking one.
"He had a real good fastball-changeup combination going, and he threw strikes," Angels Manager Mike Scioscia said of Ryu. "We didn't get too many good looks at him."
The Dodgers got plenty of good looks at Angels starter C.J. Wilson, who lasted 5 2/3 innings, giving up four runs and six hits, striking out five, walking four and hitting a batter. And that qualified as an improvement for the left-hander, which tells you how things have gone for him lately.
Wilson has given up 29 earned runs and 43 hits in 23 2/3 innings of his last six starts, walking 14 and striking out 21. This was his second start since returning from a three-week stint on the disabled list because of a right-ankle sprain.
"This is probably the worst C.J. has struggled since he's been a starting pitcher, so naturally, you're concerned," Scioscia said. "There's certainly been some head-scratching over his last seven or eight starts. But seeing how hard he works, seeing that it doesn't look like it's anything physical, we're very confident he's going to get back on that beam and do what we need him to do."
Three of the batters Wilson walked came around to score, and of his 100 pitches, only 58 were strikes. He fell behind Hanley Ramirez with a first-pitch ball in the third inning, and Ramirez smacked the next pitch for a two-run single to highlight a three-run inning.
"He had tough time with his command early — his ball-strike ratio reflected that — and the number of hitting counts they got into made it very tough for C.J.," Scioscia said. "He made some adjustments and got through some middle innings pretty clean, but all in all, there were a lot of pitches, a lot of deep counts."
Wilson (8-8) has barely pitched well enough to retain his rotation spot, but it's not as if the Angels, who lost three straight for only the second time this season and are three games behind Oakland in the American League West, have any other options.
With left-hander Tyler Skaggs out until at least September because of a flexor tendon strain, the Angels have virtually no margin for injury in a rotation that is led by Garrett Richards and Jered Weaver and is rounded out by Wilson, Hector Santiago and Matt Shoemaker.
Their next-best options are triple-A left-handers Wade LeBlanc (8-2, 4.04 ERA in 18 starts) and Randy Wolf (5-1, 4.17 in eight starts).
The Dodgers had a similar lack of depth before acquiring veteran right-hander Roberto Hernandez from Philadelphia on Thursday. Angels General Manager Jerry Dipoto has been on the lookout for starters, but acquiring quality pitchers after the July 31 non-waiver trade deadline can be "really hard," as Dipoto said.
"The idea that you can make the perfect acquisition for your rotation in August is not great, but there are going to be available options," Dipoto said. "We just have to determine what the right timing is, or if we need one."
The Angels did add more bullpen depth Thursday, acquiring Cleveland right-hander Vinnie Pestano, who was one of the league's better relievers in 2011 and 2012, when he went 4-5 with a 2.45 ERA in 137 games, striking out 160 in 132 innings.
Pestano, 29, who will report to triple-A Salt Lake, struggled with elbow injuries and inconsistency in 2013, splitting the season between Cleveland and triple-A Columbus. He is sound now but has spent most of this season at triple A, going 2-4 with a 1.78 ERA in 32 games, with 37 strikeouts in 301/3 innings.
Pestano could work his way into an improved Angels bullpen this month or after rosters expand on Sept. 1. The Angels won the 2002 World Series with a middling rotation and powerful bullpen, and that blueprint may be their only way to play deep into this October.
"The bullpen right now, for the first time in three years, is deep enough to absorb the short starts," Dipoto said. "That's one reason we've added so much in the bullpen, to give ourselves the ability to shorten the game."
Follow Mike DiGiovanna on Twitter @MikeDiGiovanna
Get the latest on L.A.'s teams in the daily Sports Report newsletter.
You may occasionally receive promotional content from the Los Angeles Times.