Angels reach agreement to trade Josh Hamilton to Rangers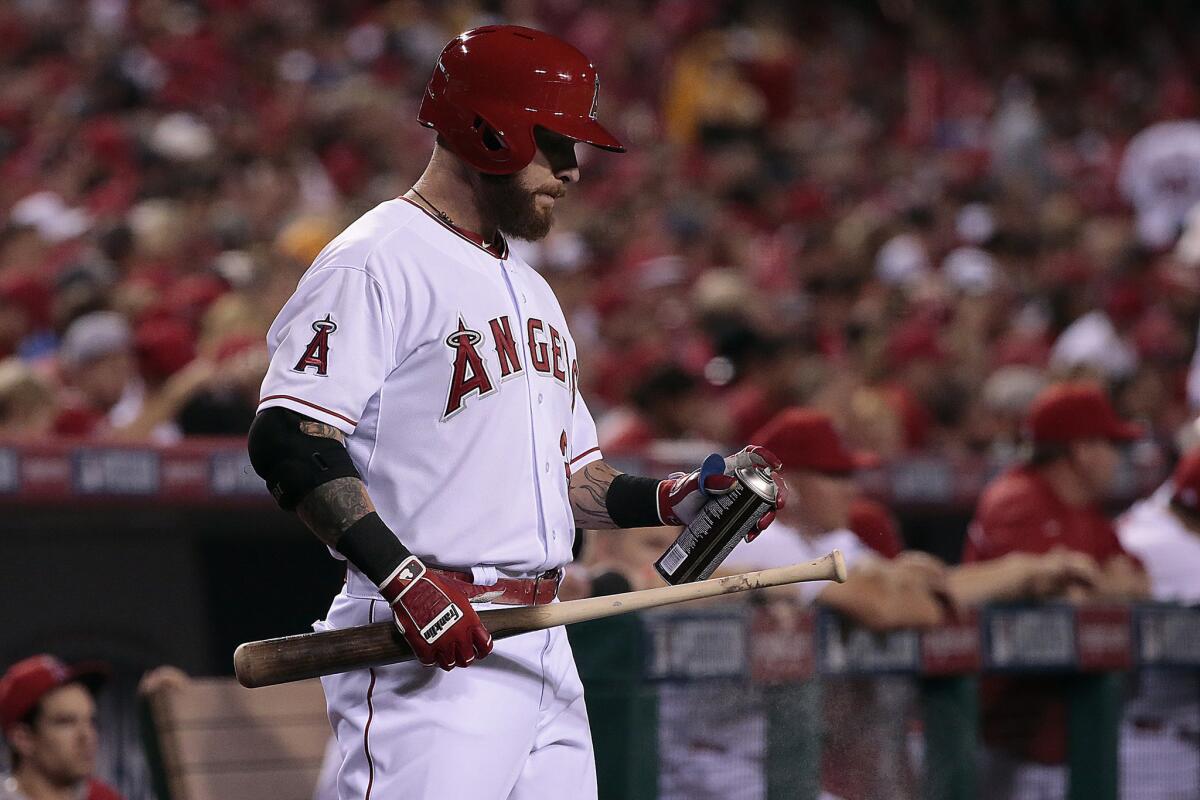 In the end, there was no fight. Josh Hamilton could get to go home, and Angels owner Arte Moreno could get to rid his team of the troubled outfielder and save himself a few bucks in the process.
The Angels agreed Friday to trade Hamilton to the Texas Rangers, without getting a player in return, according to a person briefed on the deal but not authorized to discuss it. Instead, the Rangers will assume a very small portion of the $83 million left on Hamilton's contract, one that might well end up as the worst in Angels history.
Although the Angels had announced a plan to send Hamilton to their Arizona training facility as soon as this week to prepare for a comeback, Hamilton balked at the plan and told them he wanted to play in Texas. Hamilton, who has four children and filed for divorce in February, makes his off-season home in Texas.
The trade had not been submitted to the commissioner's office for approval as of Friday night. A second person familiar with the deal said it could take several days to complete and said the amount of financial relief the Angels would get was "still under discussion." The players' union would allow Hamilton to give back a small amount of money because he would benefit by playing in Texas, where there is no state income tax.
The deal would return Hamilton to the team with which he enjoyed his greatest triumphs, including a most valuable player season in 2010. The deal also would leave the Angels with a gaping hole in their lineup, with the two players that batted cleanup most often last season — Hamilton and Howie Kendrick — traded without any return for the major league club.
After Hamilton reported a relapse in his battle with substance abuse, an arbitrator ruled he had not violated his drug treatment program, so he did not have to go into a rehabilitation program and could not be suspended. Angels management was livid, with President John Carpino saying the ruling "defies logic" and Moreno pointedly refusing to say Hamilton would play for the Angels again.
Moreno also said Hamilton's contract contained language that would protect the Angels from a relapse, an assertion vigorously denied by the players' union. An attempt to enforce any such language almost certainly would have resulted in another arbitration hearing.
When the Angels signed Hamilton in 2012 — to a five-year, $125-million contract — Moreno said the contract contained no such language.
Hamilton had two decent seasons in Anaheim — marred by injury, and far from his spectacular days in Texas — batting .255 with a 31 home runs in 240 games. After he went hitless as the Angels were swept from the playoffs by the Kansas City Royals last October, he said he could not say what the Angels might expect from him in 2015.
"Who knows?" Hamilton said. "What do you think, I'm a fortune teller?"
He becomes the third high-priced outfielder acquired under Moreno and then dumped with at least two years left on his contract, following Gary Matthews Jr. and Vernon Wells. The Angels ended up paying all but $2 million of Matthews' five-year, $50-million contract and all but $14 million of the four years and $68 million they inherited on Wells' contract.
In Hamilton's five years in Texas — with a support program the Angels said they copied to help him in his battles against cocaine and alcohol — he made the All-Star team every year. He also had two well-publicized relapses, leading Texas shortstop Elvis Andrus to suggest the Rangers would support him after this year's relapse.
"It's not the first time he did something wrong off the field," Andrus told reporters before the Rangers played the Angels on Friday.
"But I think we did a great job having his back whenever something happened. We're going to support him no matter what happens. We're human beings. We're not perfect. As long as he shows up on the field and plays hard, I'll always support him."
Hamilton had shoulder surgery in February. He has not played this season; the Angels projected his return in early June.
"If he's one of our teammates, whoever is in this clubhouse is going to support him no matter what," Texas third baseman Adrian Beltre said.
"If he comes here, we hope he's healthy. We hope his mind is in a good position and he has the support that he needs to be the Josh that we all know he can be productive, the Josh who helped us go to the World Series in 2011, the Josh who was the club MVP the last three years he was here."
Even as Angels management had appeared to distance itself from Hamilton, the Angels players had remained supportive.
"He's been a great guy to us," catcher Chris Iannetta said. "We wish him nothing but the best. We hope he gets back and we want to see him soon."
Said pitcher C.J. Wilson: "If he gets back on the field, that's good for him. That's it. I think it's good for baseball if he's back on the field."
Wilson, who also played with Hamilton in Texas, said it would not be fair to say the Angels could have duplicated the clubhouse environment that contributed to Hamilton's success with the Rangers.
"Unless you have a 3-D printer, it's hard to duplicate things," Wilson said. "That's like saying that somebody used to date a girl, and she was like this, and now you want your new girl to be like that. Everything is its own situation every year.
"The nature of baseball is to constantly look forward to the next challenge and try to get the most out of it. The next challenge for Josh is to get back on the field and put all of this behind him."
Twitter: @BillShaikin
Times staff writer Gary Klein contributed to this report.
Get the latest on L.A.'s teams in the daily Sports Report newsletter.
You may occasionally receive promotional content from the Los Angeles Times.