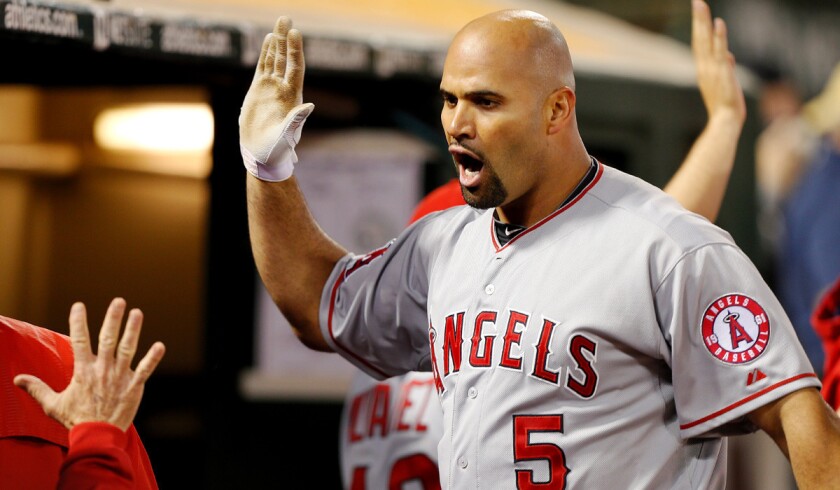 Reporting from OAKLAND —
Albert Pujols went to high school in Independence, Mo., just outside of Kansas City, but he's been unable to curry favor with Royals fans who, as of last Monday, had positioned eight of their hometown players — some of whom actually deserve the honor — to start the July 14 All-Star game in Cincinnati.
Pujols is fifth among American League first basemen in fan voting with less than a fifth of Eric Hosmer's leading total, and he'll be competing with the likes of Miguel Cabrera, Prince Fielder and Mark Teixeira, who are all having superb seasons, for a backup spot, which is chosen by players, managers and coaches.
Kansas City Manager Ned Yost, who will lead the AL squad, could add Pujols, and there is always the final one fan vote, but if Pujols doesn't make his first All-Star team in four seasons with the Angels, it would be one of baseball's all-time snubs.
Pujols lined the 13th grand slam of his distinguished career, a laser that didn't seem to rise more than 20 feet off the ground, inside the left-field foul pole to highlight an eight-run seventh inning that gave the Angels a stunning 12-7 come-from-behind victory over the Oakland Athletics on Friday night.
It was the AL-leading 20th homer of the season and the 12th homer in the last 21 games for Pujols, a stretch in which the slugger has hit .354 (28 for 79) with 25 runs batted in to raise his average from .235 on May 27 to .273. He ranks 16th on baseball's all-time list with 540 career homers.
"He's one of the hottest hitters in the league," said center fielder Mike Trout, who is in line to start the All-Star game. "This last month, he's been unconscious. It's been fun to watch. He deserves to be there. He's getting big hits for us every day."
Few were as big as his grand slam Friday night. The Angels trailed, 7-2, after six innings but chased starter and All-Star candidate Sonny Gray with two walks and two singles, including Matt Joyce's RBI hit, to start the seventh.
Pinch-hitter Daniel Robertson drew a bases-loaded walk to make it 7-4. Kole Calhoun struck out, but A's left-fielder Ben Zobrist dropped Trout's fly ball over his right shoulder for an error that allowed a run to score.
Pujols then crushed a pitch from reliever Edward Mujica for a homer that gave the Angels a 9-7 lead. An RBI single by Johnny Giavotella capped the second-biggest inning of the season for the Angels, who scored nine in the fifth inning at Boston on May 22.
"Albert is an All-Star, whether he's selected or not — he's one of the top players in baseball," Angels Manager Mike Scioscia said. "I don't know how you leave him off the team, but we've seen that selection process be sketchy at best. Albert would have fun going to the game. He belongs there. But you never know."
Commissioner Rob Manfred, who met with the teams before the game, is open to changes in the selection process, but not this year.
"If, after the game, we decide fan voting needs an adjustment, we'll make it next year," Manfred said. "I'm not closed to the idea that there should be adjustments."
Manfred said there are "protections built into the system" that ensure the best players are in the game. Players, managers and coaches vote for eight pitchers and backups at each position, and the managers fill out the roster. And there is still time for fans in other cities to nudge out some Royals players.
"Fans," Manfred said, "have a way of correcting things by the end of the voting."
---