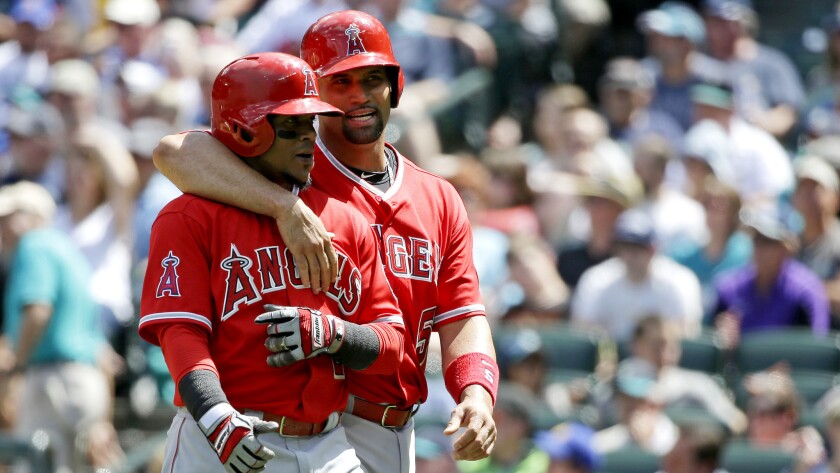 Reporting from Seattle —
When the Angels left Anaheim on July 1 for a nine-game trip, they were still hovering around .500, they were five games behind Houston in the American League West and engulfed in turmoil in the wake of general manager Jerry Dipoto's sudden resignation.
Seven victories, seven quality starts, 65 runs and 107 hits later, the Angels are in first place and riding a wave of momentum into the All-Star break, their 10-3 victory over the Seattle Mariners on Sunday in Safeco Field pushing them to 48-40 and half a game ahead of the Astros, who have lost six consecutive games.
Only one other day this season — April 17 — have the Angels been alone in first place.
"There is a lot of stuff that has gone on this year, things that could have derailed some teams, but we haven't let them become a distraction," reliever Joe Smith said. "Guys are really good at separating. My job is to go get outs when called upon. Other guys' jobs are to get hits and play defense. The job doesn't change."
The Angels have been very good at their jobs lately. Despite being shut out Saturday, an offense that struggled for three months outscored Texas, Colorado and Seattle, 65-30, on the trip. Of those 107 hits, 37 went for extra bases, including 16 home runs. The Angels scored 10 runs or more in four games.
They scored multiple runs in 15 of 81 innings, including Sunday's six-run, sixth-inning, which was highlighted by David Freese's two-run double and Chris Iannetta's two-run home run.
"It feels good," center fielder Mike Trout said of being in first place. "It was a good road trip. One through nine, we're hitting the ball good. Now we see what the offense is capable of doing, and we just have to take it into the second half."
Trout, Albert Pujols and Kole Calhoun have done their usual damage, but the Angels are getting significant contributions from shortstop Erick Aybar, designated hitter C.J. Cron and new leadoff man Johnny Giavotella.
Aybar hit .531 (17 for 32) with five doubles and nine runs on the trip and is batting .421 (32 for 76) since June 19, raising his average from .246 to .287. Giavotella is hitting .343 (23 for 67) in his last 16 games.
In 10 games since being recalled from triple A on June 29, Cron is batting .459 (17 for 37) with four home runs, three doubles and 12 runs batted in. He had a .204 average, one home run and six RBIs in the first three months, in which he was demoted to Salt Lake twice.
"A lot of guys played up to what they're capable of on this trip, and it showed," Iannetta said. "For a long time, we were trying to be ourselves, and we were a little short. Now, guys are falling into normal routines and normal patterns, and a lot of runs are being put on the board."
Angels pitchers are also keeping runs off the board, with left-hander Andrew Heaney providing the latest gem, throwing seven scoreless, five-hit innings, striking out six and walking one Sunday.
Heaney appears to have strong-armed his way into a rotation spot, going 3-0 with a 1.32 earned-run average, 23 strikeouts and four walks in 27 1/3 innings of four starts since replacing the injured Jered Weaver in late June.
Weaver (left-hip inflammation) should be ready to return after the break, leaving Manager Mike Scioscia with a difficult decision.
Neither Garrett Richards nor Hector Santiago will be bumped to the bullpen, and C.J. Wilson is a rotation mainstay. Matt Shoemaker (4-7, 4.85 ERA) pitched the ninth inning Sunday, but Scioscia said that wasn't an indication he will be moved to the bullpen.
"He's been working on a couple of things and wanted to get in there," Scioscia said of Shoemaker. "Any time a young player comes up and does well, he earns more playing time. There's no doubt Andrew is throwing the ball at a level we need, and hopefully he'll keep it up."
---