Bill Stoneman doesn't do anything 'crazy'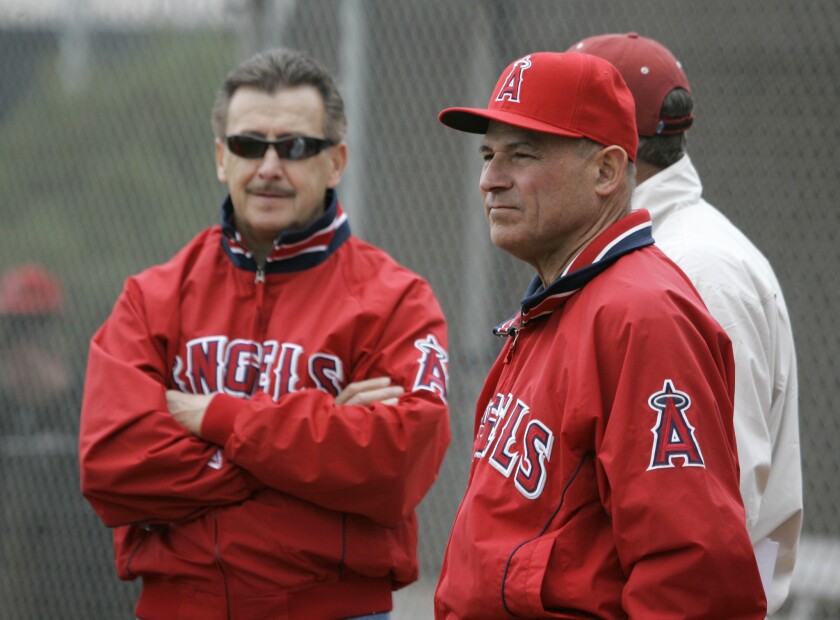 There were no buzzer-beaters in the Angels front office on Friday. Interim General Manager Bill Stoneman didn't pull a Yoenis Cespedes out of his hat like the New York Mets did minutes before the nonwaiver trade deadline.
Several relievers changed teams, but none landed in an Angels bullpen that could use a proven seventh-inning arm to build a better bridge between the starter and the setup-closing tandem of Joe Smith and Huston Street.
The extent of the Angels' moves came earlier in the week when three veteran outfielders — David Murphy, Shane Victorino and David DeJesus — were acquired to give them a modest upgrade over struggling left fielder Matt Joyce and a platoon option with C.J. Cron at designated hitter.
Angels fans were hoping for more, especially after first-place Houston acquired pitcher Scott Kazmir from Oakland and center fielder Carlos Gomez from Milwaukee, and Texas acquired ace Cole Hamels from Philadelphia.
Sorry, folks, but you will get no apology from Stoneman.
"I know the media and the fans are really looking at the trade deadline with excitement, but that doesn't mean you do something crazy just to make a headline," Stoneman said. "That's not what it's about. It's about putting yourself in position to win as many games as you can."
Had Stoneman been willing to part with top pitching prospect Sean Newcomb, a 6-foot-5, 245-pound left-hander who has been compared to Jon Lester and was promoted to double-A Arkansas on Friday, he might have been able to put together a package for an impact bat or front-line pitcher.
But the Angels were extremely reluctant to part with Newcomb, who went 6-1 with a 2.47 earned-run average, 129 strikeouts and 52 walks in 100 innings for Class-A Burlington (Iowa) and Inland Empire.
And though the Angels have improved a woefully thin farm system, especially on the pitching side, they didn't have the quality or depth of second-tier prospects to make a play on the best available players like Houston, Texas and Toronto did.
The fact there is not one outfielder in the system that the Angels deemed a better everyday option than the .178-hitting Joyce speaks volumes to their lack of position-playing prospects.
"There is no such thing as an untouchable player, but you have to look at everything," Stoneman said. "There are players that would require a lot more coming back than other players in order for you do a deal.
"To get what the media deems 'impact' guys, the costs are higher, and if the costs are so high that it sets you back, it's not something you do."
Elbowed out
The Angels placed left-hander C.J. Wilson on the 15-day disabled list because of elbow inflammation Friday, but Wilson won't be immediately replaced in the rotation by Jered Weaver.
Manager Mike Scioscia said Weaver, out since June 21 because of left hip inflammation, will make a second rehabilitation start for Inland Empire on Tuesday, meaning he won't be ready to return until Aug. 9 at the earliest.
Drew Rucinski was recalled from triple A and will be a candidate, along with Cory Rasmus, to start Sunday against the Dodgers.
Wilson, who is 8-8 with a 3.89 ERA in 21 starts and has battled elbow problems periodically over the last few years, had one of his worst starts of the season Tuesday, giving up six runs and six hits, including two homers, in a 10-5 loss at Houston.
Wilson reported elbow discomfort Thursday and was placed on the DL and sent for medical tests Friday.
"Every pitcher in the major leagues is nicked up to some degree, but it got to the point with C.J.'s elbow that it was tough for him to make the pitches he needed to," Scioscia said. "We're going to shut him down, get him evaluated and wait for the medical department to give him some insights."
Twitter: @MikeDiGiovanna
---
Get the latest on L.A.'s teams in the daily Sports Report newsletter.
You may occasionally receive promotional content from the Los Angeles Times.