Success of Shohei Ohtani is inspiring more players to seek two-way roles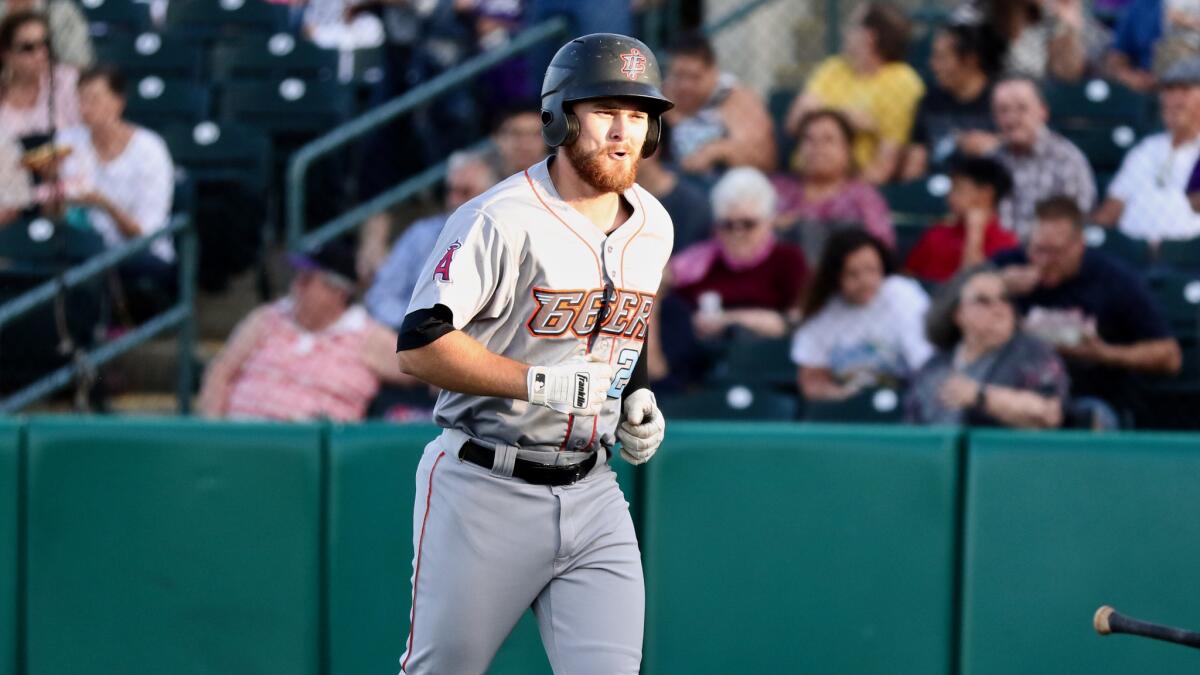 What Shohei Ohtani did for the Angels before injuring his elbow on June 6, and what minor leaguers Brendan McKay and Hunter Greene are doing after being selected with two of the first four picks of the 2017 draft, has opened Jared Walsh's eyes to a possibility that did not exist before.
Walsh, 24, is a promising Angels minor league first baseman who has hit .276 with 18 home runs in 225 at-bats over 62 games for Class-A Inland Empire and double-A Mobile this season, an average of one homer every 12.5 at-bats.
The former University of Georgia left-hander can run his fastball up to 93 mph, a velocity that surprised coaches and teammates in the four games Walsh has pitched this season, two for Inland Empire in April and two for Mobile in June.
Walsh is not being groomed as a two-way player for now. His experience has made him the logical emergency pitcher at every minor league stop. Of his first three pitching appearances this season, two came in lopsided losses and one was in extra innings.
His fourth appearance looked more like a typical relief outing, with Walsh entering Sunday's game against Pensacola in the seventh inning with his team trailing 4-2.
Walsh struck out one and walked one in a scoreless inning of an eventual 6-4 win. He has allowed one earned run, with five strikeouts and one walk, in his four innings this season.
Ohtani dominated on the mound and provided legitimate pop at the plate for two months with the Angels.
McKay, the former Louisville star, is playing both first base and pitching for Class-A Charlotte, a Tampa Bay affiliate, this season.
Greene, the former Sherman Oaks Notre Dame High School star, mixed a little pitching with hitting in rookie-league ball for Cincinnati's organization last summer. He is concentrating on pitching this season, but the Reds have left the door open to his playing shortstop and hitting in the future.
The Angels announced their fifth-round pick in the recent draft, William English, out of Western International High School in Detroit, as a two-way player. The Rays announced Cal outfielder/pitcher Tanner Dodson, the 71st overall pick in the draft, as a two-way player.
Angels general manager Billy Eppler said that despite Walsh's most recent outing, "there has not been an expansion" of his pitching role. But the proliferation of two-way players and baseball's willingness to explore the possibility of players hitting and pitching has allowed Walsh to dream a little.
"That's the thing that's really exciting," said Walsh, who was promoted from Inland Empire to Mobile on May 23. "I know with Brendan McKay and Hunter Greene, two guys who got drafted so high, it's being looked at more seriously.
"In the past, people have always said you have to pick one or the other, and Ohtani is living proof that you don't have to pick one or the other. If that's something they want to let me do, I would be extremely excited to do it."
That's not the plan for now. A 39th-round pick in 2015, Walsh is too good of a hitter — and not polished enough as a pitcher — to be a two-way player.
"He's hitting a home run every 12 at-bats, so odds are, if you watch him for three games, he's going to go deep," Eppler said. "Right now, we're gonna let him whack away, continue to challenge him at first base and see where he ends up."
The Angels have not ruled out the possibility of Walsh's pitching more, and they plan to let English develop as both a pitcher and hitter.
"Obviously, I think if any organization is open to it, it's us," Angels scouting director Matt Swanson said. "I think you're starting to see an evolution in organizations that are open to drafting a player like that and just saying, 'We'll see. We'll develop you and see where your path takes you.' "
Walsh had elbow ligament-replacement surgery as a high school senior and was limited to hitting as a college freshman. He spent part of his sophomore season at Georgia as a closer, most of his junior season as a starter and pitched out of the rotation and bullpen as a senior. More scouts showed interest in Walsh as a pitcher. The Angels drafted him as a hitter.
"People ask me all of the time if I miss pitching. Absolutely," Walsh said. "I love the one-on-one aspect of it. Obviously, I would need to prepare my body all off-season to do both, but it would be something I'd absolutely love to try."
Walsh was around Ohtani enough in spring training to know he possesses a fraction of the Japanese star's ability.
"I can't throw 100 mph with a 90-mph split-fingered pitch, or whatever he throws," Walsh said. "In college, it was fastball, curveball, change-up. I didn't get too exotic with my pitches. I think if I got a little help mechanically and worked on the breaking ball, it could really improve. I think it would be fun to try."
The mind is willing, but is the body able? Walsh profiles more as a reliever, but if he is to become a two-way player, he would have to prepare himself as starter.
"I work hard in the off-season, but I would have to work a lot harder because I know how much of a grind it is being a starter," he said. "There's so much stress on your body. It's something I would definitely look forward to doing, but I would have to invest a lot of time and money into my body in the off-season."
At the very least, Walsh's success on the mound has given him a fallback option if his career stalls at the plate.
"But I'm also a firm believer that if I have a Plan B, it's taking away from Plan A," Walsh said. "I really want to focus on hitting, and if they want me to be a two-way guy, that's fine. But I want it to be proven that I can't hit at a high level before I transition to pitching."
Get the latest on L.A.'s teams in the daily Sports Report newsletter.
You may occasionally receive promotional content from the Los Angeles Times.