How a journeyman pitcher, dressed in a shark onesie, livened up Angels camp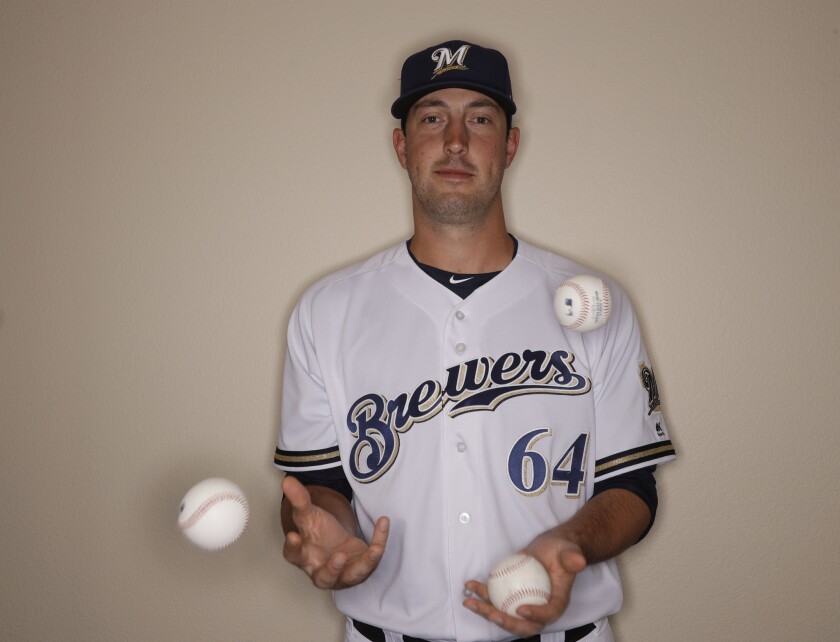 Reporting from TEMPE, Ariz. —
A "USA! USA! USA!" chant broke out in the Angels clubhouse at Tempe Diablo Stadium on Monday morning.
A momentous win did not arouse the fervent patriotism.
It was a 6-foot-7 man clad in a blue shark onesie delivering news that the United States leads the world in shark attacks that spurred euphoria from a group of 63 professional baseball players and their coaches.
Just cause for celebration in the eyes of Angels pitcher Forrest Snow, who started the chant.
"USA was on top," Snow offered as explanation.
Like more than a dozen others who were foreign to the Angels' organization before this spring, Snow had to introduce himself to his new teammates during a meeting last week. But Snow, who signed a minor league contract with the Angels in December and is in camp as a nonroster invitee, has now commanded the clubhouse's attention twice since the Angels' first full-squad workout last Monday.
"He's like the most interesting man in the world," manager Brad Ausmus said. "He's the Dos Equis guy."
Snow's first presentation covered his biographical details, like how he grew up in Seattle and spent most of his life in the Pacific Northwest before the Mariners drafted him out of the University of Washington with a 36th-round pick in 2010. How he trained as a classical pianist throughout his childhood. How at 30 years old he is still chasing his first major league call-up.
But what most piqued Ausmus' interest was Snow's extensive travel log.
In recent years, Snow has made a point of traveling to different parts of the globe with his girlfriend. His Instagram account features cities and landscapes he has explored in Spain, Croatia, Italy, England and Australia.
Sometime after he played the "Peanuts" theme song on a keyboard he borrowed from a local piano store last week, Snow volunteered that he went scuba diving in the Great Barrier Reef during the offseason and studied marine biology as a minor in college. Impressed, Ausmus asked Snow to compose a PowerPoint presentation about sharks.
On a portable projector screen set up by the far wall of the Angels' clubhouse, Snow on Monday displayed pictures of different species of sharks and graphs detailing the number of shark attacks in the world.
"That will always stick with me," said second-base prospect Jahmai Jones.
But Snow also endeavored to keep the subject light — hence the onesie and using the viral hit "Baby Shark" to drum up excitement for the presentation. He handed out zipper storage bags stocked with a pair of shark-shaped gummy candies. And on request from pitcher Hansel Robles, Snow also threw in a slide dedicated to shark reproduction.
"I was just kidding but he delivered," Robles said in Spanish. "He even showed us how many reproductive organs the shark has and how they use them."
Said Snow: "It was supposed to be a good mix between the entertainment and the information. I know all these guys are up early and they don't want to just have a bunch of facts thrown out at them."
Angels exercise caution with Zack Cozart, Andrelton Simmons
Veteran infielders Zack Cozart and Andrelton Simmons were removed from the Angels' lineup before Monday's game against the Milwaukee Brewers. Cozart was removed because of shoulder soreness and Simmons because of stiffness in his trapezius muscle. Neither injury was serious, but the Angels chose to exercise caution in both cases.
Cozart, who played three innings in the Angels' Cactus League opener on Saturday, missed half the 2018 season recovering from a late June surgery to repair the torn labrum in his left shoulder. He reported no discomfort when he arrived early at Angels' spring training camp and was participating in all baseball activities at full strength.
After he took batting practice Monday, Cozart's shoulder remained stiff. Angels officials decided it would be best for Cozart, who was scheduled to play third base, to sit out a day or two to avoid worse injury.
"My volume skyrocketed compared to the offseason with the swings and just being out there every day," Cozart said. "It's definitely nothing serious. Just don't wanna rush it out there."
Sign up for our daily sports newsletter »
Simmons felt a tweak on the right side of his trapezius muscle during his final at-bat on Sunday. Simmons was going to serve as the Angels' designated hitter , but the Angels decided late to give him a full day off.
"Nothing major," Simmons said. "Just felt a little tight on me and they decided to give me an extra day."
---
Get the latest on L.A.'s teams in the daily Sports Report newsletter.
You may occasionally receive promotional content from the Los Angeles Times.