Angels' Shohei Ohtani tosses a ball as he continues to recover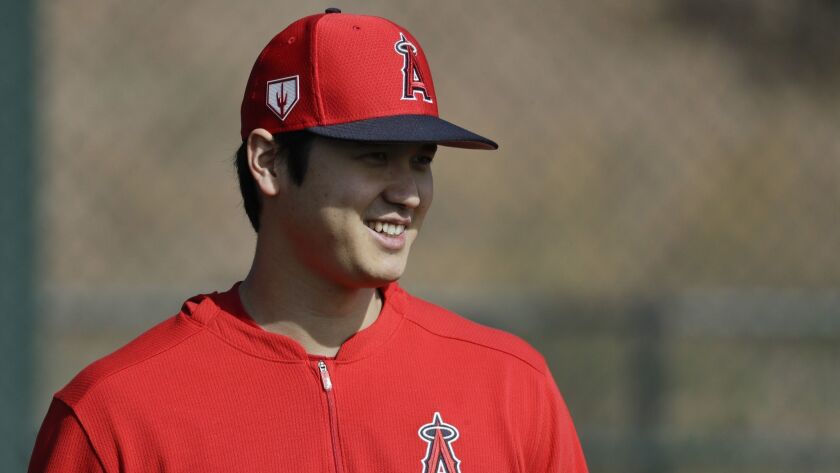 Reporting from TEMPE. Ariz —
Shohei Ohtani barely broke a sweat Friday as he tossed a baseball lightly 60 times for 12 minutes. The Angels right-hander made 20 throws from 20 feet, 30 throws from 30-40 feet and 10 cool-down throws from about 25 feet.
What the workout lacked in intensity it made up for in significance. This was the first time the two-way star had thrown a baseball since undergoing elbow ligament replacement surgery on Oct. 1. His last pitch in a game came on Sept. 3 against the Houston Astros in Minute Maid Park.
"I'm really relieved I was able to get through the 60 throws I had to go through at the distance I threw at," Ohtani, speaking through a translator, said when asked if this was more of a mental than physical milestone. "In that sense, mentally, I was very relieved. I just have to see tomorrow how my arm reacts."
Ohtani hit .285 with a .925 on-base-plus-slugging percentage, 22 homers and 61 RBIs and went 4-2 with a 3.31 ERA in 10 starts in 2018, winning American League rookie of the year honors despite his injury. He's on two Tommy John surgery rehabilitation tracks, a shorter one for a hitter and longer one for a pitcher.
Manager Brad Ausmus said that now that Ohtani has begun throwing, he will back off a bit on his hitting regimen. Ohtani hit 15 pitches off a tee and took 25 soft-toss swings after throwing on Friday. The Angels expect him to return as a designated hitter in May.
"That's the timeline I've been given, so hopefully at least by May, if not before," Ohtani said. "Anything earlier would be a plus."
Ohtani is not expected back as a pitcher until 2020. Asked if Ohtani might pitch at the end of this season if needed, Ausmus said, "That hasn't even been discussed."
Ohtani's next step as a hitter will be to face live pitching. His throwing progression will be much slower and more gradual — Ohtani is not expected to throw off a mound until the summer.
"Both hitting and pitching-wise, everything is going as scheduled, so I don't feel rushed or pressured at all," Ohtani said. "Everything is going smoothly."
Stars align
The current face of the franchise and the potential future face of the franchise were in the same lineup for the first time this spring when Mike Trout started Friday's 15-8 exhibition loss to the Chicago White Sox in center field and top prospect Jo Adell started in right.
Adell, 19, was the 10th overall pick of the 2017 draft. He was invited to his big-league camp after jumping three levels in 2018, when he hit .290 with an .897 OPS, 20 homers and 77 RBIs in 99 games at Class-A Burlington, Iowa, Class-A Inland Empire and double-A Mobile.
The 6-foot-3, 215-pound Adell, rated the game's sixth-best prospect by Baseball America, appeared to be on a trajectory to replace Trout as the team's center fielder if the two-time American League most valuable player leaves as a free agent after 2020.
Now, it appears Trout and Adell could be playing together by the end of this season or in 2020. Three weeks into camp, Trout has already rubbed off on Adell, who had an RBI single in Friday's game.
"The energy he brings is pretty unreal," Adell said of Trout. "You can see his pure love of the game. It's as basic as it gets. That's why he's able to bounce around and do what he does and come out every day and play 160 games. That's definitely something I've kept my eye on."
Abbreviated start
Andrew Heaney, scratched from his previous start because of elbow inflammation, said he was "never really quite comfortable" in a 25-pitch first inning in which he gave up a single, a walk and recorded two outs on Friday.
Concerned with Heaney's elevated pitch count, Ausmus pulled the left-hander before he could complete the first. Heaney, who was scheduled to throw about 40 pitches in two innings, threw an additional 20 pitches in the bullpen.
"There were a couple things I was trying to work on," Heaney said. "Pretty much none of them, I did. It was not the best day."
The good news: Heaney, who has retired only five batters in two exhibition starts, said his elbow felt fine.
---
Get the latest on L.A.'s teams in the daily Sports Report newsletter.
You may occasionally receive promotional content from the Los Angeles Times.