Angels reliever Cody Allen takes on leadership role in bullpen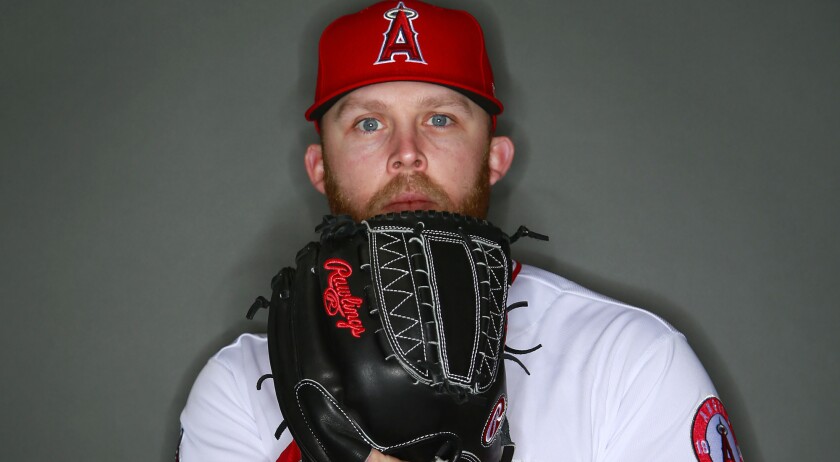 Reporting from TEMPE, Ariz. —
The walls of the cave were collapsing and eight members of the Angels bullpen had one hour to find a way out. They toiled over puzzles together, trying to uncover a path, but it was no use.
When time expired, they were still trapped inside.
"Everybody was moving everything, and you didn't know what started where and what clue went with what," pitcher Luke Bard said, laughing at the memory. "And, apparently, we got close to getting out, but it didn't feel like it at the time."
Manager Brad Ausmus, reliever Cody Allen and other veteran pitchers were brainstorming ideas for a bullpen bonding event when someone suggested an escape room to Ausmus. One night last week, the relievers went to an escape room in Scottsdale, Ariz.
Afterward, Allen treated them to a steakhouse dinner. As he helped organize the outing, he remembered teammates who planned similar outings when he was a young player.
"Now, it's kind of my turn to do that with other guys," Allen said. "It was just us trying to get something together to get everybody together away from the ballpark and just … enjoy being around each other."
Sign up for our daily sports newsletter »
With seven years of experience playing for the Indians, and a 2.98 ERA and 1.19 WHIP in his major league career, Allen has brought experience to a young Angels relief corps.
"He's probably going to be the guy that the other relievers, who — the vast majority are on the younger side — are gonna look to," Ausmus said. "Luckily for us, he's got tremendous work ethic and will set a good example."
Allen has offered himself as a resource to the younger pitchers, though he said, "They don't need my help." He has spent the spring refining his mechanics and trying to convince Shohei Ohtani to get cowboy boots.
He keeps "on declining," Ohtani said through an interpreter, laughing as he spoke.
Allen agreed to a one-year deal with the Angels in January. He entered spring training with a challenge — rebound from the roughest season of his career. In 2018 Allen posted a career-high 4.72 ERA.
"There were times last year where I kind of felt lost," Allen said, "and didn't really have a good feel for what I was doing. So right now, we're just trying to rewire everything to where it's the same every day, and so we're not having those big gaps in performance."
So he can execute pitches with consistency, he honed his delivery. So far, Allen has found success in spring training, with a 2.57 ERA and seven strikeouts over seven innings. Allen held the Arizona Diamondbacks to two scoreless innings in 25 pitches on Friday.
An encouraging progression as opening day draws near.
"I feel close," Allen said. "I feel really, really close."
Shohei to rehabilitate in Anaheim
Ohtani will travel with the Angels back to Anaheim when they return from spring training to continue his rehabilitation. Ausmus said the Angels would take a "conservative approach" to Ohtani's recovery.
Ohtani said he is about a week away from taking live batting practice from a coach. He is throwing with 30% intensity, and Ausmus said Ohtani would throw again Sunday.
"The throwing part, there's no rush," Ohtani said through an interpreter. "[I'm] more focused on the hitting side."
Roster moves
The Angels announced Bard earned a spot on the major league roster. Pitcher Keynan Middleton, who is recovering from surgery on a ligament in his right elbow, was placed on the 60-day injured list to make room for Bard. Pitcher Dillon Peters and infielder Luis Rengifo were optioned to Salt Lake, while catcher Jack Kruger and pitcher Jeremy Rhoades were reassigned to minor league camp.
Inujry updates
Justin Upton and Zack Cozart played in a minor league game as designated hitters Saturday, and Cozart ran the bases. Ausmus said their Major League season debut is "not quite imminent… but it's pretty dang close."
---
Get the latest on L.A.'s teams in the daily Sports Report newsletter.
You may occasionally receive promotional content from the Los Angeles Times.