Jered Weaver pitches three-hitter in Angels' 2-0 victory over A's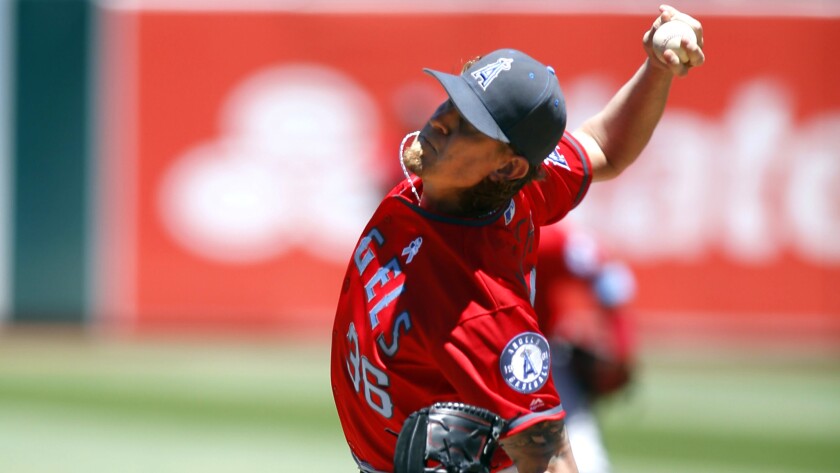 Reporting from OAKLAND —
There are all sorts of metrics within baseball, most of which can be described as either traditional metrics, such as wins, or sabermetrics, such as wins above replacement. And then there are made-up metrics, such as the term Maddux, invented four years ago on an unaffiliated blog but with surprising reach since.
To achieve a Maddux, a pitcher must throw a shutout in fewer than 100 pitches. On Sunday afternoon at the Oakland Coliseum, the Angels' Jered Weaver became the first man in the major leagues to throw a Maddux in 2016.
In itself, it is an improbable feat. Hall of Fame right-hander Greg Maddux himself completed it 13 times. The Dodgers' Clayton Kershaw has never done it. Weaver had never done it, and he carried a ghastly 5.71 earned-run average into Sunday, making it far more improbable.
But, despite that, and despite his fastball that's slower even than Maddux's, Weaver did it, and the Angels backed him enough in a 2-0 victory over the Oakland Athletics, a 2-hour 19-minute affair.
It was the Angels' second-shortest game of the season, paling only to the time Weaver and Kershaw matched up last month at Dodger Stadium. After that game, the 33-year-old Angels right-hander joked about how nice it would be to pitch with Kershaw's vicious breaking pitches and penetrating fastball.
He had none of that Sunday, of course. His hardest fastball traveled 86.5 mph. He benefited from better command of his fastball and Oakland's overly aggressive approach to his soft stuff.
"He's the kind of guy that feeds off aggression, and a guy like him, every pitch looks like you can hammer, but that's just not the case," A's catcher Stephen Vogt said. "He stays out of the middle of the plate, so we expanded a lot and got ourselves out real quick on a lot of one- and two-pitch at-bats, myself included.
"You can't do that against a guy like that."
Yunel Escobar rapped a single to begin the game, and Kole Calhoun worked a walk. Mike Trout lifted a ball deep to right, far enough to let Escobar take third. Then, Pujols pattered an 0-2 breaking ball to short, slowly, but beat the throw to first by a smidgen. The Angels had a run.
They put a man aboard in the second inning and two in the third but converted neither chance. To begin the fifth, catcher Carlos Perez launched a home run, his third of 2016, to conclude the offense.
Early, Weaver gave up a series of long fly balls, but all of them landed in his teammates' gloves until the fifth inning, when Billy Butler laced a ball into the right-center gap. Trout fielded it a step short of the wall and unleashed a throw to second, where Andrelton Simmons easily tagged out the lead-footed Butler. At the wall, Calhoun had shouted at Trout that he could get Butler.
"That fired me up," Trout said.
That was the closest Oakland came to reaching second base. Weaver walked Vogt in the first inning and yielded a sharp single to Yonder Alonso in the second. He allowed only two more baserunners the rest of the way. Vogt led off the seventh with a drive to straightaway center field, but Trout again reached and caught it.
Weaver never threw more than 15 pitches in an inning. He recorded his first and only strikeout in the eighth, using his slider on Marcus Semien.
The last man to throw seven or more scoreless innings without striking anyone out was Rick Porcello, then of Detroit, who did it in a nine-inning shutout on July 1, 2014, also against the A's.
Weaver began the ninth at 85 pitches. He faced Jake Smolinski, Billy Burns and Jed Lowrie. He spotted his fastball, spun a few breaking pitches, and induced light outs in the air from each of them.
Ninety-five pitches, and his day was done.
---
Get the latest on L.A.'s teams in the daily Sports Report newsletter.
You may occasionally receive promotional content from the Los Angeles Times.