Column: Angels' Matt Shoemaker keeps shutting 'em down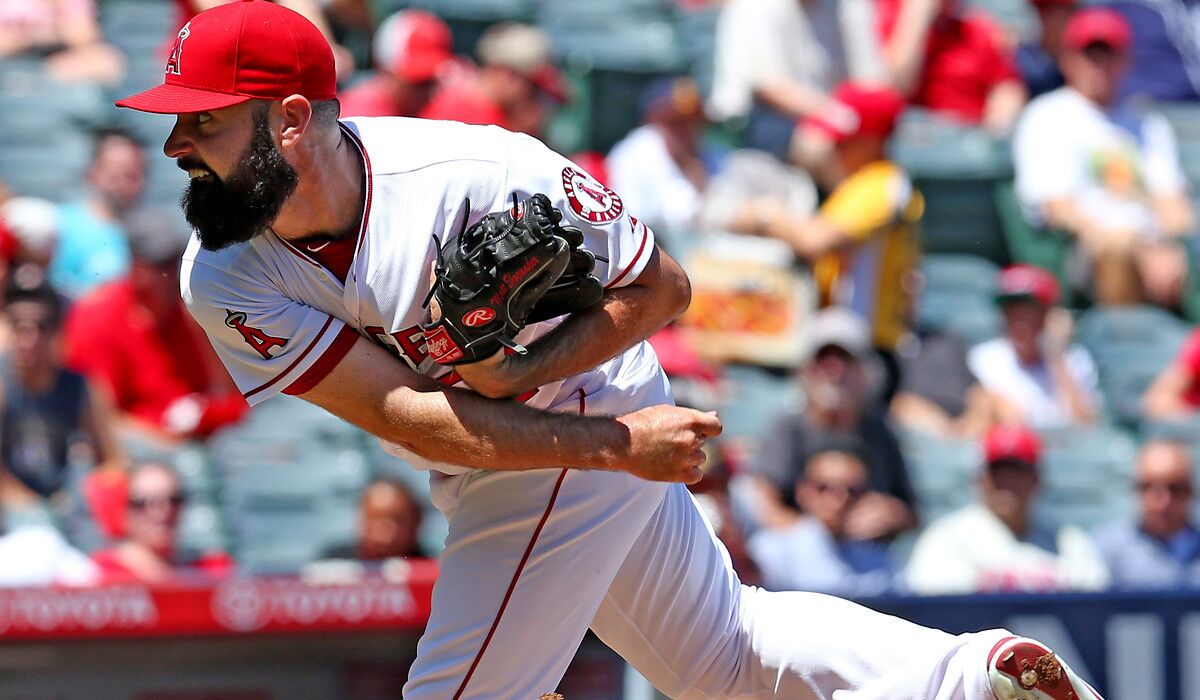 Matt Shoemaker's journey from being an undrafted free agent to matching a pitching standard set by Nolan Ryan can't be measured in years or pitch counts.
Shoemaker's passage from signing with the Angels in 2008 after a career at Eastern Michigan University to helping them maintain the best record in baseball is a tale of perseverance, of believing, when others might not have shared his conviction, that if given a chance he could thrive in the major leagues.
The right-hander with the thick, dark beard got his chance this season and seized it emphatically. With a scoreless seven-inning performance Sunday in the Angels' 8-1 rout of the Oakland Athletics he became the first Angel to pitch three consecutive outings of seven or more shutout innings since Ryan in 1976 and 1977. He also extended his shutout streak to 23 1/3 innings, the second-longest by a rookie in franchise history.
"When he's on that mound he thinks he's Nolan Ryan," Manager Mike Scioscia said.
The similarity to Hall of Famer Ryan is more in intensity than velocity. Shoemaker's fastball lives in the low 90s but he has an effective split-finger fastball and changes speeds well. His control is outstanding — he has given up 21 walks and struck out 115 in 117 2/3 innings — and he has boosted a starting rotation that lost Tyler Skaggs and Garrett Richards to season-ending injuries and had to trot out eight pitchers Saturday to fill one starting spot.
"Shoe is just getting an opportunity and he's making the most of it," Scioscia said.
With his 14th win Shoemaker matched a franchise record for victories by a rookie set in 1962 by Dean Chance and equaled by Marcelino Lopez and Frank Tanana. Shoemaker also became the first Angels pitcher to win six games in August since Chance in 1964.
Not bad for a guy whose minor league numbers were solid but not overwhelming, putting him way down on the depth chart.
"That's the game of baseball. That's the wonderful, crazy thing about this game," Shoemaker said Sunday after his five-hit, seven-strikeout performance helped the Angels conclude a dominant four-game sweep of Oakland.
"You never know. You never have tomorrow in life. That's why it's a blessing to be here every day."
Keeping the Angels ahead of the A's was his primary focus Sunday, and he said he was surprised to hear his feat ranked with Ryan's.
"That's an honor to even be mentioned by that name. That's pretty special," he said. 'With that being said, it's just one of those things, keep trying to get better, keep trying to get outs."
Shoemaker, who will be 28 on Sept. 27, made his major league debut last September with a spot start against Seattle. He made the Angels' roster out of spring training this year as a long reliever.
Scioscia projected him to get an occasional start behind Skaggs, Richards, Hector Santiago, Jered Weaver and C.J. Wilson, but circumstances jumbled those plans. Santiago struggled and was sent to the minor leagues. Skaggs and Richards were lost to injuries.
Enter Shoemaker. "Matt has been a keystone to our rotation. He's gotten the opportunity and he's making the most of it. And I think that he was well prepared for it," Scioscia said.
He surely waited long enough to appreciate it.
"Once you get that opportunity you want to run with it and do as best as you can," Shoemaker said. "It's one of those things where every time I get the ball I try and be as aggressive as I can and just keep going out there and try and get outs, put up zeroes for the team, and at the end of the day the team getting the win.
"When G went down we all knew we were all going to pick each other up," he added, referring to Richards. "We were going to pick it up for us, pick it up for him. That's a testament to such a good group of guys that we have. We're able to do that and rally around each other and keep getting better."
None more than Shoemaker, who opened many previously oblivious eyes when he took a no-hitter into the seventh inning at Boston's Fenway Park on Aug. 21. He said he has had stretches like this before, but none had such impact.
"You'd like to do that your whole career," he said. "I just want to keep it going. Keep doing what you do to get better."
And keep this improbable journey going.
Get the latest on L.A.'s teams in the daily Sports Report newsletter.
You may occasionally receive promotional content from the Los Angeles Times.