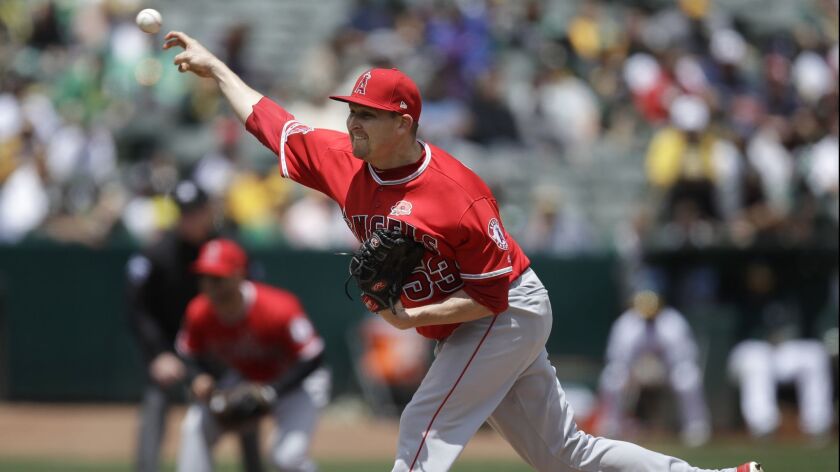 Reporting from OAKLAND —
Once again, an Angels starting pitcher stumbled. In an 8-5 loss to the Oakland Athletics on Monday at the Oakland Coliseum, Trevor Cahill was locked in until two were out in the fourth inning. Then a walk and subsequent home run by Jurickson Profar tied the score at 3 and turned the tide.
Cahill departed with one out in the fifth inning after surrendering another home run — the 16th he has allowed this season — and letting two more A's reach base. Both scored when reliever Cam Bedrosian gave up a two-out, ground-ball single up the middle soon after throwing a wild pitch.
Cahill (2-5), who struck out five in 4 1/3 innings, was charged with six earned runs. It was the third time this month Cahill yielded so much damage. His earned-run average through 53 1/3 innings climbed to 6.92, the worst in baseball among qualified, active starting pitchers.
"It's tough," Cahill said. "Today I felt like I threw better than six runs. Kind of been the story of the season."
And yet the Angels will not quit on Cahill, who is signed to a one-year, $9-million contract.
"I actually think Cahill has been pretty good his last three starts," manager Brad Ausmus said. "I know they haven't been lengthy starts, but you can blame some of that on me for taking him out. But the key has been his changeup, and he's pitched so much better. Early in the season he didn't have a good feel for it, and now he does."
There is some merit to Ausmus' observation. Cahill reverted to relying on his changeup, historically his most effective pitch, in recent weeks. It led to some success, including against the formidable Minnesota Twins, whom he held to one run on two hits over five innings in his last start.
Even against the Athletics, Cahill's former team, the changeup played well in the zone, receiving six called strikes.
But Cahill soon faltered, as he has so often. He could pin his troubles on allowing solid contact to hitters against whom he had gotten ahead. He allowed two doubles overall as well as Josh Phegley's go-ahead home run in the fifth on counts that favored Cahill.
Profar's homer, on a changeup that entered on the outer half of the plate, was the only extra-base hit collected by a batter ahead in the count.
The holes in the Angels' rotation seem to grow wider with each start from pitchers who played for different organizations last season. First, Matt Harvey's ERA ballooned to 7.50, then the worst in the American League. He was placed on the injured list Saturday because of an upper back strain that he said he had kept hidden.
On Monday, it was Cahill, who began piecing his season back together with strong starts against the Baltimore Orioles on May 10 and the Twins last week only to see his effectiveness upended again.
As the Athletics (29-25) won their 10th game in a row, the Angels fell to 24-29, 11 games out of first place in the AL West. They haven't had an easy win since they won back-to-back series from May 7 to 12 against the Detroit Tigers and Orioles, two teams on pace to lose more than 100 games. The Angels came from behind to secure their two most recent victories, and they came close Monday by adding two runs in the sixth inning to cut their deficit to 6-5.
The momentum from those two wins did not carry over.
Sign up for our daily sports newsletter »
If they are to make up ground in the division, as well as in the wild-card race, the Angels must find a way to stop this spiral. They have two games remaining against the Athletics before a four-game series against the Mariners, another division rival, begins Thursday in Seattle. After a one-day detour to Chicago to play the Cubs in a makeup game, they will return home next Tuesday to play the Athletics again.
Making progress now is essential. But it won't happen until the rotation, which owns a 5.70 ERA, can get on track.
---