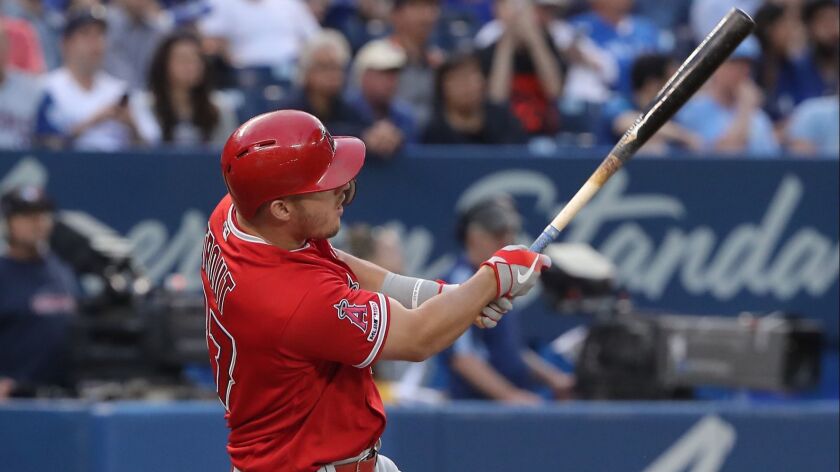 Reporting from TORONTO —
During the most frustrating moments of his early-season skid, Mike Trout stood in batting cages with Angels hitting coaches and tinkered.
His setup didn't feel right, he said, after one such workout on May 8 in Detroit. His front side came open too much. He said it was an easy fix.
A week later, he experimented with his stance, crouching slightly over the plate.
The adjustments helped him turn in his first three-hit performance of the season in a win over the Twins in Minneapolis.
The mechanical alteration didn't last. Trout ditched the changes and reverted to his customary upright setup.
He continued to make minor tweaks as his slump prolonged and his season batting average plummeted to .276 on May 28.
Then he stopped himself.
"I looked into stuff way too much," he acknowledged Wednesday night at Rogers Centre, where he put on a prodigious display of power and led the Angels to an 11-6 victory over the Toronto Blue Jays. "You're human. You try to find some things when things aren't going well."
Trout batted .248 from April 23 to May 28 in a 31-game span.
His production continued to climb, courtesy of the regular walks he draws and his superhuman ability to crack extra-base hits. But he didn't feel like himself until he got out of his own way.
Now Trout is back to his usual awe-inspiring levels of productivity.
Trout golfed a low fastball for his sixth career grand slam off Toronto starter Aaron Sanchez in the fourth inning, a blast that left his bat at 111 mph and dropped into center field after flying 434 feet. The swing came one at-bat after Trout drove a towering two-run home run just as hard into the window of a third-deck suite in left.
Trout finished with a career-high seven RBIs after a bases-loaded single that drove in one in the ninth inning.
His master class at the plate lifted the Angels to 38-37, one game above .500 for the first time since April 13. And it eased the frustration felt by Angels starter Andrew Heaney, whose self-described "poor, putrid, pitiful" outing ended after he surrendered four runs on five hits and four walks in 32/3 innings.
In the last three weeks, Trout has batted .352 (25 for 71) with 10 home runs and 26 RBIs. The two-time American League most valuable player is on a tear so dominating that he has added 1.8 wins above replacement since May 28, according to Fangraphs' version of the statistic. His 5.1 WAR is second only to the Dodgers' Cody Bellinger by a fraction.
"It's a joke," Heaney said. "It's so fun to watch."
Sign up for our daily sports newsletter »
Trout's success won't keep him out of the video room. He is a film fiend.
He watches clips of his best offensive performances when he doesn't feel steady at the plate, figuring he can recapture his own magic by trying to replicate the movements he made on a particular day.
In the rotation is the five-hit game he had against the New York Yankees on May 26, 2018. He collected 11 bases on a night he set a personal best in hits
Trout has outdone himself now. He went four for five in the Angels' win here Monday and added three more Wednesday. Both performances are going into his video bank.
"This is the best I've felt all season," he said.
---