Things are looking a bit less down on the farm for the Angels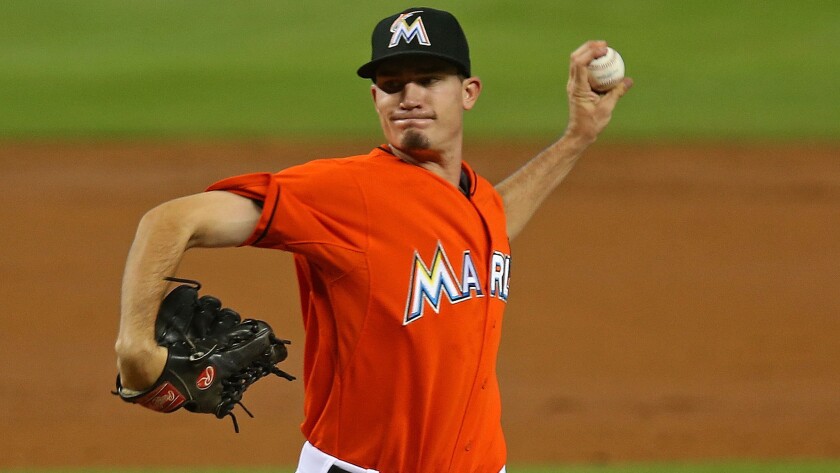 The Angels' minor league system looked barren even before last July's trades that sent five of their top 10 prospects to San Diego and Arizona for closer Huston Street and reliever Joe Thatcher.
The loss of first-round picks in 2012 and 2013 — a cost of signing free agents Albert Pujols and Josh Hamilton — previous trades of prospects for big leaguers and a failure to invest in Latin America had so thinned the Angels' player development system that it was listed as worst in Baseball America's organizational rankings in 2013 and 2014.
But even after shedding five of their better young players, the Angels are moving up. Thanks to a pair of off-season trades and a 2014 draft that netted several highly regarded pitchers, the Angels were ranked 27th — ahead of Baltimore, Atlanta and Detroit — in Baseball America's recently published 2015 prospect handbook. They also moved from 30th to 27th in ESPN.com's ranking.
A quantum leap it isn't, but shortly after the Baseball America handbook went to press, the Angels signed 20-year-old Cuban shortstop Roberto Baldoquin for $8 million and traded for Atlanta third-base prospect Kyle Kubitza, further boosting a system that was woefully thin on athletic position players.
"It's a better system than it was before," said John Manuel, Baseball America's editor-in-chief. "There are some positive signs."
The list of the Angels' top 10 prospects, as rated by Baseball America and mlb.com, looks significantly stronger than it did six months ago.
In are pitchers Andrew Heaney and Nick Tropeano, both acquired in winter trades; pitchers Sean Newcomb, Joe Gatto and Chris Ellis, all 2014 draft picks, and Baldoquin and Kubitza. The Angels sent second baseman Howie Kendrick to the Dodgers for Heaney and backup catcher Hank Conger to Houston for Tropeano.
Out are second baseman Taylor Lindsey, shortstop Jose Rondon and relievers R.J. Alvarez and Elliott Morris, who went to San Diego for Street; outfielder Zach Borenstein, who went to Arizona for Thatcher, and 17-year-old Venezuelan left-hander Ricardo Sanchez, who went to Atlanta for Kubitza.
Parting with Kendrick, a productive line-drive machine for nine years, and Sanchez, whose fastball has touched 95 mph, was difficult for the Angels' front office, "but you have to give to get," General Manager Jerry Dipoto said.
The most promising of the new prospects are Heaney and Newcomb, left-handers who project as front-of-the-rotation starters.
Heaney, 23, was Miami's top prospect last season and will challenge for a rotation spot this spring. Newcomb, 21, was the 15th overall pick out of the University of Hartford in June, a 6-foot-5, 240-pounder who has drawn comparisons to Jon Lester.
Dipoto believes Kubitza, 24, will be ready to replace third baseman David Freese, a free agent after the coming season, in 2016.
"We don't rank farm systems, but the Angels have clearly made strides," said Jim Callis, a senior writer for mlb.com who specializes in prospects and the draft. "When your system gets as thin as the Angels' did, there's no one-year fix. It's a five-year process.
"Nobody has a good draft three or four years in a row or crushes the international market. But it's pretty impressive that they're making trades and bringing in guys when they're contending. This isn't a team that's giving up and rebuilding."
That's the Angels' master plan — to be World Series contenders while getting younger, deeper, more athletic and more cost-efficient — a goal that, if achieved, should extend their window for winning.
"This off-season has been about organizational health, building for the future without robbing the 2015 team, building something that has a chance to sustain," Dipoto said.
"We're not just adding for 2017 and 2018. We're adding to plug the dike when things go wrong on the major league level in 2015 and making sure we can do that in 2016 and 2017. It's about creating a steady flow of talent."
Central to Dipoto's strategy has been a massive arms buildup. Ten of the team's first 11 draft picks in 2013, and nine of the first 15 picks in 2014, were pitchers. The GM's big winter move before 2014 was to trade slugger Mark Trumbo for young pitchers Tyler Skaggs and Hector Santiago.
This off-season, Dipoto acquired Tropeano, who started four games for the Astros last season, and Heaney, who started five games for the Marlins in 2014.
Dipoto also got a promising double-A reliever, Trevor Gott, back in the Street trade, and a hard-throwing Class-A reliever, Nate Hyatt, in the Kubitza deal.
Improved pitching depth and the 2014 emergence of young reliever Mike Morin enabled the Angels to trade veteran reliever Kevin Jepsen to Tampa Bay for designated hitter Matt Joyce, who should ease the loss of Kendrick.
"The last two drafts, we wanted to get as much pitching as we can, develop it, and if we need to trade for a position player, we can do that," said Scott Servais, the team's assistant GM in charge of scouting and player development.
"You have to be willing to let go. You can't get too emotionally tied to your guys because it's about the big league club, not having the best farm system."
Still, there are numerous benefits to a good farm system, especially one stocked with high-caliber arms.
Developing players who reach the big leagues and make the major league minimum for three years would allow the Angels to offset the massive contracts of Pujols, Hamilton, Mike Trout, Jered Weaver and C.J. Wilson, who account for $105.6 million of the team's luxury tax payroll.
With Garrett Richards, Matt Shoemaker, Skaggs, Santiago, Heaney, Newcomb and Tropeano, the Angels could allow Weaver and Wilson to leave as free agents after 2016 and fill their spots from within or with a high-priced pitcher via free agency or trade.
Instead of turning rotation spots into "bullpen" games, like the pitching-thin Angels did last August and September when Richards and Shoemaker were hurt, they should have several quality triple-A arms to choose from in 2015.
And instead of fielding a triple-A team with mostly career minor leaguers and fringe major leaguers, Salt Lake should be heavier in prospects, giving the Angels more attractive options to plug holes created by injuries.
"We've been a little bit of a whipping boy for some of the rankings, but we've added some quality prospects," Dipoto said. "We don't have the best-stocked farm system in baseball, but from where we were in 2012 to where we are today, there's a significant difference."
Twitter: @MikeDiGiovanna
---
Get the latest on L.A.'s teams in the daily Sports Report newsletter.
You may occasionally receive promotional content from the Los Angeles Times.