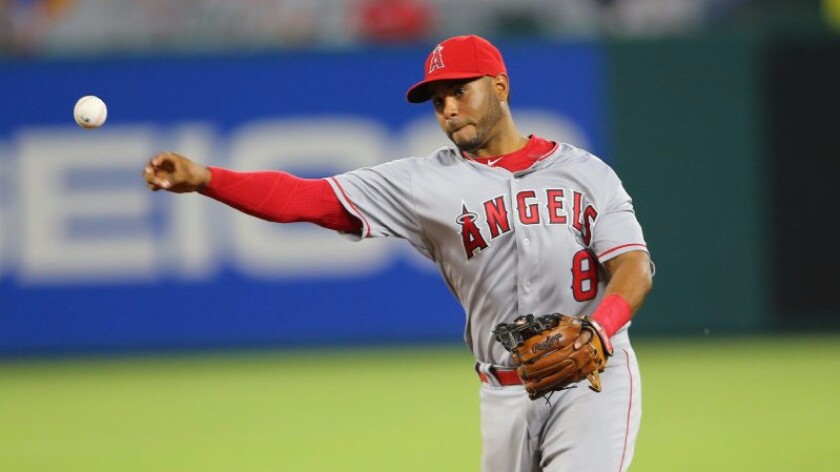 Derek Jeter played 2,747 games in his major league career. On a Tuesday evening in 2014, he had 35 left to play.
The shortstop for the Houston Astros that night was about to turn 30. Gregorio Petit still was classified as a rookie. He had played professional baseball for 12 years, but only 38 games in the major leagues.
In his first at-bat, he hit a ground-rule double, and Jeter greeted him at second base.
See the most-read stories in Sports this hour>>
"Hey, attaboy," Jeter said.
In his next at-bat, Petit doubled again, down the left-field line. Jeter had another greeting for Petit.
"Hey, easy," Jeter said. He smiled.
"I'm trying to catch up with you," Petit said. He smiled too, and Jeter laughed and walked back to his position.
Jeter is a member of the 3,000-hit club. Petit is a member of the 60-hit club, and the Angels are happy to have him.
With starting shortstop Andrelton Simmons and backup Cliff Pennington on the disabled list, Petit is the Angels' shortstop, at least for the short term.
"Opportunity is right in the palm of his hand right now," Angels General Manager Billy Eppler said, "and he is making the most of it."
Pennington could rejoin the Angels as soon as Friday. However, with Petit starting 11 of the Angels' last 12 games, the team has won eight. He is batting .262, compared with .219 from Simmons and .217 from Pennington. He has not committed an error.
Although he has played all but two weeks of this season at triple A, he ranks ninth among the most valuable fielders in the American League this year, according to defensive WAR (wins above replacement) figures at baseball-reference.com.
The only AL infielders ranked ahead of him: Simmons, Boston Red Sox second baseman Dustin Pedroia and Texas Rangers third baseman Adrian Beltre -- each of whom has won multiple Gold Glove awards.
Alfredo Griffin, the Angels' infield coach, said Petit reminds him of a certain former Gold Glove shortstop.
"Me," Griffin said. "He's a pro. He knows how to play the game.
"He knows how to position himself. He knows where guys are on the field. He knows when he has to rush and when he doesn't have to rush. A lot of players make a lot of errors by not paying attention."
Petit, 31, is a have-glove, will-travel shortstop.
Eppler worked in the New York Yankees' front office last year, when the Yankees needed a backup shortstop and acquired Petit on the recommendation of Eric Chavez, who played with him in the Oakland Athletics organization. Chavez since has followed Eppler into the Angels' front office.
Petit grew up in Venezuela. He signed with the A's in 2001, when he was 16. He first reached triple A in 2007 and, aside from one year rehabilitating from knee surgery, he has spent all or part of every season in triple A since then.
"There are guys that have perseverance, and there are guys that are the model of perseverance," Eppler said. "I think he falls into the category of the latter."
Petit went more than five years between major league appearances. He has gone to spring training as a nonroster invitee for each of the last six years, for five organizations.
He considered playing abroad this year, but wasn't going to walk away from the game because he could not get a major league job.
"Never," he said. "I'm not taking the uniform away from myself. They have to take it away from me. If there's a uniform for me, I will put it on."
His three children are 6, 4 and 8 months.
"I've got to prove to them that their dad wouldn't quit," Petit said, "so they do the same in life."
For Petit, these two weeks could be an impressive cameo, or the start of something big. Either way, he always will have the memory of his day with Jeter.
Petit sent the Astros' lineup card to Jeter, who autographed it. Petit said he bought a Jeter jersey and got that autographed too. If he never wins a World Series trophy, Petit at least has his Jeter memorabilia on display at home.
"That," Petit said, "is a big trophy."
Follow Bill Shaikin on Twitter @BillShaikin
---